DR.HC
DR.HC Deep Care Herbal Hair Mask - Tropical Vitamins (280ml, 9.5 fl.oz.) (Damage repair, Anti-breakage, Anti-hair loss, Anti-dandruff, Oil-balancing...)
PLEASE CHOOSE "SHIP TO" YOUR COUNTRY, or you will be charged international shipping fee. Learn more about our Shipping Policy...

If you live in other countries (not USA, Japan, or Vietnam), please choose "ship to USA" (international shipping fee will be added at checkout)
NATURE + SCIENCE + PASSION!
Do you concern about your dry damaged hair, oily scalp, hair loss, or dandruff? Or after sun, your hair might need a little extra love? This yummy Organic & Natural deep conditioning hair mask was developed to bring you the benefits of healthy and happy hair. With an abundance of real banana juice, pineapple and papaya fruit extracts as well as pure organic avocado oil and camellia oil, our Tropical Vitamins Deep Care Herbal Hair Mask provides multi-vitamins and anti-oxidants to nourish, moisturize your scalp and take care of your hair deeply from the roots. It is a great and healthy source for damage repairs, hair growth, anti-hair loss, anti-hair breakage, anti-dandruff, and oil-balancing benefits. This hair mask is specially developed for all types of hair.

TROPICAL VITAMINS DEEP CARE HERBAL HAIR MASK CAN BE USED AS
Hair conditioner

Hair mask 
WHY YOU SHOULD BUY THIS?
POINT 1:  Clean formula & Non-toxic! Free from Sulfates, chemical foaming agents, artificial Dyes and Fragrances, Silicone, Mineral Oils, Phthalates or any other harmful chemicals. 
POINT 2:  High contents of Organic & Natural ingredients (more than 80%  Organic). They will deeply nourish to promote healthy scalp and hair.  
POINT 3:  pH balanced formula! All of our shampoos and conditioners help maintain nature's intended chemistry of your scalp since we know it's the key of healthy skin.
POINT 4:

  Gentle and safe to use for everyone including sensitive skin and babies, kids

.
ABOUT OUR pH-BALANCING BODY WASH, SHAMPOO & CONDITIONER
Our Body Wash, Shampoo, Conditioner/Hair Mask are all cruelty-free, vegan & non-GMO, made with the purest Organic & Natural ingredients (more than 70% Organic). The products are free from Sulfate, MEA/ DEA/ TEA (synthetic foaming agents), Parabens (preservatives), Silicone, Artificial Dyes & Fragrances, Phthalates, Microbeads, Mineral Oils, etc. which are harmful chemicals commonly used in cleansing & bath products on the market. In addition, they are pH balanced in order to maintain nature's intended chemistry of your skin and scalp. This results to long-term healthy benefits to your body.
FOR WHOM
FOR WHOM
All scalp types.
Sensitive scalp
Scalp with pimples
Unisex
Also good to use even for babies and kids.
FOR WHAT
Damage repair

Hair shedding & breakage preventing
Anti-hair loss & Hair stimulating
Dandruff preventing
Oil-balancing
Deep moisturizing

Anti-inflammatory
Scalp soothing & hydrating
Hair smoothing & softening
Hair color protecting
INGREDIENTS
★ ORGANIC BANANA JUICE: Banana juice is a powerhouse of vital nutrients, vitamins and minerals, that strengthen the hair, prevent hair loss, increase hair volume, and add shine and moisture. One of the key nutrients present in banana is potassium, which is said to promote hair growth and help in controlling dandruff. Besides, banana juice is also helpful in preventing hair shedding and hair breakage. It also keeps your scalp and hair supple and moisturized.
★ ORGANIC AVOCADO OIL: helps reducing dandruff, preventing breakage, detangling hair, protecting hair from damages and dryness. Avocado oil also adds moisture (the strands of the hair can break if they are dry and brittle) as well as promotes smooth and glossy hair.
★PINEAPPLE FRUIT EXTRACT: Pineapple has hair thickening properties that will make your hair strong and avoid hair loss. Pineapple is also a rich source of vitamins. It contains vitamin C and vitamin A that are responsible for softer, smoother and shinier hair. It contains vitamins B1 and B6 which are important factors to prevent hair loss, prevent dehydration, and regulate the production of sebum. In additon, Pineapple extract contains bromelain enzyme which has anti-inflammatory and anti-clogging benefits, so it helps to keep your scalp and hair healthy looking. 
★PAPAYA FRUIT EXTRACT: Papaya is rich in folic acid, which stimulates blood flow to the hair follicles and promotes hair growth. It's also rich in Vitamin A that softens and hydrates the hair.
The hair mask is also enhanced with damage-repair Organic camellia oil, Organic castor oil and Squalane oil, soothing aloe leaf extract, strengthening hydrolyzed oat protein, and nourishing pro-vitamin B5 which provide benefits that help rescue your hair from dryness and damages as well as promote healthy hair and scalp.  

HOW TO USE
Apply to wet hair. Using hands or comb work conditioner through covering the entire hair shaft from root to end.  
USE AS A HAIR CONDITIONER

:

Leave in for 1 to 5 minutes depending on how deeply you wish to condition, then rinse thoroughly.

USE AS A HAIR MASK:

 Leave in for 10~15 minutes if you wish to use as a hair mask (you can use a plastic wrap to wrap up your hair during this time, this way helps the mask work more effectively), then rinse thoroughly. 
Use as often as needed. Avoid contact with eyes. In case of contact, flush thoroughly with water.
*Product images are for reference only. Packaging may vary.
QUESTIONS & ANSWERS
Have a Question?
Be the first to ask a question about this.
Ask a Question
THIS 3 TRUE + 3 FREE FORMULA WAS DEVELOPED WITH EVERY CUSTOMER IN MIND!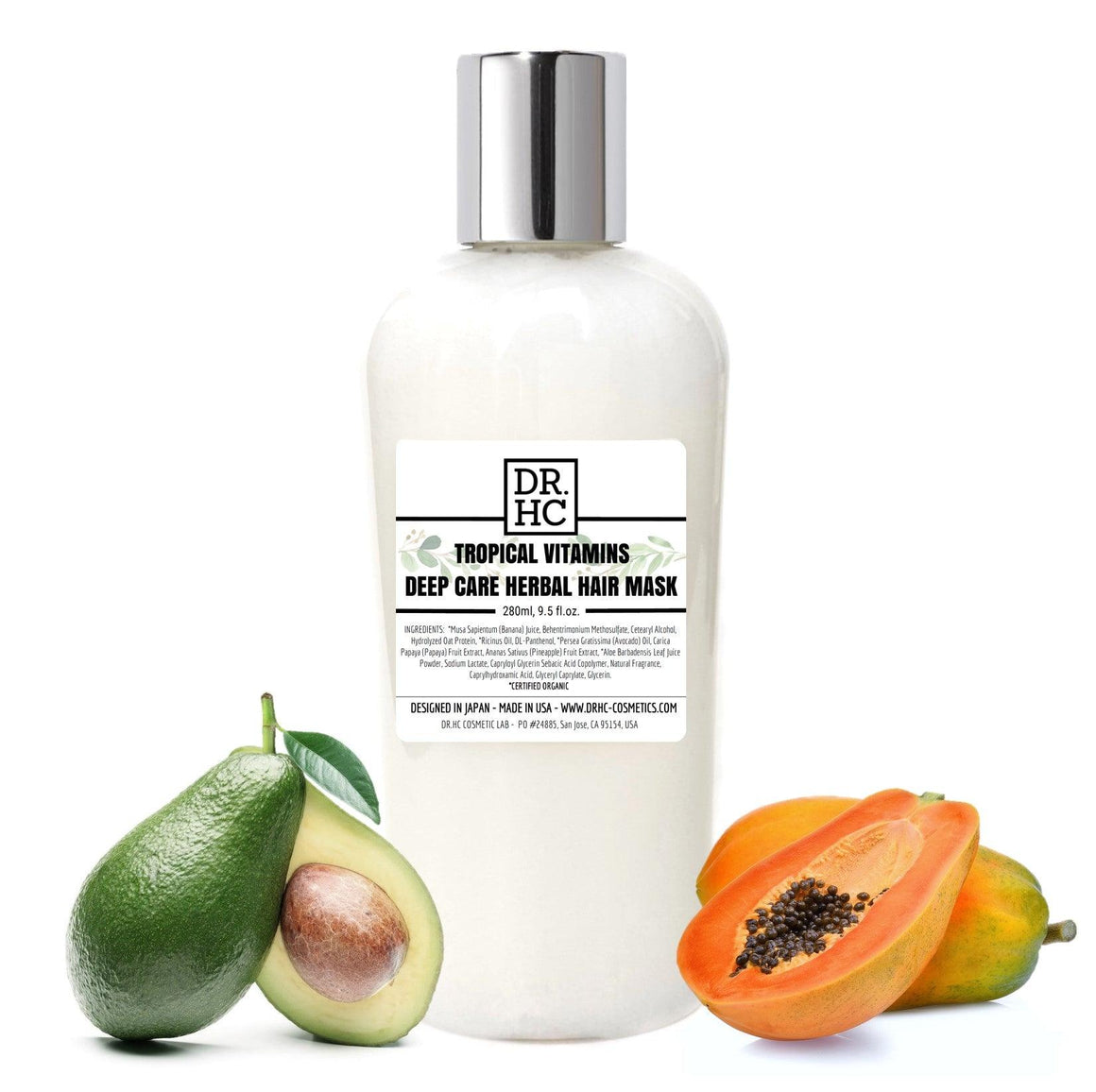 This product is TRUE
✓ Certified Organic Ingredients
✓ Fresh Natural
✓ Vegan (if the product has Vegan tag)
✓ Cruelty-Free
✓ GMO-Free
✓ Eco-friendly
✓ Made in USA
✓ Made by Science
✓ Made with Love ♡
How are these values important to you?
This product is FREE
✖ Parabens
✖ BHA/BHT (preservatives)
✖ Silicones, Siloxanes
✖ SLS/SLES
✖ Synthetic Colorants
✖ Synthetic Fragrances
✖ Phthalates
✖ MEA/ DEA/ TEA
✖ Mineral Oil
✖ Petroleum Jelly
✖ Triclosan
✖ Talc
✖ Microbeads
✖ Lead
✖ Chemical Sunscreens
✖ And other toxics...
How do these ingredients affect your health?
REAL RESULTS FROM REAL CUSTOMERS ACROSS THE WORLD
VIEW MORE REVIEWS HERE
WE DO THINGS DIFFERENTLY !
Click on image to shop product(s) in the photo