DR.HC
DR.HC Bye Bye Acne Face Cleansing Gelato (60g, 2.1oz) (Anti-acne, Anti-blemish, Oil balancing, Pore minimizing...)
PLEASE CHOOSE "SHIP TO" YOUR COUNTRY, or you will be charged international shipping fee. Learn more about our Shipping Policy...

If you live in other countries (not USA, Japan, or Vietnam), please choose "ship to USA" (international shipping fee will be added at checkout)
NATURE + SCIENCE + PASSION!
A cream-based facial cleanser that can be applied directly to your skin (like a skincare product) without foaming. This is the best way helps to deliver the active ingredients to nourish your skin. With the maximum content of Salicylic acid 2%, Herbal complex including Organic Tea tree, Rosemary, Peppermint, and Rose hydrosol, which are super-effective in relieving and preventing acne and pimples,  DR.HC BYE BYE ACNE - FACE CLEANSING GELATO helps rescue your skin from breakouts as well as helps to balance oil, minimizing pores, and toning in order to bring you back a healthy and glowing skin. 
FOR WHOM
All skin types (oily, dry, normal, combination)
Perfect even for super oily or super dry prone skin

Sensitive skin 

Skin with medium ~ severe breakouts
RESULTS
Anti-acne

Anti Inflammatory 
Oil-Balancing 
Pore Minimizing 
Anti Blemish
Others: Gentle exfoliating, Skin toning, Hydrating, Softening
WHY WE LOVE :
POINT 1: Made from the best combination of scientifically proven active ingredients (2% Salicylic Acid) & natural herbal complex.
POINT 2: No synthetic surfactants. Never dry out your skin.
POINT 3: Water-based formula (non-comedogenic). Good for all skin types. Perfect even for super-oily skin or super-dry prone skin.
POINT 4: Alcohol-free, gentle even for the sensitives.
POINT 5:

100% natural scent coming from active botanicals

.
POINT 6:  Gluten-free formula! 
INGREDIENTS 
★SALICYLIC ACID: is scientifically proven to be helpful in fighting acne and pimples. It is also a gentle exfoliant with the ability to help skin shed dead cells and clear pores. In addition, it can also help balance oil and toning skin. This product was formulated with an appropriate content of salicylic acid so that it's also good to be used for sensitives and pregnancy.
★ORGANIC HERBAL COMPLEX (TEA TREE, ROSEMARY, PEPPERMINT):  The best combination of natural botanicals which helps your skin to fight acne. The herbals are also perfectly helpful in controlling sebum and help to minimize pores. 
★ROSA DAMASCENA DISTILLED WATER helps to tone, improve dark spots on your skin, and minimize pores. Skin with breakouts will be happy with its anti-blemish properties. In addition, HA, Sorbitol (a plant-derived humectant moisturizer) and Aloe extract help hydrate, soothe, and soften your skin.
HOW TO USE
HOW TO USE:
Way #1:
Wet your face with water.
Apply the cleanser directly to your face and gently massage for about 30s ~1 minute, then rinse with water.
Follow with our toner, serum, and then moisturizer.
Way #2: If you use a foaming net
Wet your face with water.
Put an appropriate amount of the cleanser onto the foaming net and create foam, then apply the foam to skin and gently massage. Rinse off with water.
Follow with our toner, serum, and then moisturizer.
Way #3: If you use a cleansing brush
Wet your face with water.
Apply the cleanser directly to your face or put the cleanser on the brush, and use the brush to gently massage the entire face, then rinse with water.
Follow with our toner, serum, and then moisturizer.
Way #4: If you use a face cleansing machine 
Our gelato cleanser can be used with a 

face cleansing machine.

 Follow the instruction of the machine to wash your face. 
Follow with our toner, serum, and then moisturizer.
WHEN TO USE:  Every day, day & night.
ORDER TO APPLY:   BYE BYE ACNE - FACE CLEANSING GELATO → Toner → Serum/Emulsion  → Moisturizer 

HOW TO STORE: Good to keep at room temperature. Avoid direct sunlight.
*Product images are for reference only. Packaging may vary.
Can you ship to UK?

Hi Maria,
Thanks for the question. We can ship to UK. 
Here's our shipping policy: https://drc-lab.com/pages/how-to-order . Hope this helps!

Lab ơi cho mình hỏi srm này mình đang cho bé bú nhưng bị mụn nhiều quá có thể dùng được ko vậy

Hello Anh Thi
Đây là SRM trị mụn được làm theo công thức thích hợp cho cả mẹ bầu hoặc cho con bú nên bạn có thể sử dụng nhé.
THIS 3 TRUE + 3 FREE FORMULA WAS DEVELOPED WITH EVERY CUSTOMER IN MIND!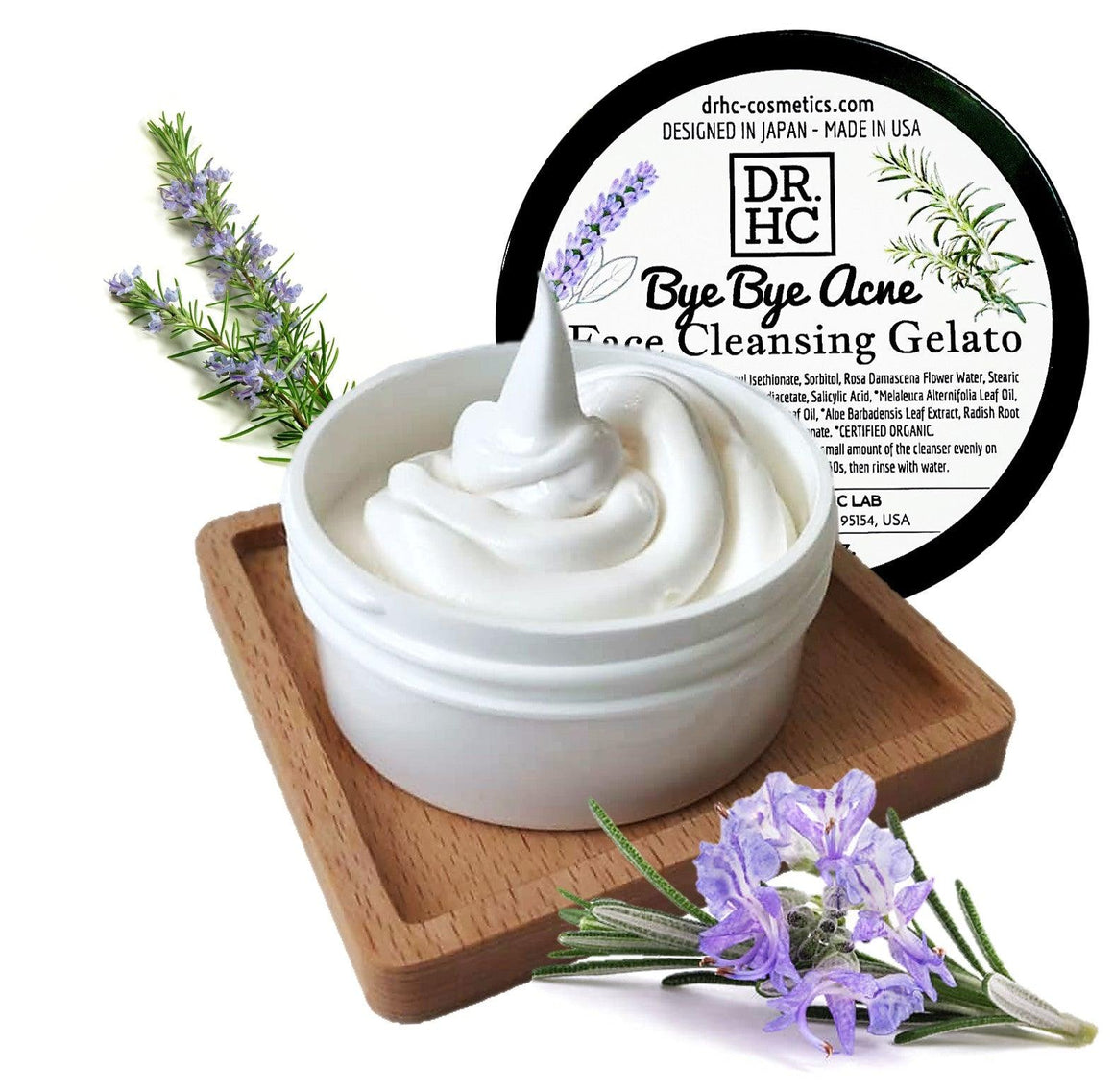 This product is TRUE
✓ Certified Organic Ingredients
✓ Fresh Natural
✓ Vegan (if the product has Vegan tag)
✓ Cruelty-Free
✓ GMO-Free
✓ Eco-friendly
✓ Made in USA
✓ Made by Science
✓ Made with Love ♡
How are these values important to you?
This product is FREE
✖ Parabens
✖ BHA/BHT (preservatives)
✖ Silicones, Siloxanes
✖ SLS/SLES
✖ Synthetic Colorants
✖ Synthetic Fragrances
✖ Phthalates
✖ MEA/ DEA/ TEA
✖ Mineral Oil
✖ Petroleum Jelly
✖ Triclosan
✖ Talc
✖ Microbeads
✖ Lead
✖ Chemical Sunscreens
✖ And other toxics...
How do these ingredients affect your health?
REAL RESULTS FROM REAL CUSTOMERS ACROSS THE WORLD
VIEW MORE REVIEWS HERE
WE DO THINGS DIFFERENTLY !
Click on image to shop product(s) in the photo