DR.HC
DR.HC Sakura Collagen All-In-One Gel Cream (25~40g, 0.9~1.4oz.) (Collagen support, Skin firming, Brightening, Anti-scar...)
PLEASE CHOOSE "SHIP TO" YOUR COUNTRY, or you will be charged international shipping fee. Learn more about our Shipping Policy...

If you live in other countries (not USA, Japan, or Vietnam), please choose "ship to USA" (international shipping fee will be added at checkout)
NATURE + SCIENCE + PASSION!
A 100% natural gel cream featured with Cherry blossom (sakura) extract, Collagen-boosting Tripeptide and Organic soybean seed extract. This gel cream is formulated to maximize the Collagen boosting for your skin! In addition, it also provide you with Anti-aging, Skin firming, Skin brightening, Skin recovery, Anti-scar, Pore shrinking and oil-free Hydrating benefits. 
Our Sakura Collagen All-In-One Gel Cream is 100% Natural and non-toxic. Even though the skincare market is loaded with clear gel cream, and they may be "natural" products, not many of them can support a 100% natural claim. But this one can! In addition to paraben-free, dye-free, fragrance-free, etc. which are listed in our Say-No list, this gel cream is synthetic carbomer and acrylate free! The gel cream is a good choice even for sensitive skin or pregnancy. Let this super clean formula surprise your skin!
HAPPY POINTS
POINT 1: All effective collagen-boosting ingredients in one bottle! 
POINT 2: Super-clean formula with 100% Natural ingredients & Non-toxic! We believe this product is one of the unique gel cream formula on the market which can proudly claim All-Natural.
POINT 3: Beautiful color and scent coming from natural botanicals. 
POINT 4: Absorbs quikly, leaving you a fresh, clean and light after-feel as well as a hydrated supple skin.
POINT 5: This gel cream is also Vegan & Cruelty-free!
FOR WHOM
FOR WHOM?
All skin types (oily, dry, normal, combination). 
Perfect even for super oily skin

Sensitive skin

Skin with breakouts
FOR WHAT?
Collagen stimulating
Anti-aging
Skin firming
Skin brightening
Anti-blemish and anti-pigmentation
Skin cell renewals boosting
Anti-scar
Skin recovery
Hydrating (oil-free)
Pore shrinking
IT ALSO HELPS
Anti inflammatory

Anti-acne
Oil balancing
Skin softening
INGREDIENTS
★CHERRY BLOSSOM (SAKURA) FLOWER EXTRACT: is well-known for its anti-aging benefits. It is a rich source of caffeic acid and other phenolic anti-oxidants. It also helps stimulating natural collagen production, resulting in a youthful skin with firmness and elasticity. Cherry blossom (sakura) extract can also lighten hyperpigmentation and clarify uneven skin by inhibiting the production of melanin. Rich in essential fatty acids, it also helps to repair the skin natural barriers and stimulate cell renewals in order to promote a smooth and supple skin. In addition, its anti inflammatory and soothing properties are making it an ideal choice to recover skin from damages and protect skin from breakouts.  
★TRIPEPTIDE (COLLAGEN STIMULATOR): Forget collagens that are not cruelty-free and vegan! Palmitoyl Tripeptide-5 is a peptide that will help stimulate the skin's natural production of Collagen. This collagen synthesis booster works by activating the release of transforming growth factor-beta (TGF-beta) within the epidermis. By actively promoting collagen synthesis palmitoyl tripeptide-5 is effective in reducing the appearance of fine lines and wrinkles as well as improving the skin's firmness and moisture retention. Studies have shown that Palmioyl Tripeptide-5 is capable of reducing and changing the type and aspect of wrinkles that add years to your appearance. 
★ORGANIC SOYBEAN EXTRACT: is rich in linoleic acid, which is a type of omega-6 fatty acid, vitamins B, E and K, essential fatty acids (EFAs), and lecithin, making it a strong antioxidant. Soy bean oil improves the firmness of the skin by promoting the production of collagen and the repair of damaged elastin fibers. It can help brighten the skin, decrease redness and improve skin tone. Studies also showed that soybean oil helps protect against skin inflammation caused by UV damages as well as helps enhance skin natural barrier and retain moisture. In addition, soybean it the richest source of isoflavones (a type of plant estrogen that is similar in function to human estrogen) which may be useful to hormone balancing and hormonal acne preventing.
In addition, our SAKURA COLLAGEN ALL-IN-ONE GEL CREAM (SAKURA REVITALIZING CREAM) is also formulated with organic sweet almond oil, aloe leaf juice, rose absolute and vitamin B12, which help soothing, moisturizing, hydrating, and protecting your skin from aging. 
HOW TO USE
HOW TO USE: Moisturize your face with the gel cream every morning and night after using cleanser, toner and serum. Always use circular, upward motions with a gentle touch on your face. 
WHEN TO USE:  Everyday. Day and/or Night.
ORDER TO APPLY:  Cleanser → Toner → Serum/Emulsion → SAKURA COLLAGEN ALL-IN-ONE GEL CREAM (SAKURA REVITALIZING CREAM)
HOW TO STORE: Good to store at room temperature. Keep the product out of direct sunlight. Avoid conditions of high humidity
*Product images are for reference only. Packaging may vary.
THIS 3 TRUE + 3 FREE FORMULA WAS DEVELOPED WITH EVERY CUSTOMER IN MIND!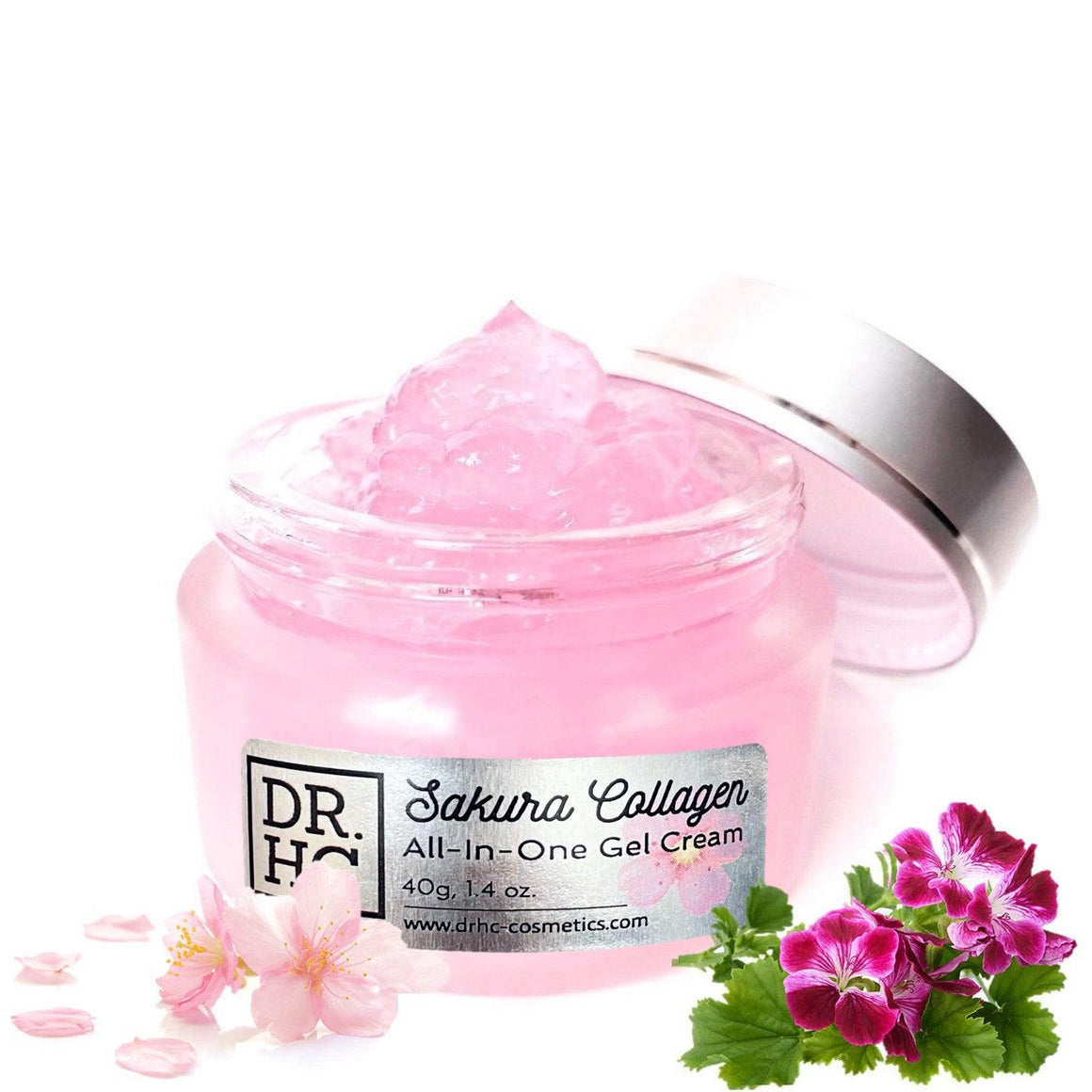 This product is TRUE
✓ Certified Organic Ingredients
✓ Fresh Natural
✓ Vegan (if the product has Vegan tag)
✓ Cruelty-Free
✓ GMO-Free
✓ Eco-friendly
✓ Made in USA
✓ Made by Science
✓ Made with Love ♡
How are these values important to you?
This product is FREE
✖ Parabens
✖ BHA/BHT (preservatives)
✖ Silicones, Siloxanes
✖ SLS/SLES
✖ Synthetic Colorants
✖ Synthetic Fragrances
✖ Phthalates
✖ MEA/ DEA/ TEA
✖ Mineral Oil
✖ Petroleum Jelly
✖ Triclosan
✖ Talc
✖ Microbeads
✖ Lead
✖ Chemical Sunscreens
✖ And other toxics...
How do these ingredients affect your health?
REAL RESULTS FROM REAL CUSTOMERS ACROSS THE WORLD
VIEW MORE REVIEWS HERE
WE DO THINGS DIFFERENTLY !
Click on image to shop product(s) in the photo