DR.HC
DR.HC Age Reversal Oxygen Mask (50~60g, 1.8~2.1oz) (Exfoliating, Anti-aging, Skin brightening, Anti-blemish, Anti-inflammatory...)
PLEASE CHOOSE "SHIP TO" YOUR COUNTRY, or you will be charged international shipping fee. Learn more about our Shipping Policy...

If you live in other countries (not USA, Japan, or Vietnam), please choose "ship to USA" (international shipping fee will be added at checkout)
NATURE + SCIENCE + PASSION!
Our AGE REVERSAL OXYGEN MASK & SCRUB can be used as a face mask, a face exfoliator and a lip scrub. This berry-and-bioflavonoids-filled formulation will hyper-oxygenate your skin cells for age reversal benefits. Blueberries and cranberries load the skin with super antioxidant power and Vitamin C for free-radical scavenging. Citrus, pomegranate, rhubarb, and dandelion bring their youthening, skin toning and anti-aging bioflavonoids to your skin. A gentle exfoliation utilizing hibiscus and olive powder helps to remove the dead skin cells and clarify the pores to receive the oxygen enhancing, vitamins and minerals found in the berries and herbs. This decadent and restorative treatment is a must have for every face ! 
HAPPY POINTS:
✓POINT 1:   A professional product which could be applied either as a mask or a scrub, for both face and lip!
✓POINT 2: An antioxidants-and-bioflavonoids-enriched formula which will oxygenate your skin! Age reversal benefits, brightened & healthy skin are what you can expect.   
✓POINT 3: Water-based formula which is non-comedogenic. Good for all skin types to use as facial mask. 
✓POINT 4: Oil-free hydrating power (of course, never clog your pores) 
✓POINT 5: Yummy and attractive berry scent which comes from 100% natural ingredients.
✓POINT 6:  100% natural exfoliants. 
✓POINT 7: This product is Vegan
FOR WHOM
FOR WHOM
✓All skin types (oily, dry, normal, combination)

✓Can be used for Sensitive skin as a facial mask or lip scrub (not as a facial scrub)

✓

Can be used for s

kin with breakouts 

as a facial mask or lip scrub (not as a facial scrub)
FOR WHAT
✓ Anti-aging

✓ Antioxidant

✓ Anti-wrinkle

✓ Skin Toning

✓ Skin Brightening

 
✓ Anti-blemish
✓ Anti-inflammatory  
✓ Exfoliating 
This product also helps
✓ Oil-balancing
✓ Pore shrinking 

✓ Softening 

✓ Hydrating

✓ Non-comedogenic
INGREDIENTS
★BLUEBERRY & CRANBERRY: For centuries, the berries have been valued for their antioxidant and anti-ageing benefits. The antioxidants present in the berries fight free radicals that may cause wrinkles and damage to our skin over time. They are also packed with vitamin A, vitamin C and vitamin E, and help in boosting collagen production that is known to improve the skin elasticity. 
★BIOFLAVONOIDS coming from Citrus, Pomegranate, Rhubarb and Dandelion create youthful skin tone. They minimize uneven skin tone, age spots, wrinkles, and spider veins. Bioflavonoids possess antioxidant properties that help fight cell-damaging free radicals. They may protect the skin by absorbing UVB, strengthening the outer cell layers. They also bring anti-Inflammatory benefits to your skin.
★HIBISCUS & OLIVE POWDER: Hibiscus flower power and Olive seed powder are utilized as natural exfoliants in our formula. They help to gently remove dead skin cells and clarify the pores to give a brightened healthy skin. Thanks to their amazing works, the skin is able to receive oxygen to enhance vitamins and minerals found in the berries and herbs. 
HOW TO USE
HOW TO USE:  
-Use as a facial mask and scrub: Apply generously to face creating a thick coating. Leave on for 15-20 minutes. The product does have natural fibers and exfoliating powder so it great to leave on (as a face mask), then use circular motions to slough off dead skin and exfoliate (as a face scrub). Rinse off with normal or warm water. Follow with one of our toners, serums and moisturizers for full treatment.
-Use as a lip scrub: Apply directly to lip and gently massage to slough off dead skin. Rinse off with normal or warm water.
WHEN TO USE:  Anytime in a day. Once ~ twice per week.
ORDER TO APPLY:  Face cleanser → AGE REVERSAL OXYGEN MASK & SCRUB → (rinse off) → Toner → Serum/Emulsion  → Moisturizer 

HOW TO STORE: Good to keep at room temperature. Avoid direct sun light.
ATTENTION!  For sensitive skin and skin with breakouts, the product should be applied only as a facial mask or as lip scrub. Avoid scrubbing the product on sensitive and breakout skin.
*Product images are for reference only. Packaging may vary.
QUESTIONS & ANSWERS
Have a Question?
Be the first to ask a question about this.
Ask a Question
THIS 3 TRUE + 3 FREE FORMULA WAS DEVELOPED WITH EVERY CUSTOMER IN MIND!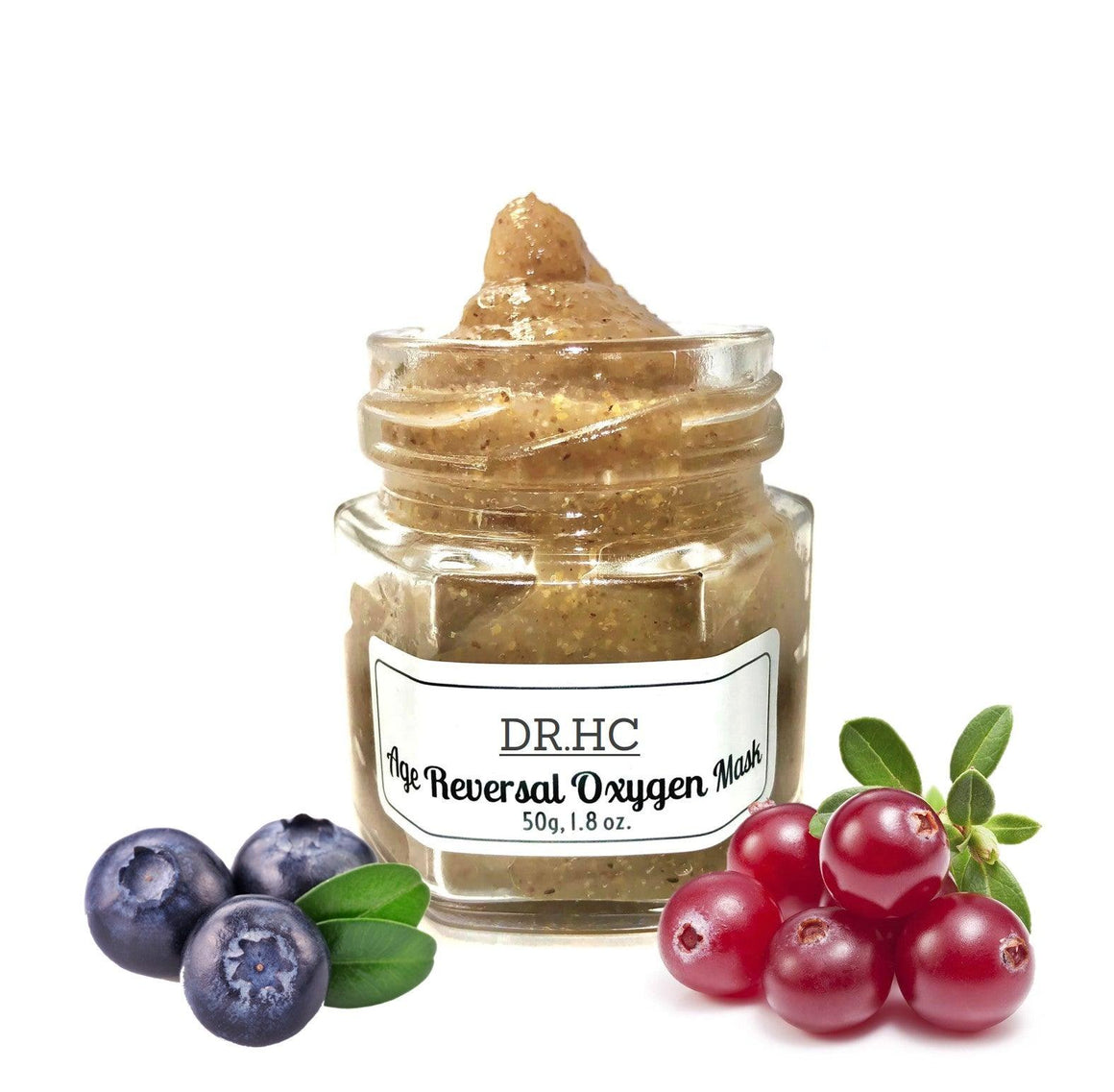 This product is TRUE
✓ Certified Organic Ingredients
✓ Fresh Natural
✓ Vegan (if the product has Vegan tag)
✓ Cruelty-Free
✓ GMO-Free
✓ Eco-friendly
✓ Made in USA
✓ Made by Science
✓ Made with Love ♡
How are these values important to you?
This product is FREE
✖ Parabens
✖ BHA/BHT (preservatives)
✖ Silicones, Siloxanes
✖ SLS/SLES
✖ Synthetic Colorants
✖ Synthetic Fragrances
✖ Phthalates
✖ MEA/ DEA/ TEA
✖ Mineral Oil
✖ Petroleum Jelly
✖ Triclosan
✖ Talc
✖ Microbeads
✖ Lead
✖ Chemical Sunscreens
✖ And other toxics...
How do these ingredients affect your health?
REAL RESULTS FROM REAL CUSTOMERS ACROSS THE WORLD
VIEW MORE REVIEWS HERE
WE DO THINGS DIFFERENTLY !
Click on image to shop product(s) in the photo