DR.HC
DR.HC Anti-Germ All-Natural Hand Cleansing Spray (with Powerful Thieves Blend) (60ml, 2fl.oz.)
PLEASE CHOOSE "SHIP TO" YOUR COUNTRY, or you will be charged international shipping fee. Learn more about our Shipping Policy...

If you live in other countries (not USA, Japan, or Vietnam), please choose "ship to USA" (international shipping fee will be added at checkout)
NATURE + SCIENCE + PASSION!
Our ANTI-GERM is 100% natural hand sanitizer spray formulated with our unique powerful thieves blend which kills germs and keep your hand, your body as well as the space around you clean and clear. This non-alcohol handsanitizer featured with soothing aloe vera and nutritious vitamin E is also helpful to keep your skin sanitized without drying. 
HAPPY POINTS:
✓POINT 1 - PROTECT YOURSELF FROM GERMS : Our thieves blend is based on an ancient formula, historically proven to have powerful antiseptic, antiviral, antibacterial, anti-fungal and anti-infectious properties, keeping you healthy from airborne pathogens. Great for keeping hands clean, when away from soap and water. 

✓POINT 2 - IMMUNE-BOOSTING:  DR.HC unique essential oil blend is good to boosting your immune system to keep you healthy.
✓POINT 3 - AROMATHERAPY TREATMENT: The warm, refreshing & natural aroma scent will awaken your body, mind, and spirit.
✓POINT 4 - ENJOY CLEAN FORMULA:  DR.HC ANTI-GERM natural hand sanitizer helps protect you against germs without worrying about harmful toxins. This product is made from 100% Natural & Organic ingredients, Vegan and Cruelty-Free. It's Non-GMO and formulated without Benzalkonium Chloride, Triclosan, or Triethanoamine. No industrial synthetic agents, harmful preservatives or additives.
✓POINT 5 - STAY SAFE AND SOUND: This 100% natural hand sanitizer is kid safe, pregnancy safe, pet safe & skin safe! 
✓POINT 6 - NO ALCOHOL: no need to worry about skin flakiness or dryness caused by alcohol-based sanitizer.
✓POINT 7- PERFECT TO YOUR SENSITIVE SKIN: in addition to "non-alcohol", our formula is enriched of Aloe Vera, Glycerin and Vitamin E which softens and moisturizers your skin naturally, protecting your sensitive skin while keeping you healthy.
✓POINT 8 - NO WATER OR FILLER: instead, we use witch hazel distillate which has been known as antiseptic and antibacterial agent in order to bring you the most efficient result. Our formula includes naturally antibacterial agents, skin soothing and moisturizing agents ONLY.
✓POINT 9 - CONVENIENT: Can be used for hand, body, hair. Can be used to sanitize any surface or space around you. Travel size, perfect for the purse and kids back pack.
✓POINT 10 - HANDMADE WITH LOVE IN THE USA: Our lab is located in the Silicon Valley, CA. We do research, handmade products in small batches and control quality through all processes in order to ensure the best quality for our customers. Because Customers is also Family!
CLEAN YOUR HANDS FREQUENTLY!
According to CDC (Center for Disease Control and Prevention), you can help yourself and your loved ones stay healthy by washing your hands often, especially during these key times when you are likely to get and spread germs:

-Before, during, and after preparing food
-Before eating food
-Before and after caring for someone at home who is sick with vomiting or -diarrhea
-Before and after treating a cut or wound
-After using the toilet
-After changing diapers or cleaning up a child who has used the toilet
-After blowing your nose, coughing, or sneezing
-After touching an animal, animal feed, or animal waste etc.
WHY OUR ESSENTIAL OIL BLEND IS GOOD?
Our thieves blend is a special compound of 7 kinds of pure plant-based essential oils which were handpicked carefully and wildcrafted in just a right ratio based on an ancient formula to bring the best benefits to you and your family. The blend is historically proven to have powerful antiseptic, antiviral, antibacterial, anti-fungal and anti-infectious properties. Also, modern testings have shown these essential oils to be highly effective in killing germs as well as helpful to relieving cold and flu symptoms like cough and sore throat. Read this article for more details...
FOR WHOM
FOR WHOM ?
✓Unisex

✓Pregnancy safe

✓Child safe
FOR WHAT ?
✓Hand sanitizer
✓Can be used for body, hair...
✓Can be used to sanitize space around you to keep clean and fresh air
✓Can be used to sanitized any surface 

✓Convenient 

while traveling, in restrooms or in crowded places such as supermarkets, hospitals, airports, classrooms etc.
INGREDIENTS
★DR.HC UNIQUE THIEVES BLEND is effective to kill germs. Helps to keep you and your family stay away from sickness.
★WITCH HAZEL: offers antiseptic and bacteria-fighting properties. Some studies also indicate that witch hazel may be beneficial in fighting certain types of viral infections.
★ALOE VERA helps soothing and hydrating your skin.
★VITAMIN E helps moisturing and softening your skin. 
HOW TO USE
HOW TO USE:
-Shake well before use.
-Spray directly on hands and rub together until dry. Can be used to spray on body or hair. Use as often as necessary to reduce bacterial and viral contaminants. 
-Sanitize space around you or on any surface to keep it sanitized.
HOW TO STORE: Good to keep at room temperature. Avoid direct sun light.
*Product images are for reference only. Packaging may vary.
QUESTIONS & ANSWERS
Have a Question?
Be the first to ask a question about this.
Ask a Question
THIS 3 TRUE + 3 FREE FORMULA WAS DEVELOPED WITH EVERY CUSTOMER IN MIND!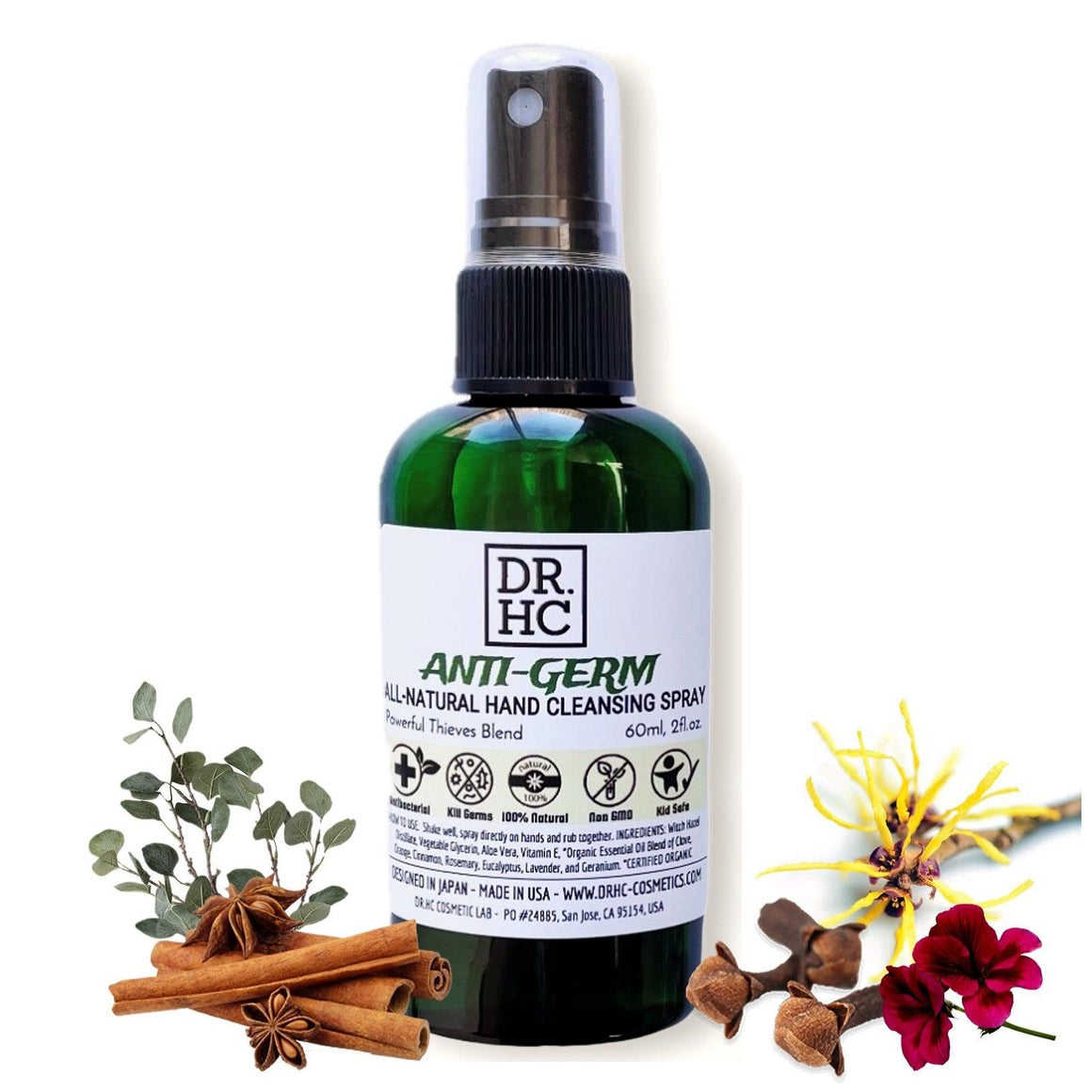 This product is TRUE
✓ Certified Organic Ingredients
✓ Fresh Natural
✓ Vegan (if the product has Vegan tag)
✓ Cruelty-Free
✓ GMO-Free
✓ Eco-friendly
✓ Made in USA
✓ Made by Science
✓ Made with Love ♡
How are these values important to you?
This product is FREE
✖ Parabens
✖ BHA/BHT (preservatives)
✖ Silicones, Siloxanes
✖ SLS/SLES
✖ Synthetic Colorants
✖ Synthetic Fragrances
✖ Phthalates
✖ MEA/ DEA/ TEA
✖ Mineral Oil
✖ Petroleum Jelly
✖ Triclosan
✖ Talc
✖ Microbeads
✖ Lead
✖ Chemical Sunscreens
✖ And other toxics...
How do these ingredients affect your health?
REAL RESULTS FROM REAL CUSTOMERS ACROSS THE WORLD
VIEW MORE REVIEWS HERE
WE DO THINGS DIFFERENTLY !
Click on image to shop product(s) in the photo