DR.HC
DR.HC Sulfur Onsen Clarifying Gel Cream (25~40g, 0.9~1.4oz) (Acne-acne, Anti-blemish, Oil-balancing, Gently Exfoliating...)
PLEASE CHOOSE "SHIP TO" YOUR COUNTRY, or you will be charged international shipping fee. Learn more about our Shipping Policy...

If you live in other countries (not USA, Japan, or Vietnam), please choose "ship to USA" (international shipping fee will be added at checkout)
NATURE + SCIENCE + PASSION!
The Japanese onsen ("onsen" = hot springs) is famous and unique since it brings a lot of benefits to health and skin. It has been scientifically proven that Onsen have a rejuvenating effects on the skin by removing dead skin cells, unclogging pores, balancing sebum, clearing acne & blemishes, stimulating blood circulation & scar healing, which result in promoting a clarified healthy appearance. Especially, hot springs with high sulfur content (sulfur onsen) are said to be beneficial for skin conditions such as acne, blemishes, excessive sebum, scars, dry chapped skin, eczema or psoriasis. It is the inspiration for our SULFUR ONSEN CLARIFYING GEL CREAM!
Acne is the result of a combination of factors including Bacteria + Excess sebum + Clogged pores (dead skin build-up, trapped dirt, etc.). Our SULFUR ONSEN CLARIFYING GEL CREAM is especially formulated with the powerful ingredients such as Organic Sulfur, Japanese Onsen Powder and PHA will target all of those causes in order to revitalize a clear, smooth & healthy looking for you. Made from 100% Organic & Natural ingredients, the gel cream is a happy choice for everyone with sensitive skin and is in troubles with breakouts (acne, pimples, whiteheads, blackheads...), blemishes, acne scars and dark spots. 
HAPPY POINTS:
POINT 1:  Treating! The poweful combination of Organic Sulfur + Japanese Onsen Powder + PHA (Gluconolactone) efficiently attacks acne from all of its causes including bacteria, clogged pores and excessive sebum. Bring you back a clear and healthy skin appearance.
POINT 2:  Improving!

 

The cream helps 

improve blood circulation and oxygen flow which result in improving not only acne conditions but also 

acne scars, dark spots and skin tone. 
POINT 3:  Nourishing! The gel cream is enriched with Organic/ Natural ingredients (Organic Rosemary, Green Tea, Licorice, Aloe, Organic Jojoba & Sunflower oils, Sodium PCA, etc.) which help soothe, hydrate, moisturize, and deliver anti-inflammatory & anti-aging benefits.
POINT 4: 100% Organic & Natural formula. Free from Parabens, Phthalates, Fragrances, Dyes, Mineral oil, and thousands of toxic chemicals.   
POINT 5: Suitable for all skin types. 
POINT 6:  Also recommended for sensitive skin and moms. 
FOR WHOM
FOR WHOM
All skin types (oily, dry, normal, combination) 

Skin with breakouts

Sensitive skin
FOR WHAT
Anti-acne
Anti-blackhead
Anti-inflammatory
Anti Blemish
Anti-scar
Anti-dark spot
Oil-balancing
Gently Exfoliating (removing dead skin cells)
This product also helps
Anti-aging
Skin Toning
Hydrating

Softening 

Non-comedogenic
INGREDIENTS
★ORGANIC SULFUR (MSM): It is also called Methylsulfonylmethane or MSM. Sulfur has antibacterial and anti-inflammatory properties, which help to combat bacteria on the skin that may cause infections and lead to acne breakouts. Sulfur also helps dry out the surface of your skin and absorb excess oil that may contribute to breakouts. In addition, it helps slough away dead skin cells, keeping pores unblocked and stimulating new layers of skin to grow. Sulfur also helps strengthen keratin - an important protein that acts as the main structural component in skin, thus helps improve skin damages and signs of premature aging.
★ JAPANESE ONSEN POWDER:  Japanese Onsen naturally contains a high volume of different minerals such as calcium, sodium bicarbonate, sulfur, and iron, which help improve circulation and oxygen flow and provide many benefits to the skin. It helps detox, remove dead skin cells, unclog pores and balance oil, making your skin smoother and clearer. The Onsen also delivers antioxidant effects, leaving your skin refreshed and youthful.
★PHA (GLUCONOLACTONE): PHA has the ability to gently remove dead skin cells from the outer most layer of the skin and unclog pores, resulting in a smoother, brighter complexion and acne-free appearance. It also strengthens and protects the skin barrier, therefore helps to soothe dry skin, replenish lost moisture, and promote a healthy skin. In addition, PHA has antioxidant properties. It helps neutralise free radicals (the cause of the aging process) caused by UV and pollution.
In addition, our Sulfur Onsen Clarifying Gel Cream is enriched with Organic/ Natural ingredients which help soothe, hydrate, moisturize, deliver anti-inflammatory & anti-aging benefits in order to promote a clear, glowing & healthy looking: Licorice root extract, Organic Rosemary & Organic Green Tea extracts bring anti-inflammatory & anti-aging benefits; Aloe Leaf Juice, Sodium PCA and Glycerin increase skin hydrating level; Organic Jojoba & Organic Sunflower oil combine to create a protective moisturizing barrier.
HOW TO USE
HOW TO USE: Moisturize your face with the gel cream every morning and night after you cleanse, tone and then a serum. Always use circular, upward motions with a gentle touch on your face. 
WHEN TO USE:  Everyday. Day and/or Night.
ORDER TO APPLY:  Cleanser → Toner → Serum/Emulsion → DR.HC SULFUR ONSEN CLARIFYING GEL CREAM
HOW TO STORE: Good to store at room temperature. Avoid direct sunlight and conditions of high humidity.
*Product images are for reference only. Packaging may vary.
QUESTIONS & ANSWERS
Have a Question?
Be the first to ask a question about this.
Ask a Question
THIS 3 TRUE + 3 FREE FORMULA WAS DEVELOPED WITH EVERY CUSTOMER IN MIND!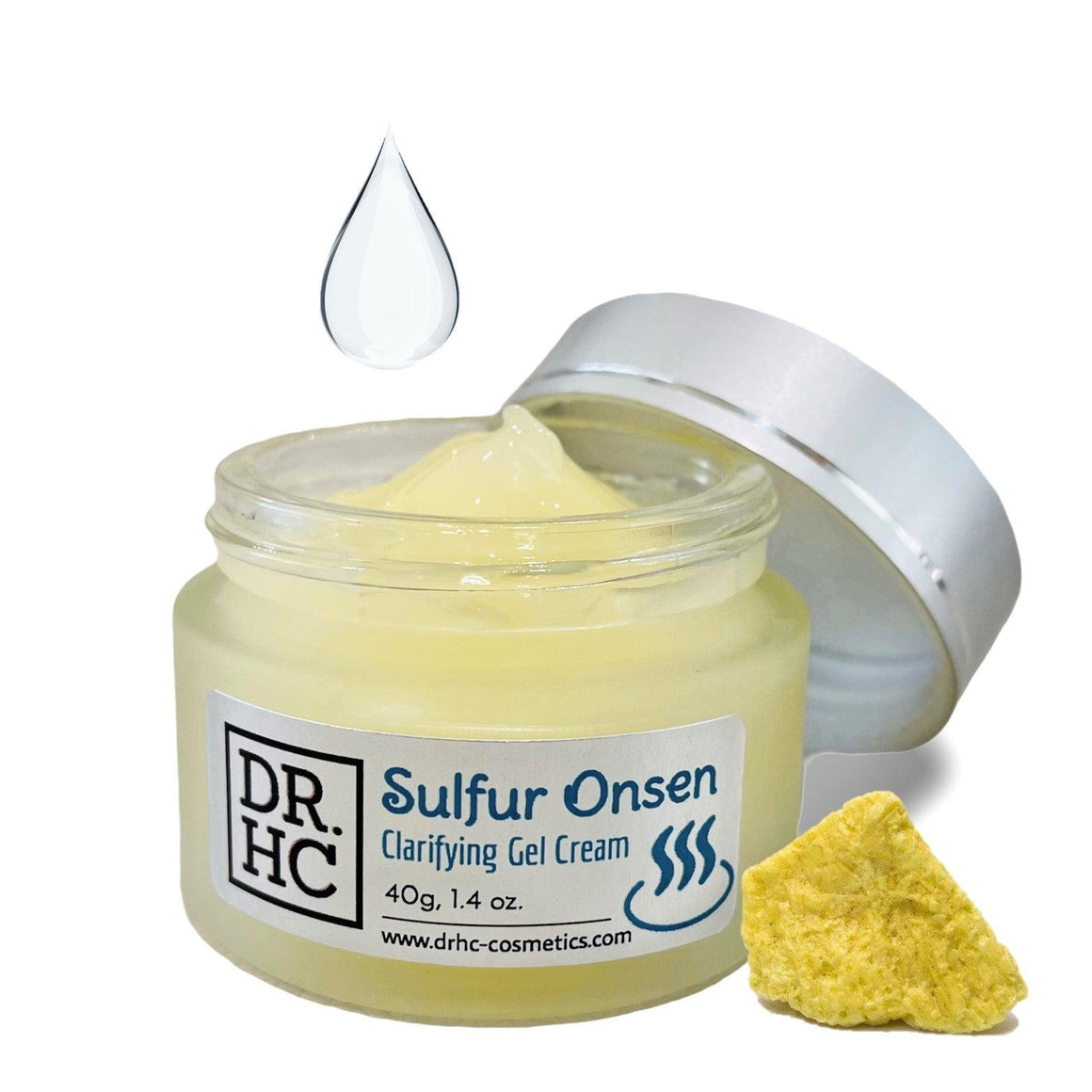 This product is TRUE
✓ Certified Organic Ingredients
✓ Fresh Natural
✓ Vegan (if the product has Vegan tag)
✓ Cruelty-Free
✓ GMO-Free
✓ Eco-friendly
✓ Made in USA
✓ Made by Science
✓ Made with Love ♡
How are these values important to you?
This product is FREE
✖ Parabens
✖ BHA/BHT (preservatives)
✖ Silicones, Siloxanes
✖ SLS/SLES
✖ Synthetic Colorants
✖ Synthetic Fragrances
✖ Phthalates
✖ MEA/ DEA/ TEA
✖ Mineral Oil
✖ Petroleum Jelly
✖ Triclosan
✖ Talc
✖ Microbeads
✖ Lead
✖ Chemical Sunscreens
✖ And other toxics...
How do these ingredients affect your health?
REAL RESULTS FROM REAL CUSTOMERS ACROSS THE WORLD
VIEW MORE REVIEWS HERE
WE DO THINGS DIFFERENTLY !
Click on image to shop product(s) in the photo