DR.HC
DR.HC Miracle Setting Spray (with Organic Ginseng, Passionfruit, Ceramide & Vitamin C) (40ml, 1.4 fl.oz.) (Anti-aging, Skin toning, Anti-inflammatory...)
PLEASE CHOOSE "SHIP TO" YOUR COUNTRY, or you will be charged international shipping fee. Learn more about our Shipping Policy...

If you live in other countries (not USA, Japan, or Vietnam), please choose "ship to USA" (international shipping fee will be added at checkout)
NATURE + SCIENCE + PASSION!
Setting spray helps set makeup for longer wear, add a soft-focus finish to your makeup and lock on your look. Our Miracle Setting Spray is a versatile plant-based setting spray, which can be used not only for setting makeup, but also for refreshing throughout the day, or providing an extra boost of moisture, antioxidants and skin-protecting agents to your skin anytime. This multi-purpose property makes this magical spray work for all of your needs!
In addition, the "miracles" of the spray are also coming from its formula. Made from Organic Ginseng, Passionfruit, Ceramide & Vitamin C - poweful natural ingredients which help enhancing skin barrier function, the spray creates an invisible barrier to protect your skin all day long from dryness, irritation, bacteria and environmental damages etc., as well as provides the skin with anti-inflammatory, anti-aging and skin toning benefits.
HAPPY POINTS
POINT 1: Multi-purpose. The spray can be used for: 1/ setting makeup for longer lasting and softer-focus finish, 2/ soothing & refreshing skin throughout the day, or 3/ toning, moisturizing and nourishing the skin any time with anti-aging, anti-acne benefits.
POINT 2:

 

Setting Makeup + Skincare in 1 bottle! The spray is specially formulated with a combination of the most powerful skin-protecting ingredients including Organic Ginseng, Organic Passionfruit, Ceramide & Vitamin C. They all have the ability to strenthening skin barrier function by creating an

invisible layer in order to protect the s

kin from

 dryness, dehydration, 

irritation, premature signs of aging and

 

environmental damage. In addition, they provide anti-inflammatory, anti-aging and skin toning benefits.

POINT 3: Nourishing formula. Made from the purest Organic & Natural ingredients which have anti-aging (organic berry extracts), anti-acne effects (organic tea tree, organic willow bark extracts) 
POINT 4: Clean & non-toxic formula. Paraben-free, Dye-free, Fragrance-free, Phthalate-free, Mineral Oil - free, Silicone-free, Gluten-free. The spray has natural color and citrus scent coming from botanical extracts.
POINT 5:  This makeup setting spray is Vegan & Cruelty-free.
POINT 6: 

Good for all skin types.

It shields the skin from environmental damages, but never clog pores or leave greasy after feel
POINT 7: 

 Convenient travel size

makes it easy to take this with you to refresh your makeup on the go!
FOR WHOM
FOR WHOM
All skin types (oily, dry, normal, combination) 

Sensitive skin

Skin with breakouts
FOR WHAT
Setting your makeup for longer lasting and adding a soft-focus finish.
Strenthening skin barrier function to protect 

skin from

 dryness, dehydration, 

irritation, premature signs of aging and environmental damage.

Anti-aging

Anti-inflammatory
Skin toning   

This product also helps
Hydrating

pH Balancing

Skin Softening 

Non-comedogenic
INGREDIENTS
★ORGANIC GINSENG: Its roots and leaves are rich in vitamins, minerals and antioxidants, allowing them to metabolise skin cells and help get rid of dead skin cells to produce healthy new skin. Ginseng prevents aging, brings plumping and firming effects, maintains the skin's elasticity and lengthens the lifespan of skin cells. Ginseng also boosts bloodflow for a natural glow. It is a brilliant overall complexion booster.
★ORGANIC PASSIONFRUIT EXTRACT: Passionfruit extract also helps strengthen the skin barrier to protect against bacteria, pollutants and infection, resulting in a clear and healthy looking. This superfood contains Vitamin C, Vitamin A, riboflavin and carotene which helps skin retain moisture and improve blood flow, making it look brighter and younger, and preventing aging and wrinkling. The high content of anti-inflammatory properties in passionfruit can reduce irritation and soothe the skin.
★CERAMIDES: As the skin's natural moisturizer, ceramides creates a protective barrier that helps prevent the loss of moisture and shields the skin from environmental aggressors while never clogging pores. They play an essential role in protecting the skin from dryness, dehydration, irritation and premature signs of aging (anti-aging effects). It also helps protect your epidermis from environmental damage.
★VITAMIN C:  Vitamin C defends against free radicals and shields skin from the visible impacts of pollution. Vitamin C also tones your skin as well as promotes the regeneration of new skin, boosts collagen production  and diminishes signs of aging such as fine line and wrinkles. It nourishes your skin while making your makeup smoother and fresher. 
HOW TO USE
HOW TO USE: Hold bottle 8 - 10 inches away from face and lightly spray over freshly made faces to set your makeup.
WHEN TO USE:  Everyday, anytime.
ORDER TO APPLY:  Makeup →  DR.HC MIRACLE SETTING SPRAY

HOW TO STORE: Good to keep at room temperature. Avoid direct sun light. For an extra refreshing mist, try storing it in the fridge!
*Product images are for reference only. Packaging may vary.
QUESTIONS & ANSWERS
Have a Question?
Be the first to ask a question about this.
Ask a Question
THIS 3 TRUE + 3 FREE FORMULA WAS DEVELOPED WITH EVERY CUSTOMER IN MIND!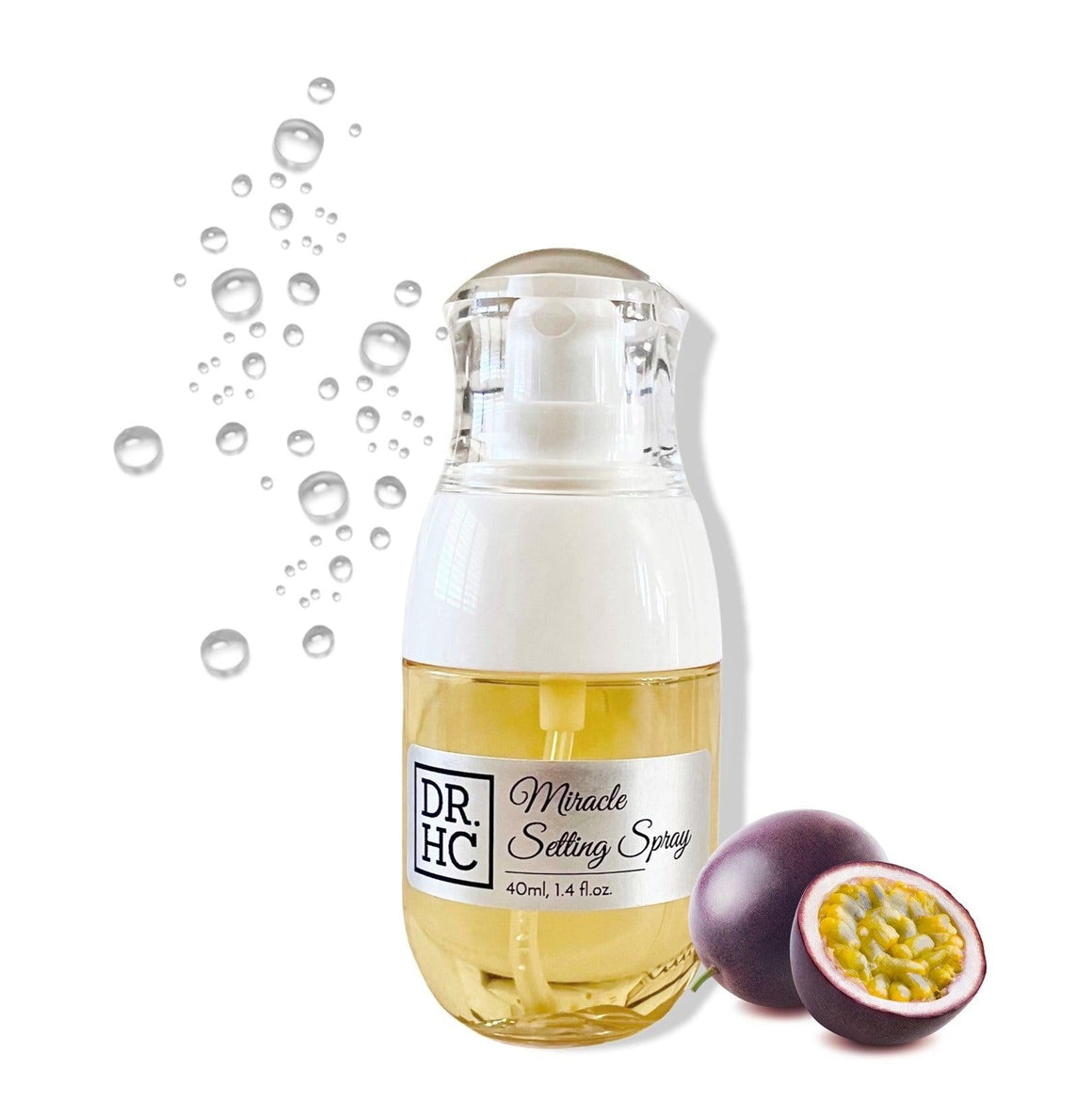 This product is TRUE
✓ Certified Organic Ingredients
✓ Fresh Natural
✓ Vegan (if the product has Vegan tag)
✓ Cruelty-Free
✓ GMO-Free
✓ Eco-friendly
✓ Made in USA
✓ Made by Science
✓ Made with Love ♡
How are these values important to you?
This product is FREE
✖ Parabens
✖ BHA/BHT (preservatives)
✖ Silicones, Siloxanes
✖ SLS/SLES
✖ Synthetic Colorants
✖ Synthetic Fragrances
✖ Phthalates
✖ MEA/ DEA/ TEA
✖ Mineral Oil
✖ Petroleum Jelly
✖ Triclosan
✖ Talc
✖ Microbeads
✖ Lead
✖ Chemical Sunscreens
✖ And other toxics...
How do these ingredients affect your health?
REAL RESULTS FROM REAL CUSTOMERS ACROSS THE WORLD
VIEW MORE REVIEWS HERE
WE DO THINGS DIFFERENTLY !
Click on image to shop product(s) in the photo