DR.HC
DR.HC Arbutin Collagen Blueberry Serum (15g, 0.5oz.) (with 5% Alpha-Arbutin, Collagen & Blueberry) (Collagen Supply, Anti-aging, Skin brightening, Skin plumping...)
PLEASE CHOOSE "SHIP TO" YOUR COUNTRY, or you will be charged international shipping fee. Learn more about our Shipping Policy...

If you live in other countries (not USA, Japan, or Vietnam), please choose "ship to USA" (international shipping fee will be added at checkout)
NATURE + SCIENCE + PASSION!
(Old name: DR.HC Arbutin Collagen Blueberry Serum) Enjoy the powerful combination of Collagen (Palmitoyl Tripeptide-5), Blueberry & 5% Alpha-Arbutin derived from Bearberry, that effectively help plumping & firming your skin, boosting natural collagens, preventing signs of aging, brightening your complextion, and rejuvenating a clear healthy skin without scars and blemishes. In addition, more than 10 different types of botanical extracts were combined to enhance the anti-aging effects, provide anti-acne benefits as well as help calm, soothe and revitalize your skin.
This gorgeous serum is formulated with over 95% Organic & Natural derived ingredients. This super clean & luxurious serum with sweet scent and beautiful purple color is a must-have for everyone who would like to achieve a plumping skin! 

HAPPY POINTS:
POINT 1: Enjoy the powerful combination of ingredients Collagen

, Blueberry & 5% Alpha-Arbutin that effectively help plumping your skin, boosting natural collagens, preventing signs of aging, brightening skin and rejuvenating a clear healthy looking without scars and blemishes.



POINT 2:  Nearly All-Natural & Organic formula,

 

with surprisingly high Organic content (

more than 95% Organic/ Natural derived ingredients

)!
POINT 3: Completely non-toxic.

 

Free from Parabens, Phthalates, Synthetic dyes, Synthetic colorants, Mineral oils, Petroleum jelly, Silicones/ Siloxanes, etc. Free from preservatives (organically preserved)
POINT 4: Non-comedogenic & Lightweight after-feel. Make skin supple and hydrated, but never clog your pores!
POINT 5: 

Naturally colored and scented

 
POINT 6: 

 

100% 

Vegan formula

. 
FOR WHOM
FOR WHOM
All skin types (oily, dry, normal, combination) 

Also perfect for super-oily and super-dry skin

Sensitive skin

Skin with breakouts
FOR WHAT
Stimulating natural Collagen systhesis

Anti-aging

Skin brightening
Skin plumping
Skin firming
Anti-scar  
This product also helps
Anti-acne

Hydrating

Softening 
Moisturizing

Non-comedogenic
INGREDIENTS
★BLUEBERRY EXTRACT:  Blueberries are high in plant compounds known as anthocyanins, which have strong antioxidant properties and can help fight cell-damaging free radicals. Blueberry extract also helps naturally boost collagen synthesis, bring you a plumping and supple skin. In addition, the high antioxidant content of blueberries can potentially help speed the healing process, resulting in faster improvement of acne scars and skin damages.
★TRIPEPTIDE (COLLAGEN STIMULATOR): Forget collagens that are not cruelty-free and vegan! Palmitoyl Tripeptide-5 is a peptide that will help stimulate the skin's natural production of Collagen. This collagen synthesis booster works by activating the release of transforming growth factor-beta (TGF-beta) within the epidermis. By actively promoting collagen synthesis palmitoyl tripeptide-5 is effective in reducing the appearance of fine lines and wrinkles as well as improving the skin's firmness and moisture retention. Studies have shown that Palmioyl Tripeptide-5 is capable of reducing and changing the type and aspect of wrinkles that add years to your appearance. 
★ ALPHA-ARBUTIN (5%, SUPER HIGH CONTENT):  Alpha arbutin is a skin brightener naturally derived from the bearberry plant. It is well-known to be very effective in evening skin tone, treating hyperpigmentations, acne scars and age spots. It can also inhibit the negative effects of UV-radiation thanks to its sun protection properties.
In addition, Eggplant Extract, Neem Leaf & Flower extracts as well as Turmeric extract enhance anti-aging effects and help protect the skin from harmful UV rays; Anti-bacterial Basil & Holy Basil Extracts provide anti-acne benefits; Organic Aloe, Red Seaweed, Provitamin B5 and Sodium PCA help sooth and boost skin hydration. 
HOW TO USE
HOW TO USE: Apply an appropriate amount to entire face and allow to dry. Follow with any of our moisturizers.
WHEN TO USE:  Can be used daily. Can be used under make up.
ORDER TO APPLY:   Cleanser →Toner → DR.HC COLLAGEN BLUEBERRY SERUM → Moisturizer 

HOW TO STORE: Good to keep at room temperature. Avoid direct sun light.
*Product images are for reference only. Packaging may vary.
Dạ bị mụn ẩn sự sung hA đc k

HA da nào cũng có thể dùng em nhé

-Chau, 1/2021
THIS 3 TRUE + 3 FREE FORMULA WAS DEVELOPED WITH EVERY CUSTOMER IN MIND!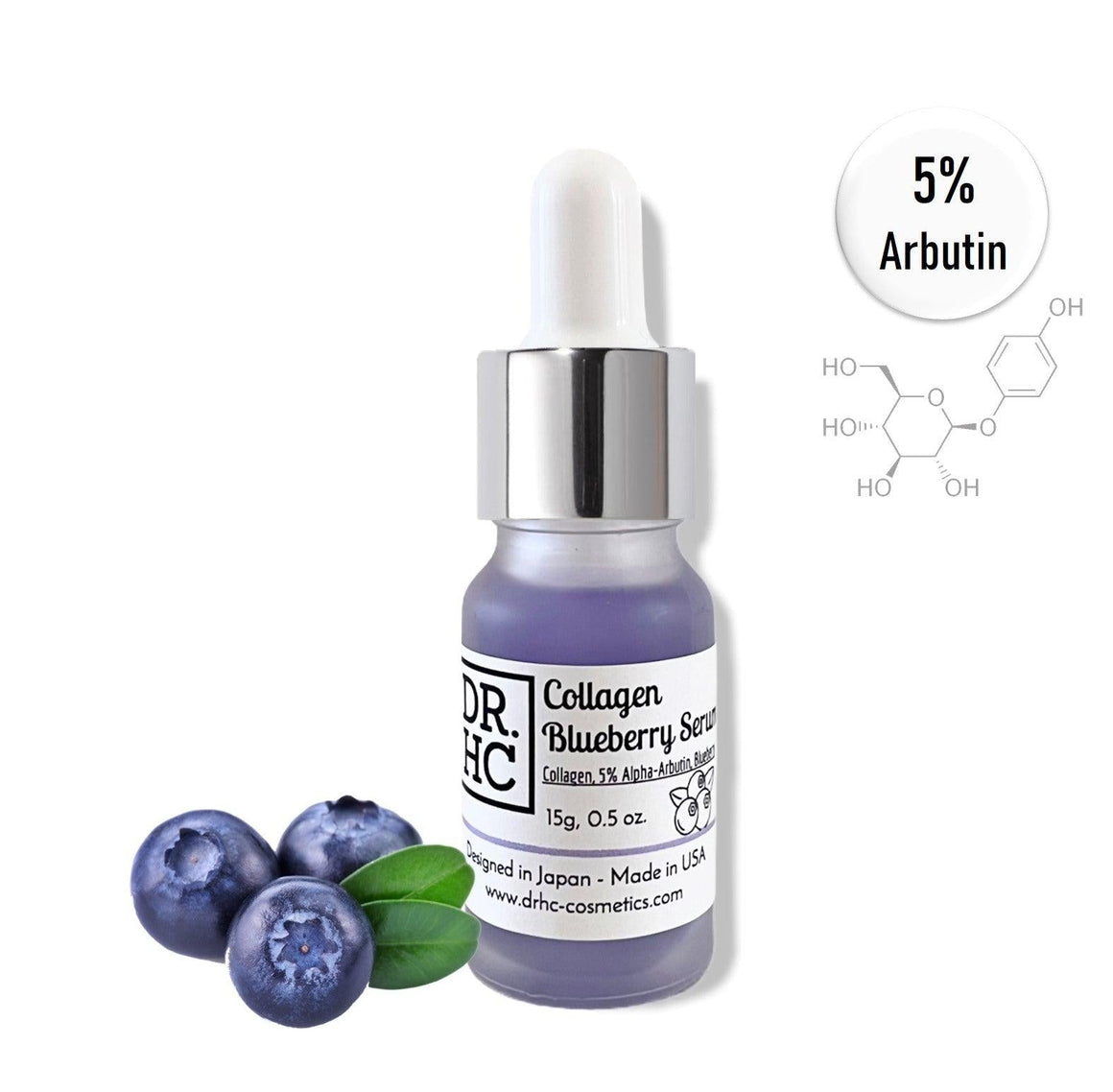 This product is TRUE
✓ Certified Organic Ingredients
✓ Fresh Natural
✓ Vegan (if the product has Vegan tag)
✓ Cruelty-Free
✓ GMO-Free
✓ Eco-friendly
✓ Made in USA
✓ Made by Science
✓ Made with Love ♡
How are these values important to you?
This product is FREE
✖ Parabens
✖ BHA/BHT (preservatives)
✖ Silicones, Siloxanes
✖ SLS/SLES
✖ Synthetic Colorants
✖ Synthetic Fragrances
✖ Phthalates
✖ MEA/ DEA/ TEA
✖ Mineral Oil
✖ Petroleum Jelly
✖ Triclosan
✖ Talc
✖ Microbeads
✖ Lead
✖ Chemical Sunscreens
✖ And other toxics...
How do these ingredients affect your health?
REAL RESULTS FROM REAL CUSTOMERS ACROSS THE WORLD
VIEW MORE REVIEWS HERE
WE DO THINGS DIFFERENTLY !
Click on image to shop product(s) in the photo