DR.HC
DR.HC Anti-Pigmentation Lip & Nipple Plumping Cream (All Types) (10g, 0.35 oz.) (Anti-pigmentation, Plumping, Healing, Hydrating...)
PLEASE CHOOSE "SHIP TO" YOUR COUNTRY, or you will be charged international shipping fee. Learn more about our Shipping Policy...

If you live in other countries (not USA, Japan, or Vietnam), please choose "ship to USA" (international shipping fee will be added at checkout)
NATURE + SCIENCE + PASSION!
A unique all-natural/organic cream which can be used for both lip and body such á nipples and intimate areas. Made from the purest Astaxanthin, Organic Saffron, Organic Ginseng and Carrot seed oil, the cream is for everyone who wants to fight against pigmentation on lip, nipples, and so on. It also brings plumping and hydrating benefits, as well as helps heal, smoothen, soften and provides skin with amazing anti-aging effects. Vegan, Non-GMO, Cruelty-free and Toxic-free formula! Also recommended for moms who have trouble with dry/ cracked nipple and/or nipple pigmentation. 
WHY YOU SHOULD BUY THIS?
POINT 1: Clean formula, non toxic with All-Organic/Natural ingredients.

 

No 

artificial colors at all! No fragrances, preservatives or any chemicals. Safe to use for pregnancy/ breastfeeding. Safe for daily use.



POINT 2: Multi-benefits: Anti-pigmentation, Plumping, Healing, Anti-aging, Hydrating, and more. 
POINT 3:  Multi-functional: Used for both lip and body (nipples, intimate areas, etc.)

POINT 4: Unique & precious high-end ingredients: Astaxanthin, Organic Saffron, Organic Ginseng etc.
POINT 5: Perfect for sensitive skin and moms. 
RESULTS
FOR WHOM
All skin types
Sensitive skin 
RESULTS
Anti-pigmentation 

Skin plumping

Healing

Anti-aging
Hydrating
Moisturizing 
Skin Softening 
INGREDIENTS
★ASTAXANTHIN: Astaxanthin assists skin renewal which is helpful to prevent pigmentation. By minimising effects of ROS (the factor which breaks down the collagen matrix and leads to wrinkle formation and loss of elasticity), Astaxanthin helps reduce moisture loss and keeps skin smooth and plumping. It also reduces UVB induced inflammation which results in a less stressed and healthier skin.
★ ORGANIC SAFFRON: Saffron helps stimulate blood circulation by providing oxygen to your skin and  give you a glowing complexion, resulting in amazing anti-pigmentation results. It also provides anti-inflammatory benefits which help soothing skin and giving your skin a healthy looking. In addition, saffron contains many vitamins and antioxidants which help moisturize, plump and nourish the skin.
★ ORGANIC GINSENG: Its roots and leaves are rich in vitamins, minerals and antioxidants, allowing them to metabolise skin cells and help get rid of dead skin cells to produce healthy new skin. Ginseng prevents aging, brings plumping and firming effects, maintains the skin's elasticity and lengthens the lifespan of skin cells. Ginseng also boosts bloodflow for a natural glow. It is a brilliant overall complexion booster. 
★ CARROT SEED OIL: The Beta Carotene and Vitamin A found in carrot seed oil are rich in antioxidants, thus, it helps eliminating toxic build-up, plumping, boosting elasticity and improving moisture for your lip. 
ALL INGREDIENTS
:
Ricinus Communis (Castor) Seed Oil, Hydrogenated Castor Oil, Squalane Oil, Daucus Carota (Carrot) Seed Essential Oil, Astaxanthin, Argania Spinosa (Argan) Kernel Oil, Elaeis Guineensis (Palm) Oil, *Organic Crocus Sativus (Saffron) Flower Extract, *Organic Asian Ginseng (Panax Ginseng) Root Extract, *Organic Glycerin, Aqua (Water), Safflower.
HOW TO USE
HOW TO USE: Apply directly on the lip or nipples or the area you would like to care, and gently massage. 
WHEN TO USE:  Anytime. For the best results, recommend to use at least 2~3 times per day
ORDER TO APPLY:  When used for lip, this product can be used under makeup. 

HOW TO STORE: Good to store at room temperature.  
*Product images are for reference only. Packaging may vary.
QUESTIONS & ANSWERS
Have a Question?
Be the first to ask a question about this.
Ask a Question
THIS 3 TRUE + 3 FREE FORMULA WAS DEVELOPED WITH EVERY CUSTOMER IN MIND!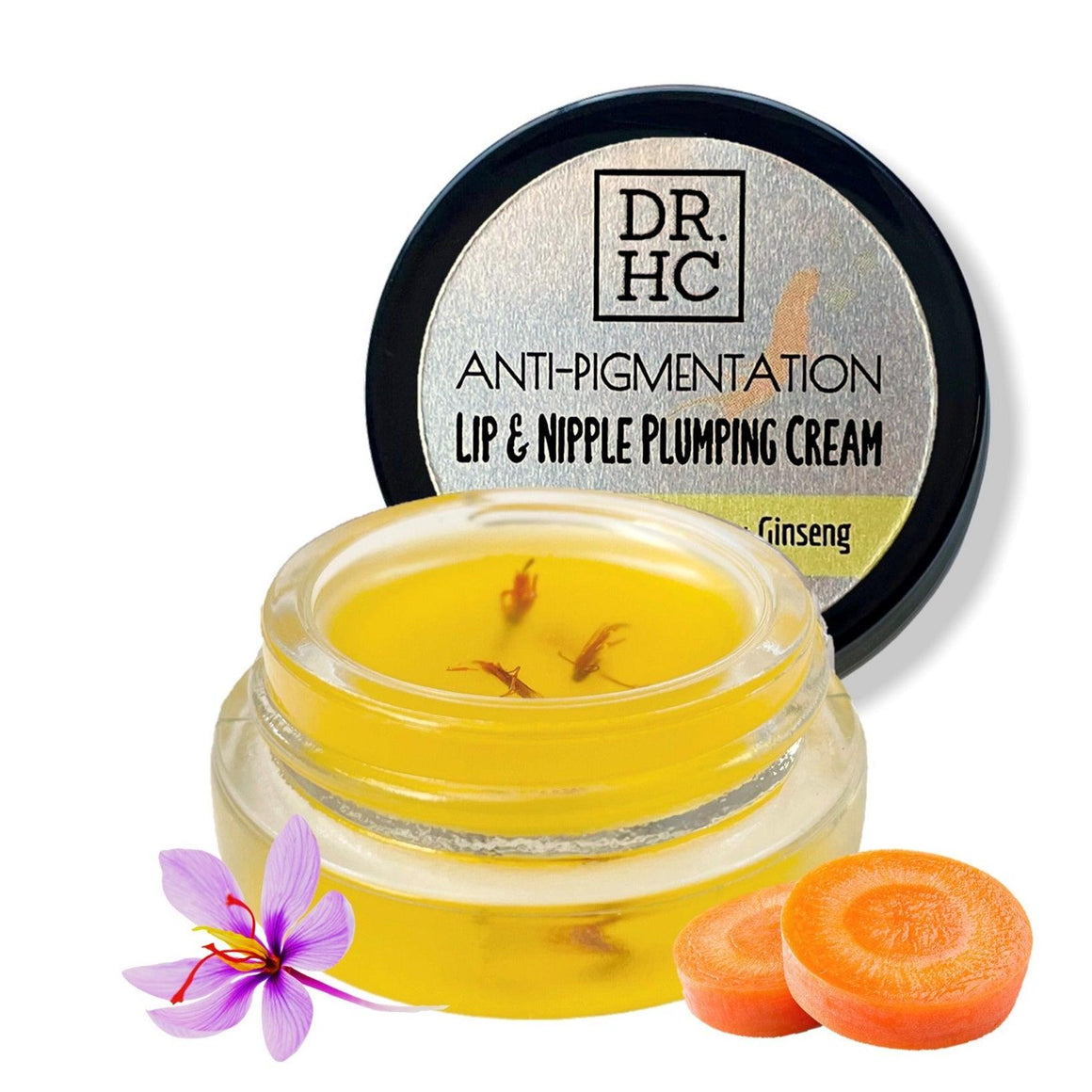 This product is TRUE
✓ Certified Organic Ingredients
✓ Fresh Natural
✓ Vegan (if the product has Vegan tag)
✓ Cruelty-Free
✓ GMO-Free
✓ Eco-friendly
✓ Made in USA
✓ Made by Science
✓ Made with Love ♡
How are these values important to you?
This product is FREE
✖ Parabens
✖ BHA/BHT (preservatives)
✖ Silicones, Siloxanes
✖ SLS/SLES
✖ Synthetic Colorants
✖ Synthetic Fragrances
✖ Phthalates
✖ MEA/ DEA/ TEA
✖ Mineral Oil
✖ Petroleum Jelly
✖ Triclosan
✖ Talc
✖ Microbeads
✖ Lead
✖ Chemical Sunscreens
✖ And other toxics...
How do these ingredients affect your health?
REAL RESULTS FROM REAL CUSTOMERS ACROSS THE WORLD
VIEW MORE REVIEWS HERE
WE DO THINGS DIFFERENTLY !
Click on image to shop product(s) in the photo