DR.HC
DR.HC No-Rinse Feminine Wash (70ml, 2.4 fl.oz.) (pH Balancing, Deodorant, Hydrating, Anti-itching, Anti-dryness, Anti-inflammatory...)
PLEASE CHOOSE "SHIP TO" YOUR COUNTRY, or you will be charged international shipping fee. Learn more about our Shipping Policy...

If you live in other countries (not USA, Japan, or Vietnam), please choose "ship to USA" (international shipping fee will be added at checkout)
NATURE + SCIENCE + PASSION!
Are you experiencing uncomfortable itches, odor, dryness around intimate area during day time or during your period? You want to wash the area right away but you're not at home, no water, no gentle soap, aren't you sometimes in such a situation? This is where you should have this NO-RINSE FEMININE WASH in your bag! Our NO-RINSE FEMININE WASH is developed by women to help women all around the world get over those kinds of discomfort. Made from 100% Organic/ Natural ingredients, this no-rinse feminine wash will instantly help you cleanse and prevent the area from itching, odor, inflammation and dryness while balancing a proper pH for your sensitive area. 

The feminine wash can be used for everyone, especially formulated for 
Women in 

menstrual cycle who usually experience itch or uncomfortable odor, etc.




Women in Perimenopause or Menopause with vaginal discomfort

Anyone who is looking for a convenient and gentle care for sensitive vulvar area. 
WHAT MAKES OUR NO-RINSE FEMININE WASH DIFFERENT ?
POINT 1

: Multi-benefit. It helps protect your intimate area from multi-troubles including itches, odor, inflammation & dryness, while balancing an ideal pH. 

POINT 2

: 100% Organic/ Natural formula. Enriched with nutritious Organic & Natural ingredients which cleanse, protect, nourish and moisturize your sensitive area. Safe to use as frequently as you want.

POINT 3

: Free from Sulfate and chemical surfactants! Won't damage or dry out your sensitive area. 

POINT 4

: Non-toxic. Paraben-free, Fragrance-free, Alcohol-free! Refreshing mint scent comes from 100% herbal extracts.

POINT 5

:  Convenient to use anywhere and anytime. No need to rinse with water.

POINT 6

:

  Fresh & Cool after feel 

(cooling sensations may vary. )

POINT 7

: This no-rinse feminine wash is also Vegan and Gluten-free.
FOR WHOM
FOR WHOM
All skin types

Sensitive skin
Specially formulated for women in Perimenopause/ Menopause or women in menstrual cycles.
FOR WHAT
Deep down cleanse your intimate area.

pH Balancing
Deodorizing

Anti-inflammatory

Anti-itch

Hydrating

INGREDIENTS
This 100% Organic/ Natural formula only ultilizes the power of herbs to bring you the best results.
★ PEPPERMINT,  SPEARMINT, EUCALYPTUS OIL & WINTERGREEN OIL: Naturally cleanse the skin. They have antiseptic, antibacterial and anti-inflammatory properties which help kill bateria that cause itch and odor. It has a cooling effect which can help soothe irritation, relieve itching and inflammation associated with dryness and skin irritations.
★ TEA TREE, ROSEMARY EXTRACT & WITCH HAZEL WATER: bring anti-bacterial and anti-inflammatory benefits which may be the reason of uncomfortable smell and itch. 
★ ORGANIC CHAMOMILE FLOWER WATER & ORGANIC ALOE: help soothing your skin, reducing itch as well as inflammation.
★ ROSE FLOWER WATER & SPEARMINT OIL: helps hydrating & moisturizing the area. The antioxidant quality of Spearmint Oil is believed to help increase skin's resilience and elasticity. 

HOW TO USE
HOW TO USE:  For external use only. Spray directly to the area then use toilet paper or tissue to gently wipe and cleanse. Or: spray the liquid on toilet paper/ tissue then gently wipe the area to cleanse. No need to rinse. Use together with our pH BALANCING FEMININE WASH and ALL NATURAL INTIMATE FEMININE MOISTURIZER for ultimate results of your feminine care.
WHEN TO USE:  Can be used every day when needed. 
HOW TO STORE: Good to keep at room temperature. Avoid direct sunlight.
WARNING: This formula has Methyl Salicylate (naturally contained in Wintergreen oil). Ask your doctor if you have problem to use Methyl Salicylate.
*Product images are for reference only. Packaging may vary.
Hello! I am considering buying the Femenine Wash, but have some questions first. I will be grateful for your response. 1- Do you also make wholesales for the "femenine wash"? (around 60) 2- Is there any literature in the back of the bottle about ingredients, etc.? 3- Is it a plastic or glass bottle? 4- Do you have to unscrew the lid, to open the bottle? 5- Does it come with a box? Thank you, Rosa

Hi Rosa,
Thank you for being interested in our products. Let me help you with the questions.

1- Do you also  make  wholesales for the "femenine wash"? (around 60)
--> Yes, we do. Basically we offer wholesale for all products listed on this website. We will need to have a wholesale account to get our products with wholesale prices. Here's the benefits and instructions to apply for a wholesale account. 

 2- Is there any literature in the back of the bottle about ingredients, etc.?
--> There's an ingredient list on the left side of the bottle.

 3- Is it a plastic or glass  bottle?
--> It's plastic bottle. We received comments from customers that plastic bottles would be much convenient for them to use, especially in the bath.

 4- Do you have to unscrew the lid,  to open the bottle?
--> There's a protection seal inside, so for first time use you need to remove the seal. Afer that, you don't need to unscrew the lid, but just need to push on the cap, a hole will be open for liquid to come out.

 5- Does it come with a box?
--> No box, but it comes in shrink wrap to protect the bottle from scratches, dirt etc.

If you need further assist, feel free to reach out to me at help@drhc-cosmetics.com.
Have a great day!

-Kristina, 2/2021

Em chào chị. chị ơi em 16 tuổi có dùng sản phẩm này được ko ạ

Hi Linh Chi, tuổi của em có thể yên tâm sử dụng sản phẩm này được nhé.
THIS 3 TRUE + 3 FREE FORMULA WAS DEVELOPED WITH EVERY CUSTOMER IN MIND!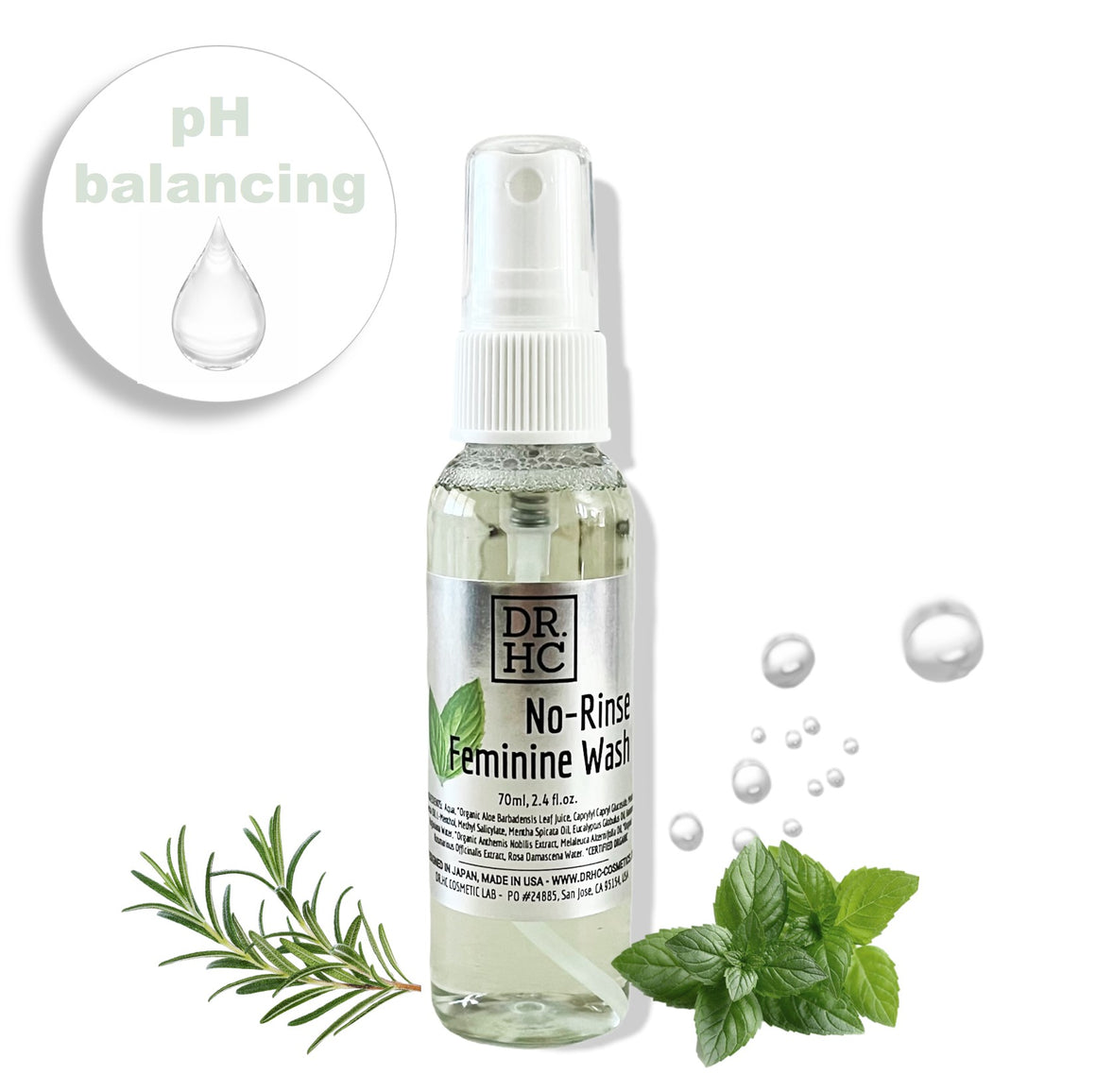 This product is TRUE
✓ Certified Organic Ingredients
✓ Fresh Natural
✓ Vegan (if the product has Vegan tag)
✓ Cruelty-Free
✓ GMO-Free
✓ Eco-friendly
✓ Made in USA
✓ Made by Science
✓ Made with Love ♡
How are these values important to you?
This product is FREE
✖ Parabens
✖ BHA/BHT (preservatives)
✖ Silicones, Siloxanes
✖ SLS/SLES
✖ Synthetic Colorants
✖ Synthetic Fragrances
✖ Phthalates
✖ MEA/ DEA/ TEA
✖ Mineral Oil
✖ Petroleum Jelly
✖ Triclosan
✖ Talc
✖ Microbeads
✖ Lead
✖ Chemical Sunscreens
✖ And other toxics...
How do these ingredients affect your health?
REAL RESULTS FROM REAL CUSTOMERS ACROSS THE WORLD
VIEW MORE REVIEWS HERE
WE DO THINGS DIFFERENTLY !
Click on image to shop product(s) in the photo