DR.HC
DR.HC Silky Mineral CC Powder (UV Protection All-Natural Loose Powder Foundation) (2 Shades) (11g, 0.4oz.) (Natural UV Care, Anti-aging, Skin brightening, Oil-balancing, Hydrating...)
PLEASE CHOOSE "SHIP TO" YOUR COUNTRY, or you will be charged international shipping fee. Learn more about our Shipping Policy...

If you live in other countries (not USA, Japan, or Vietnam), please choose "ship to USA" (international shipping fee will be added at checkout)
NATURE + SCIENCE + PASSION!
A 100% Natural & Mineral, 100% Cruelty-free powder foundation! The product is rich in minerals, pure natural pigments, organic ingredients, active ingredients, and nothing else. No preservatives, no fillers. 
This micronized, silky, luxurious powder foundation will bring you silky skin with a seemingly flawless and natural luminous long-lasting finish. The super-pure and healthy formula will also enrich your skin with precious Silk Peptide (Silk Protein), double Vitamin C, and Hyaluronic Acid... The formula consists of Titanium Dioxide and Zinc Oxide that provide perfect coverage and non-irritating natural UVA/UVB protection (with SPF ~30, broad-spectrum). Be flawless and be protected from harmful UV rays!
There're 2 color options for your choice:
★PEACHY MILK: best suited for light complexions, giving you a bright and beautiful rosy pink finish. A perfect choice to use with our HEALTHY AQUA CC TINT -  PEACHY MILK.
★CAPPUCCINO: best suited for light to medium complexions with warm undertones, giving you a naturally healthy finish. A perfect choice to use with our HEALTHY AQUA CC TINT - CAPPUCCINO.
HAPPY POINTS
POINT 1: Super clean & healthy formula! 100% Natural & Mineral! Free from Parabens, Talc, synthetic Pigments/ Dyes, Fragrances, mineral oils, and Bismuth Oxychloride (which can be a skin irritant and can add a "chalky pink" color to powder)
POINT 2: Lightweight and High coverage! Giving you flawless skin.
POINT 3: Natural sun protection! Giving you healthy skin.
POINT 4:

 

Skin-friendly! This pure formula of our MINERAL CC POWDER is so finely milled, it feels soft and creamy when applied, even though there's no cream in it! It blends in easily and smoothly.
POINT 5: Great color and long-lasting! The product provides beautiful color, adhesion, and even, buildable layers, from just a light dusting to full coverage. This gives you the flexibility to get the exact look you want, with a

 natural silky and luminous finish.

POINT 6: Premium pearl effect for silky glowing skin.
POINT 7: Non-comedogenic & Oil balancing. The product helps to control sebum and maintain a smooth after-feel.
POINT 8: Suitable for all skin types and skin colors. Great for sensitive skin. Available in 2 shades, suitable for all skin colors. 
POINT 9: Compact and convenient design! The product is a 3-in-1 design with powder + brush + makeup mirror on the top. You can refresh your makeup anytime and everywhere. Also, the brush is specially designed! It has a large surface area and long but dense bristles that can really buff the powder into your skin. This design will make a difference.  
* The color images and swatches are for reference only. Real colors may be different from photos due to the effects of light where we took photos or where you took photos, your skin tone, camera conditions, computer screen, and so on.
FOR WHOM
FOR WHOM?
✓All Skin Types 
✓Sensitive skin
✓Skin with breakouts
FOR WHAT?
✓Work as a powder foundation

✓Fully cover blemish

✓Naturally tone skin 

✓Control and reduce sebum

✓Pearl effect

✓Long-lasting

✓Soften your skin and bring a smoother looking
IT ALSO HELPS
✓Enrich your skin with anti-aging Amino Acids and Vitamin E

✓Brighten your skin with powerful

 Double Vitamin C

✓Hydrate your skin with HA

, Organic Aloe Extract

✓Supply minerals to your skin

✓M

oisturize your skin with non-comedogenic Jojoba, Argan and Sunflower oil...
INGREDIENTS
★SILK PEPTIDE / SILK PROTEIN POWDER: Silk Peptide consists of 18 silk amino acids. Amino acids are well-known for supporting natural skin functions and helping to stimulate the cells to produce more collagen and elastin. Due to a low molecular weight, Silk Peptide is completely water soluble and has excellent permeability. It can penetrate the skin more deeply are of more value for skincare effects. Silk Peptide has very powerful properties for preventing wrinkles and fine lines. This luxurious ingredient also provides moisture balance and imparts a silky, smooth feel to the skin.
★DOUBLE VITAMIN C:  With the combination of 2 types of Vitamin C (Ascorbyl Palmitate and Magnesium Ascorbyl Phosphate), this MINERAL CC POWDER  FOUNDATION helps to tone, brighten the skin, and improve anti-aging effects.
★HYALURONIC ACID:  One of the best ingredients for hydrating your skin. This ingredient helps to nourish the skin while keeping your makeup looking fresh all day without dryness.
HOW TO USE
HOW TO USE:
After cleansing, toning, moisturizing, and then 

a primer (or a liquid foundation), 

work the powdered foundation across your face. Use the brush to blend around your hairline and jawline.
WHEN TO USE:  You can use this product every day.
ORDER TO APPLY: 
Skincare → Primer →  DR.HC SILKY MINERAL CC POWDER → Finishing powder (is applicable) → Eyes/Cheek/Lip makeup
HOW TO STORE
Good to store at room temperature
K

eep the product out of direct sunlight

Avoid conditions of high humidity
*Product images are for reference only. Packaging may vary.
QUESTIONS & ANSWERS
Have a Question?
Be the first to ask a question about this.
Ask a Question
THIS 3 TRUE + 3 FREE FORMULA WAS DEVELOPED WITH EVERY CUSTOMER IN MIND!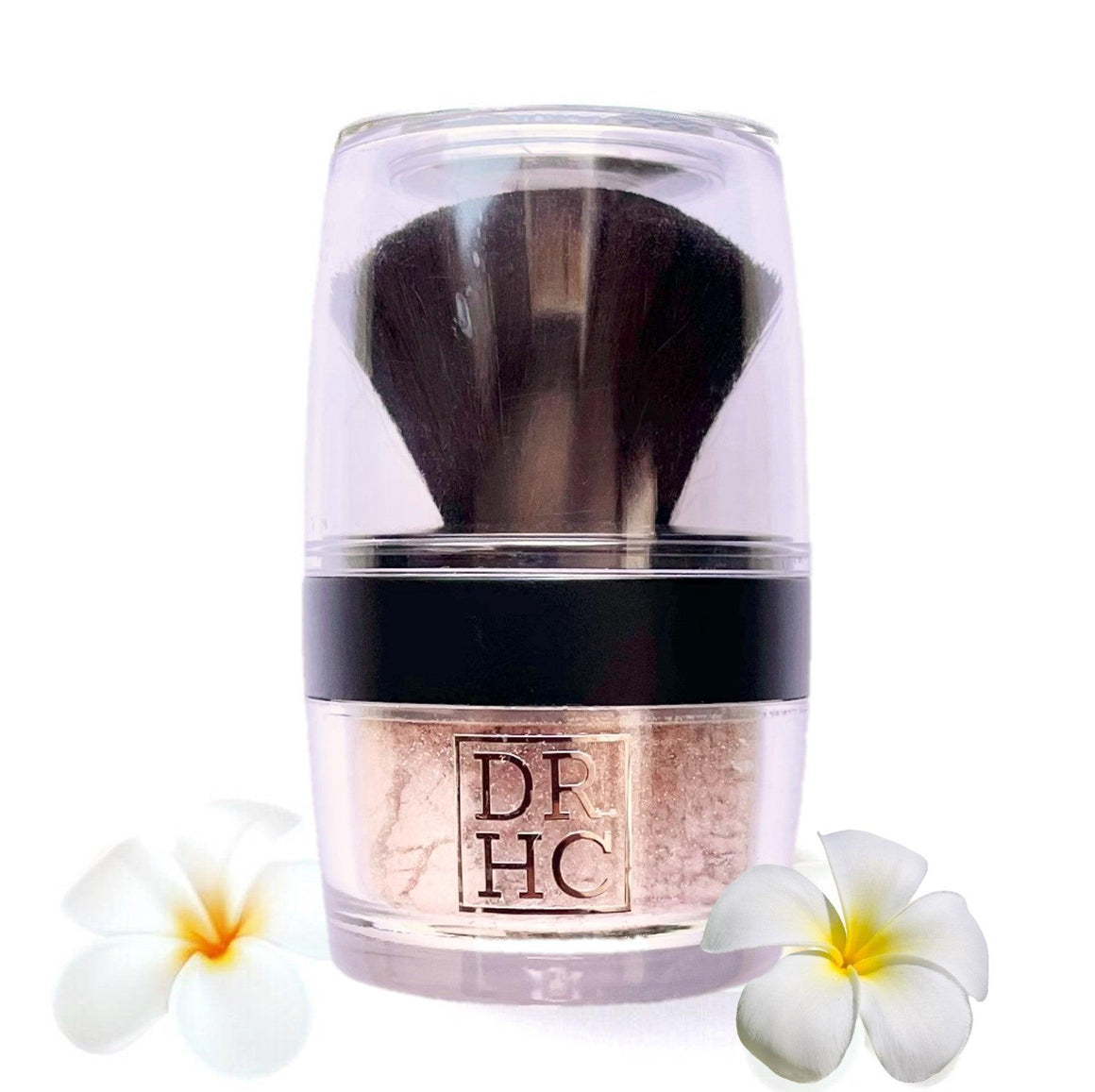 This product is TRUE
✓ Certified Organic Ingredients
✓ Fresh Natural
✓ Vegan (if the product has Vegan tag)
✓ Cruelty-Free
✓ GMO-Free
✓ Eco-friendly
✓ Made in USA
✓ Made by Science
✓ Made with Love ♡
How are these values important to you?
This product is FREE
✖ Parabens
✖ BHA/BHT (preservatives)
✖ Silicones, Siloxanes
✖ SLS/SLES
✖ Synthetic Colorants
✖ Synthetic Fragrances
✖ Phthalates
✖ MEA/ DEA/ TEA
✖ Mineral Oil
✖ Petroleum Jelly
✖ Triclosan
✖ Talc
✖ Microbeads
✖ Lead
✖ Chemical Sunscreens
✖ And other toxics...
How do these ingredients affect your health?
REAL RESULTS FROM REAL CUSTOMERS ACROSS THE WORLD
VIEW MORE REVIEWS HERE
WE DO THINGS DIFFERENTLY !
Click on image to shop product(s) in the photo