DR.HC
DR.HC Kojic Acid + Rose Sakura Water (70~120ml, 2.4~4.0fl.oz.) (Skin brightening, Anti-blemish, Anti-scar, Skin recovery...)
PLEASE CHOOSE "SHIP TO" YOUR COUNTRY, or you will be charged international shipping fee. Learn more about our Shipping Policy...

If you live in other countries (not USA, Japan, or Vietnam), please choose "ship to USA" (international shipping fee will be added at checkout)
NATURE + SCIENCE + PASSION!
KOJIC ACID + ROSE SAKURA WATER (Old name: Kojic Acid + Rosa Damascena Toner) is made from multi-beneficial Cherry blossom flower extract, Lebanese rose distillate, organic aloe leaf juice, organic chamomile extract, witch hazel distilled water, and especially featured by kojic acid. This is a mood lift-up, delightful and romantic cherry blossom and rose scented facial toner with wonderful skin benefits that you can expect including skin brightening, anti-blemish, anti-scar, skin recovery, anti-inflammatory and pore minimizing. The toner also helps balancing pH for your skin after wash. Get your glowing healthy skin today! 
HAPPY POINTS:
✓POINT 1: A nutritious toner for your skin with more than 80% organic content. 
✓POINT 2:  No synthetic dyes or fragrance. The beautiful pink color and attractive floral scent are coming from 100% natural vitamin and botanicals.
✓POINT 3: Non-comedogenic. Good for all skin types. Perfect for oily skin, super-oily skin or skin with breakouts.
✓POINT 4: Perfect for those who has skin redness.
✓POINT 5: This product is Vegan
✓POINT 6:  Gluten-free formula. 
This product belongs to our
"SAVE-THE-EARTH"
collection since in one or some of its variants we are making special efforts to save the natural resources by reducing unnecessary packagings and bottles. We are offering customers the options to buy
Products without outer packaging (like paper box)
Products with refill size in case customers used to buy normal size and already have the containers. 
Learn more about this
...  
FOR WHOM
FOR WHOM ?
✓All skin types 

✓Good even for super-oily skin

✓Sensitive skin

✓Skin with breakouts
FOR WHAT ?
✓pH Balancing
✓Skin brightening
✓Skin toning

✓Anti blemish

✓Anti inflammatory 

✓Anti scar

✓Skin recovery

✓Pore minimizing

 
This product also helps
✓Hydrating

✓Antibacterial

✓Anti-acne

✓Antiaging
INGREDIENTS
★ CHERRY BLOSSOM (SAKURA) FLOWER EXTRACT: is known for its anti inflammatory and soothing properties, making it an ideal choice to recover your damaged skin. Rich in essential fatty acids, it repairs the skins natural barriers to promote a smooth, supple skin, and stimulates cell renewals. Sakura extract increases skin elasticity caused by seasonal changes and reduce pore size. It is also a rich source of caffeic acid and other phenolic anti-oxidants.
★LEBANESE ROSE FLOWER WATER: Helps toning and brightening your skin. As a gentle antiseptic, it can help cleanse skin and protect skin from blemishes. Its anti-inflammatory properties also help minimize redness and soothe irritation, making it an ideal ingredient for calming skin and healing cuts, scars, and burns.
★KOJIC ACID: is a scientifically proved skin-brightening agent due to its effect on melanin production. This naturally derived ingredient is expected to help you get a brighter skin tone and an even complexion. In addition to skin-brightening effects, kojic acid also contains some antimicrobial properties which is helpful to skin with breakouts. 
HOW TO USE
HOW TO USE:
-After cleansing face, apply a moderate amount of toner to a cotton ball and gently apply all over the face in upward motions. You can also apply the toner directly to face by hand.
-Allow to dry, and follow with our serums and moisturizers.
WHEN TO USE:  Everyday, day & night.
ORDER TO APPLY:  Cleanser →  KOJIC ACID + ROSE SAKURA WATER → Serum/Emulsion  → Moisturizer 

HOW TO STORE: Good to keep at room temperature. Avoid direct sun light.
*Product images are for reference only. Packaging may vary.
Mình đang dùng kem BHA dưỡng trắng của lab có thể dùng kèm chung với Toner sakura này ko

Hi Minh Trang,
Bạn có thể dùng các sản phẩm dưỡng trắng của lab chung với toner này. Ngoài ra, bạn cũng có thể kết hợp các loại kem hay serum khác của lab chung với toner này, tùy theo chức năng tổng thể mà bạn muốn có nhé.
THIS 3 TRUE + 3 FREE FORMULA WAS DEVELOPED WITH EVERY CUSTOMER IN MIND!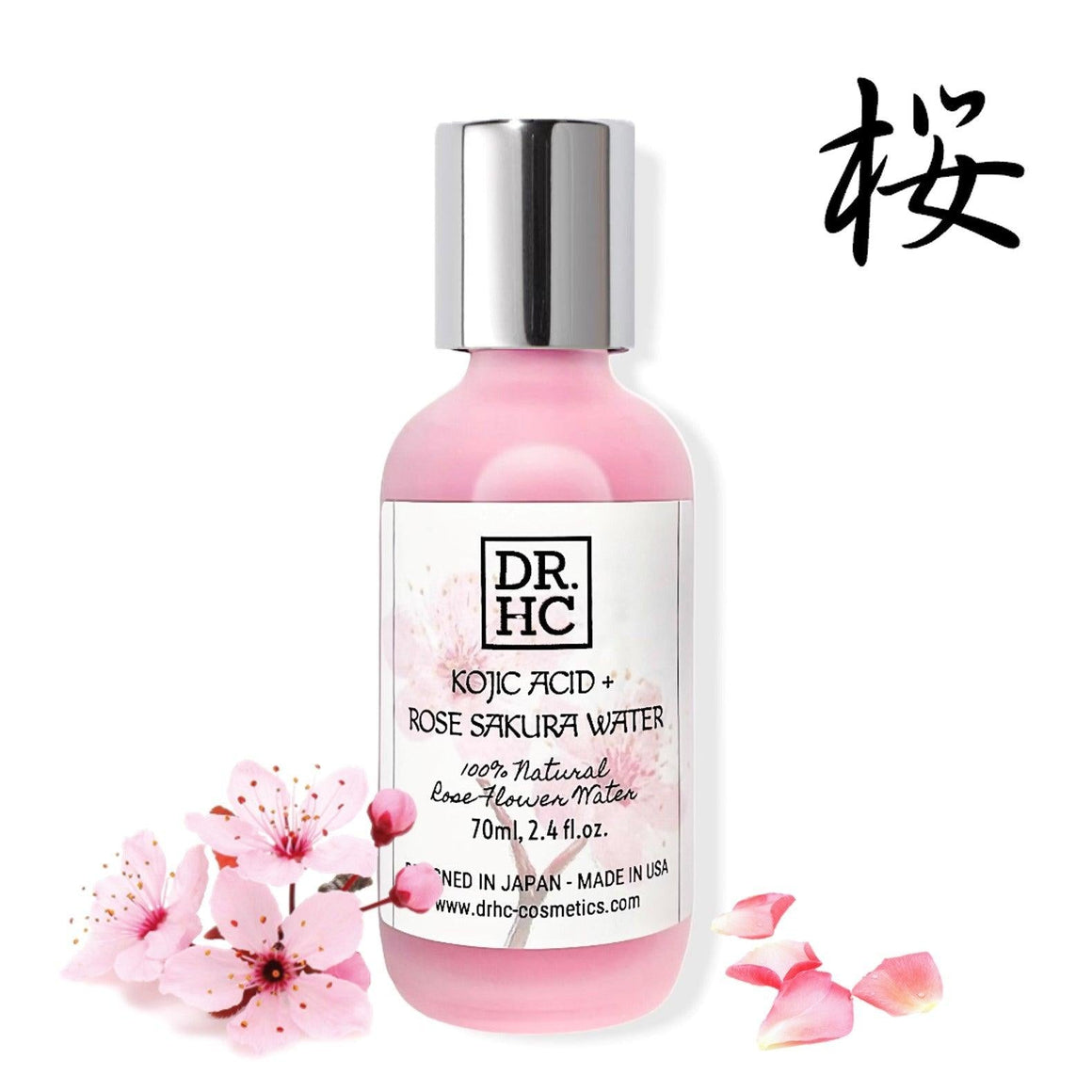 This product is TRUE
✓ Certified Organic Ingredients
✓ Fresh Natural
✓ Vegan (if the product has Vegan tag)
✓ Cruelty-Free
✓ GMO-Free
✓ Eco-friendly
✓ Made in USA
✓ Made by Science
✓ Made with Love ♡
How are these values important to you?
This product is FREE
✖ Parabens
✖ BHA/BHT (preservatives)
✖ Silicones, Siloxanes
✖ SLS/SLES
✖ Synthetic Colorants
✖ Synthetic Fragrances
✖ Phthalates
✖ MEA/ DEA/ TEA
✖ Mineral Oil
✖ Petroleum Jelly
✖ Triclosan
✖ Talc
✖ Microbeads
✖ Lead
✖ Chemical Sunscreens
✖ And other toxics...
How do these ingredients affect your health?
REAL RESULTS FROM REAL CUSTOMERS ACROSS THE WORLD
VIEW MORE REVIEWS HERE
WE DO THINGS DIFFERENTLY !
Click on image to shop product(s) in the photo