DR.HC
DR.HC Skin Plumping Serum (All Types) (Acne-Off + Cell Renewal, Brightening + Lifting) (15g, 0.5oz.)
PLEASE CHOOSE "SHIP TO" YOUR COUNTRY, or you will be charged international shipping fee. Learn more about our Shipping Policy...

If you live in other countries (not USA, Japan, or Vietnam), please choose "ship to USA" (international shipping fee will be added at checkout)
NATURE + SCIENCE + PASSION!
What is a "plump" skin? When talking about "plump" skin, we imagine about the overall impression of plump, moistured, youthful and radiant skin. Yes, it's the skin with high moisture content inside and high elasticity level outside. When we were young, collagen and elastin are natually produced in our bodies and support the underlying structure of our skin, keeping it firm and elastic. The natural skin barrier also does a good job by locking moisture inside in order to keep your skin hydrated and supple. However, their functions do not work well as our skin ages due to your aging or environment impacts. That's where our Skin Plumping Serum can help.
Our Skin Plumping Serum is a 100% Organic, Natural & Vegan topical skin-plumping solution for those who are looking for getting a plump skin in a safe, natural and effective way. The serum rescues your aging skin from both inside and outside. Vitamin C and Organic Glycine Soja (Soybean) oil stimulate natural Collagen production in order to maintain a firming and elastic appearance. Organic camellia oil, sweet almond oil, argan kernel oil and vitamin E provides deep moiturization as well as powerful anti-aging benefits, while the Organic Golden Jojoba strengthens your skin barrier functions, seals moisture and protects skin from the outside. 
We have 2 versions of this Skin Plumping Serum. 
The BRIGHTENING + LIFTUP provides skin brightening, skin toning, anti-dark spot as well as skin lifting and anti-sagging benefits, with extracts from Yuzu, Camellia seed and Argan kernels.
The ACNE-OFF + CELL RENEWAL provides anti-acne, anti-bacterial, anti-inflammatory as well as cell stimulating and skin recovery benefits, with extracts from Rosemary, Tea Tree and Ylang Ylang.
HAPPY POINTS:
POINT 1:  Plump your skin from both inside and outside! Our Skin Plumping Serum is specially formulated with versatile active ingredients to help you reach the goal.
POINT 2:  100% Organic, Natural & Vegan formula! Super clean and non-toxic! Of course, the serum is Paraben-free, Mineral Oil-Free, Dye-free, Fragrance-free, Preservative-free, etc. 
POINT 3: Reach 2 goals in 1 bottle! Not only a plump skin, but you also get multi-benefits when taking care of your skin with our Skin Plumping Serum. What's your target? Brightening & Lifting, or Revitalizing and Acne-Free?
POINT 4: Convenient to use! Can be combined and used on top of any skincare items of your daily routine.   
FOR WHOM
FOR WHOM
All skin types 

Sensitive skin

Skin with breakouts
FOR WHAT
Skin plumping

Deep moisturizing

Skin firming
Anti-aging
Anti-wrinkle
Softening

Non-comedogenic
This product also helps
Skin brightening, Skin toning, Anti-dark spot, Anti-sagging

and/or: Anti-acne, Anti-inflammatory, Anti-scar, Skin recovery
INGREDIENTS
Vitamin C: is the essential cofactor for the two key enzymes required for collagen biosynthesis: prolyl hydroxylase (to stabilize the collagen molecule) and lysyl hydroxylase (to give structural strength cross-linking), thus it plays a critical role in the natural collagen production which results in a plump and elastic skin. 
Glycine Soja (Soybean) Oil: is rich in Omega 3 and Omega 6 fatty acids which restore collagen and boost skin's elasticity,

simultaneously working to reduce signs of aging.

Organic camellia oil, sweet almond oil, argan kernel oil and vitamin E: provides deep moiturization as well as powerful anti-aging benefits.
Organic Golden Jojoba: provides similar properties to our skin's own sebum, thus helps seal your skin with a protective barrier to keep it from losing moisture while never clogging pores.
★EXTRACTS FROM YUZU, CAMELLIA SEED & ARGAN KERNEL: Yuzu extracts help brightening, toning and reducing dark spots. They also help stimulate collagen and deliver the skin with powerful antioxidants, while Camellia seed oil and Argan kernel oil are ideal to protect skin against sagging and aging signs. Together, they bring you an even complexion and bright looking as well as firming and lifting benefits.
★EXTRACTS FROM ROSEMARY, TEA TREE & YLANG YLANG:  Rosemary and Tea Tree are popular as natural choices for improving acne conditions because of their anti-inflammatory and antimicrobial properties. They help calm redness, swelling, and inflammation, while Ylang Ylang helps recover your damaged skin due to its powerful healing  and cell stimulating properties. Together, they help to reduce acne, scars, skin damages, leaving you with smooth, clear skin.

HOW TO USE
HOW TO USE: Apply 3~4 drops to face, gently massage to spread the serum evenly the entire face. You can use this serum alone or combine with any other serums that you are using in your daily routine.
WHEN TO USE:  Day & Night. Can be used daily. Can be used under make up.
ORDER TO APPLY:   Cleanser → Your daily routine (Toner →Serum →Moisturizer, or Toner →Moisturizer) → SKIN PLUMPING SERUM → Makeup (if applicable)

HOW TO STORE: Good to keep at room temperature. Avoid direct sun light and high humidity.
*Product images are for reference only. Packaging may vary.
QUESTIONS & ANSWERS
Have a Question?
Be the first to ask a question about this.
Ask a Question
THIS 3 TRUE + 3 FREE FORMULA WAS DEVELOPED WITH EVERY CUSTOMER IN MIND!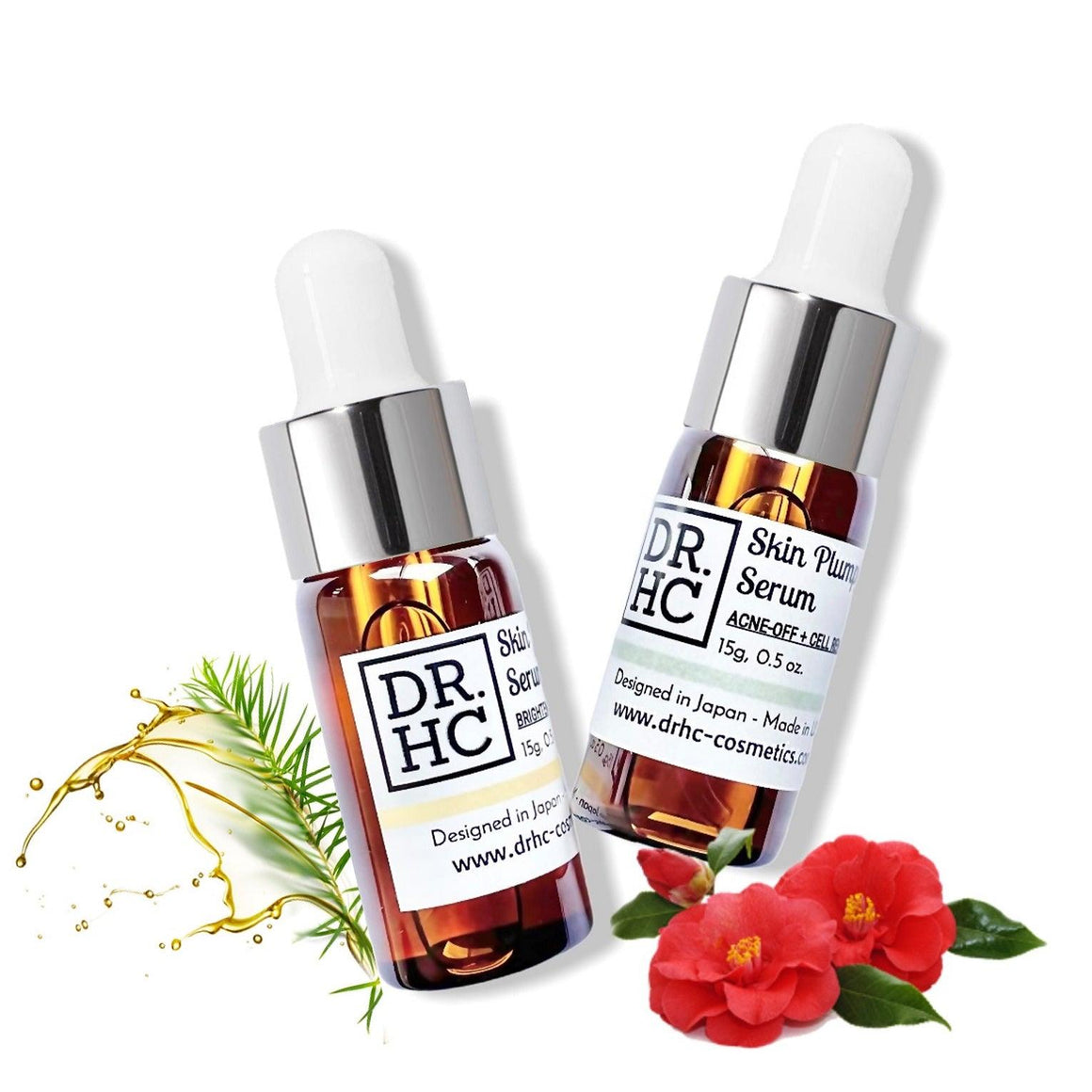 This product is TRUE
✓ Certified Organic Ingredients
✓ Fresh Natural
✓ Vegan (if the product has Vegan tag)
✓ Cruelty-Free
✓ GMO-Free
✓ Eco-friendly
✓ Made in USA
✓ Made by Science
✓ Made with Love ♡
How are these values important to you?
This product is FREE
✖ Parabens
✖ BHA/BHT (preservatives)
✖ Silicones, Siloxanes
✖ SLS/SLES
✖ Synthetic Colorants
✖ Synthetic Fragrances
✖ Phthalates
✖ MEA/ DEA/ TEA
✖ Mineral Oil
✖ Petroleum Jelly
✖ Triclosan
✖ Talc
✖ Microbeads
✖ Lead
✖ Chemical Sunscreens
✖ And other toxics...
How do these ingredients affect your health?
REAL RESULTS FROM REAL CUSTOMERS ACROSS THE WORLD
VIEW MORE REVIEWS HERE
WE DO THINGS DIFFERENTLY !
Click on image to shop product(s) in the photo