DR.HC
DR.HC Heart Hacker CC 6 In 1 Air Cushion Foundation (3 Shades) (15g, 0.53oz.) (Natural UV Care, Anti-aging, Anti-acne, Skin recovery...)
PLEASE CHOOSE "SHIP TO" YOUR COUNTRY, or you will be charged international shipping fee. Learn more about our Shipping Policy...

If you live in other countries (not USA, Japan, or Vietnam), please choose "ship to USA" (international shipping fee will be added at checkout)
NATURE + SCIENCE + PASSION!
ATTENTION: We sell the foundation and the empty case separately. The price $35 is for 1 bag of foundation (without case) and $15 is for 1 compact case. When purchasing 1 bag of foundation, you can buy 1 case (if you would like to buy 2 cases, you need to buy 2 bags of foundation). If you already have your own case, you can choose to buy only the foundation. If you buy the compact case, the design will be sent random unless you leave us a note.
One size does not fit all! Yes, that's why we let you customize your own style of air cushion foundation.  These Heart Hacker CC - All Natural Air Cushion Foundations will "hack" your heart since they are customizable, stylish, convenient, and the best part is that they are going to provide your skin with amazing skincare and makeup benefits. The air cushion does 6 jobs! It works as Serum + Moisturizer + Natural Sun Protection + Primer + Concealer + Foundation. After toning your skin, all you need is just this little cutie! 
Our Heart Hacker CC - All Natural Air Cushion Foundation is All-Natural, Organic, Vegan & Cruelty-free, which is also suitable for pregnancy/ sensitive skin. It is formulated with super clean natural ingredients that are over 90% Organic. Free of harsh chemicals and pore clogging ingredients! Featured with powerful Goldenseal Extract, Organic Shea Butter and Organic Herbal Blends, the foundation will be leaving you a flawless looking while nourishing your skin with anti-aging, anti-inflammatory, anti-acne and skin recovery benefits. Let's customize your own air cushion foundation by choosing a case that fits your style and an air cushion foundation shade of your favorite!
3 color options for the cream: 
★COOL: for bright skin tone (Cool Fair) 
★NUDE: for bright ~ medium skin tone (Cool Light / Medium) 
★WARM: for natural skin tone (Neutral Light / Medium)
6 style options for the air cushion case:  Choose one that fits your style! Each case has a sponge, a puff and mirror inside. By purchasing only refill packs in the next orders, you don't waste the case and can help to Save The Earth.
HAPPY POINTS:
POINT 1: 6 functions in 1! A perfect choice for busy ladies. 
POINT 2:  High coverage! Leaving you a natural flawless skin.
POINT 3:  Long-lasting! It's water and sweat resistant, keeping you beautiful all day long. 
POINT 4: Lightweight and breathable. Your skin will love the unique cream-to-powder after feel. 
POINT 5: All Natural. 100% Free from harsh chemicals. This is a good choice even for pregnancy and breast-feeding.
POINT 6: Beautiful skincare effects. The air cushion provides your skin with anti-aging, anti-inflammatory and anti-acne benefits, as well as enriches your skin with healthy minerals.
POINT 7: 100% natural "yummy" scent, 

coming from vanilla and Shea butter.

POINT 8:

 

This product is Vegan
POINT 9: 

 

Happy Gluten-free formula.
* The color images and swatches are for reference only. Real colors may be different from photos due to effects of light where we took photos or where you took photos, your skin tone, camera conditions, computer screen and so on.
FOR WHOM
FOR WHOM?
All skin types 
Sensitive skin
Skin with breakouts
FOR WHAT?
Makeup benefits
High coverage

Matte finish

Water-resistant

Long-lasting

Light weight 

Non-greasy

Non-comedogenic
Skincare benefits
Natural sun protection

Anti-aging

Anti-acne

Anti inflammatory

Skin recovery

Oil balancing

Hydrating & Moisturizing
INGREDIENTS
★GOLDENSEAL ROOT EXTRACT: Goldenseal  is a great natural herb that promotes healthy skin, but very expensive due to its rarity and cost of production.  Goldenseal is well-known for its healing properties. It is also believed to help relieve breakouts, itchiness, irritations and other skin problems. 
★ORGANIC SHEA BUTTER & SQUALANE: Shea Butter has high concentrations of fatty acids and vitamins. It is ideal for softening, soothing and revitalizing skin due to its inflammatory and healing properties. Squalane is a wonderful natural-derived emolient which helps soothing, moisturizing, balancing sebum and providing skin with anti-aging benefits. Combined with vitamin E which promotes cell turnover and regeneration, the foundation helps to bring you a youthful glowing looking.
★ORGANIC HERBAL BLENDS:  Organic Oregano, Lavender, Thyme and Rosemary extracts provide your skin with anti-acne, antifungal and anti inflammatory properties. In addition, Organic aloe vera juice helps cleanse and soothe your skin as well as lessen redness and irritation.   
HOW TO USE
HOW TO SET UP YOUR CUSTOMIZED AIR CUSHION FOUNDATION: (view the video below, it's super easy!)
Clean the case, sponge and puff if they were used before. Open the foundation bag, add the foundation into the container. Each of our refill packs has just right amount for one case.   
Insert the sponge and bounce it around to make sure that the foundation is getting sucked up. And you are ready to go!
HOW TO USE OUR AIR CUSHION FOUNDATION:  
After washing, toning (and moisturizing if needed), use the sponge to press down on the cushion and take just the right amount of the liquid formula. Then dab the foundation onto your skin for a flawless-looking finish. Follow with our finishing powder to fulfill your base makeup.
WHEN TO USE:  For day use. Can be used everyday.
IN WHAT ORDER: Cleanser → Toner → Serum & Moisturizer (if needed) → HEART HACKER CC - ALL NATURAL AIR CUSHION FOUNDATION → Finishing Powder
TIPS: If your skin is super oily, you can stabilize your foundation with our powders here. If your skin is dry, after cleansing and toning, applying some moisturizer before using the air cushion will bring you amazing results.
HOW TO STORE: Good to store at room temperature. Keep the product out of direct sunlight and avoid conditions of high humidity.
HOW TO SETUP YOUR OWN AIR CUSHION FOUNDATION? VIEW THIS VIDEO
*Product images are for reference only. Packaging may vary.
Chào shop, có thể cho em biết khả năng che phủ, độ bền màu, kiềm nhờn của Air Cushion này có tốt hơn CC Supreme không ạ? em cảm ơn shop.

Hi! 3 yếu tố bạn hỏi thì 2 sản phẩm này gần như tương tự nhau.

Hello! I would like some help deciding which shade would work best for me, as it's hard to tell from the images currently shown. If possible, could I please see a swatch of each of the 3 shades? I would really appreciate it. Just want to make sure I get the right color. Thank you!

Hi Lindsey,
Thank you for reaching out.
Our team has just updated color swatches of the 3 shades in product description. I hope this is helpful to you.
Have a great day!
THIS 3 TRUE + 3 FREE FORMULA WAS DEVELOPED WITH EVERY CUSTOMER IN MIND!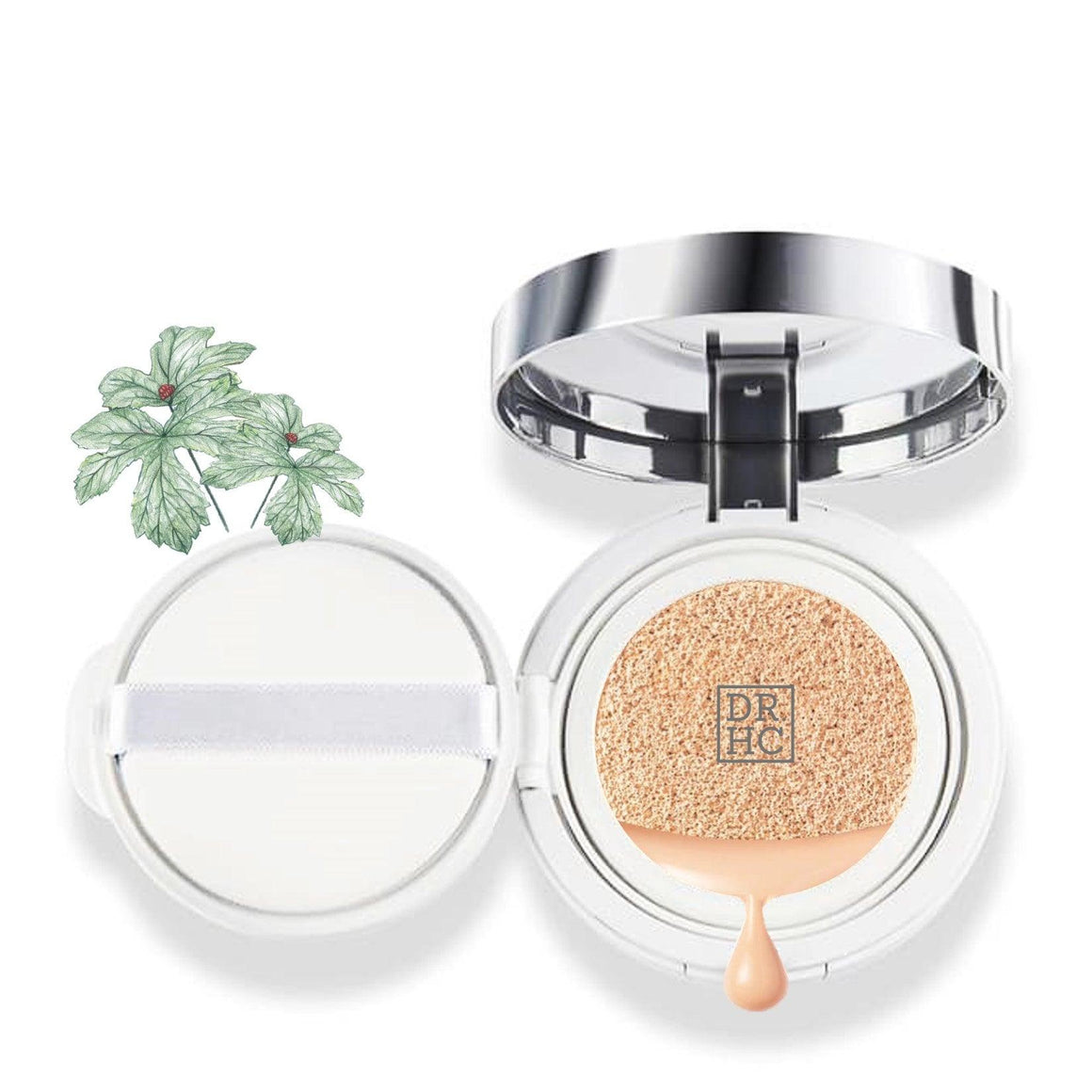 This product is TRUE
✓ Certified Organic Ingredients
✓ Fresh Natural
✓ Vegan (if the product has Vegan tag)
✓ Cruelty-Free
✓ GMO-Free
✓ Eco-friendly
✓ Made in USA
✓ Made by Science
✓ Made with Love ♡
How are these values important to you?
This product is FREE
✖ Parabens
✖ BHA/BHT (preservatives)
✖ Silicones, Siloxanes
✖ SLS/SLES
✖ Synthetic Colorants
✖ Synthetic Fragrances
✖ Phthalates
✖ MEA/ DEA/ TEA
✖ Mineral Oil
✖ Petroleum Jelly
✖ Triclosan
✖ Talc
✖ Microbeads
✖ Lead
✖ Chemical Sunscreens
✖ And other toxics...
How do these ingredients affect your health?
REAL RESULTS FROM REAL CUSTOMERS ACROSS THE WORLD
VIEW MORE REVIEWS HERE
WE DO THINGS DIFFERENTLY !
Click on image to shop product(s) in the photo