DR.HC
DR.HC Hakumai Rice Protein Arbutin Cream (25~40g, 0.9~1.4oz) (Skin brightening, Anti-acne, Anti-blemish, Anti-aging...)
PLEASE CHOOSE "SHIP TO" YOUR COUNTRY, or you will be charged international shipping fee. Learn more about our Shipping Policy...

If you live in other countries (not USA, Japan, or Vietnam), please choose "ship to USA" (international shipping fee will be added at checkout)
NATURE + SCIENCE + PASSION!
Our HAKUMAI - RICE PROTEIN ARBUTIN CREAM is a must for those who are looking for Skin Brightening, Anti-acne, Anti-blemish, Antiaging etc. benefits. Formulated with more than ten types of natural skincare ingredients and botanical extracts including White Rice Protein (called "Hakumai" in Japanese), botanical based Alpha-Arbutin and Organic Chamomile extract, the moisturizer is good for all skin types to get a perfect care from day to night.
HAPPY POINTS:
POINT 1:  Skin toning, Anti-acne, Anti blemish and Anti-aging - now you can get all of those benefits from the power of All-Natural ingredients. 
POINT 2:  No water at all! Surprised? Instead of water, we use organic aloe vera juice and herbal infusion to boost skincare benefits.
POINT 3:  The cream is rich in nutritious ingredients and rich in texture, but never leave you a sticky after-feel

.

POINT 4:  Super-clean formula. Also suitable for pregnancy and breastfeeding.
FOR WHOM
FOR WHOM
All skin types (oily, dry, normal, combination) 

Skin with breakouts

Sensitive skin
FOR WHAT
Skin Brightening
Skin Toning
Anti Blemish
Anti-acne
Anti-inflammatory
Anti-aging
Anti-wrinkle
Moisturizing
This product also helps
Hydrating


Skin Softening 

Non-comedogenic
INGREDIENTS
★RICE PROTEIN: has been proved to have many benefits in skincare. It is known to be helpful to skin infections including acne and eczema. Rice protein also helps brightening skin, reducing hyperpigmentation, stimulating the collagen production in order to boost  skin elasticity, as well as providing anti-aging effects by protecting skin from free radicals. In addition, it also helps tightening the skin pores and increasing skin moisture retention.
★ ALPHA-ARBUTIN:  is well-known to be very effective in evening skin tone, treating pigmentations, acne scars and age spots. It can also inhibit the negative effects of UV-radiation thanks to its sun protection properties. Our arbutin is a botanical-based and this product is vegan.
★ORGANIC CHAMOMILE EXTRACT: Chamomile helps fighting acnes thanks to its anti-inflammatory and antiseptic properties. It can help soothe the skin, reducing redness and blemishes as well as relieving skin irritations. Chamomile is also a source of antioxidants and protects the skin from free-radical damage.
In addition, our HAKUMAI - RICE PROTEIN ARBUTIN CREAM is also formulated with organic herbal infusion of Gotu Kola, Horsetail, Geranium, Dandelion as well as Vitamin E which help boost anti-aging benefits. AHA will gently remove your dead skin cells, balace oil on skin surface, and prevent skin from breakouts. Kosher glycerin, safflower seed oil and sunflower seed oil help maintain great moisturization.
HOW TO USE
HOW TO USE:
-After you use cleanser, toner and serum, apply an appropriate amount of the moisturizer to entire face and gently massage until the cream absorbs. Always use circular, upward motions with a gentle touch on your face.
WHEN TO USE:  Can be used daily. Day and Night. 
ORDER TO APPLY:   Cleanser →Toner → Serum → HAKUMAI - RICE PROTEIN ARBUTIN CREAM 

HOW TO STORE: Good to keep at room temperature. Avoid direct sun light.
*Product images are for reference only. Packaging may vary.
Sản phẩm này dùng cho bà bầu được ko ạ

Chào bạn, sản phẩm này dùng được cho mẹ bầu và cho con bú.
Tất cả sản phẩm của Dr.C Lab có gắn kí hiệu mẹ bầu (ở góc dưới bên phải ảnh sản phẩm) đều dùng được cho mẹ bầu.
THIS 3 TRUE + 3 FREE FORMULA WAS DEVELOPED WITH EVERY CUSTOMER IN MIND!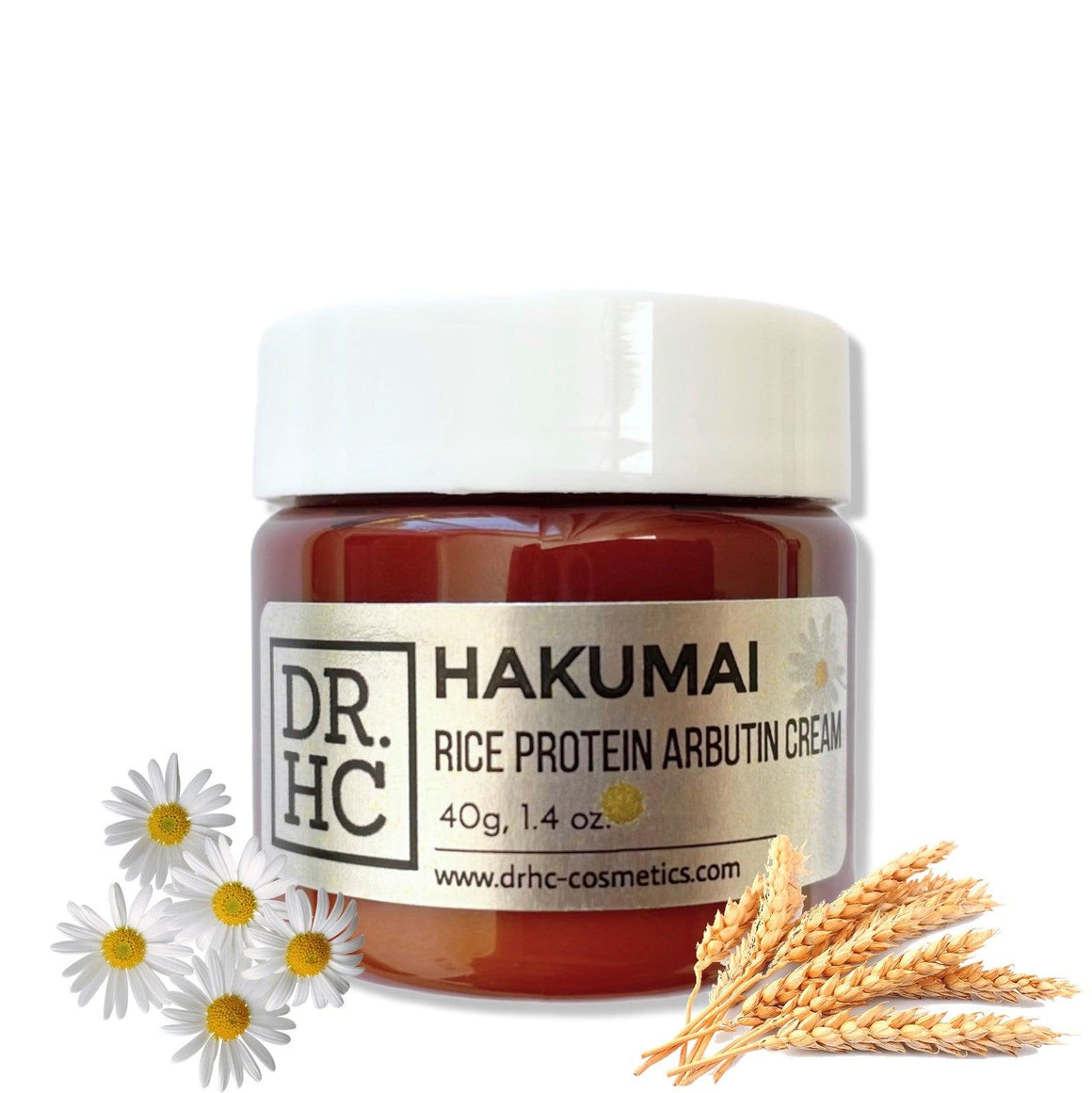 This product is TRUE
✓ Certified Organic Ingredients
✓ Fresh Natural
✓ Vegan (if the product has Vegan tag)
✓ Cruelty-Free
✓ GMO-Free
✓ Eco-friendly
✓ Made in USA
✓ Made by Science
✓ Made with Love ♡
How are these values important to you?
This product is FREE
✖ Parabens
✖ BHA/BHT (preservatives)
✖ Silicones, Siloxanes
✖ SLS/SLES
✖ Synthetic Colorants
✖ Synthetic Fragrances
✖ Phthalates
✖ MEA/ DEA/ TEA
✖ Mineral Oil
✖ Petroleum Jelly
✖ Triclosan
✖ Talc
✖ Microbeads
✖ Lead
✖ Chemical Sunscreens
✖ And other toxics...
How do these ingredients affect your health?
REAL RESULTS FROM REAL CUSTOMERS ACROSS THE WORLD
VIEW MORE REVIEWS HERE
WE DO THINGS DIFFERENTLY !
Click on image to shop product(s) in the photo