DR.HC
DR.HC Flawless Supreme CC 6 in 1 Nourishing Cream Foundation (5 Shades) (30g, 1oz.) (Natural UV Care, Skin brightening, Anti-acne, Anti-aging...)
PLEASE CHOOSE "SHIP TO" YOUR COUNTRY, or you will be charged international shipping fee. Learn more about our Shipping Policy...

If you live in other countries (not USA, Japan, or Vietnam), please choose "ship to USA" (international shipping fee will be added at checkout)
NATURE + SCIENCE + PASSION!
One bottle does 6 jobs! It's our FLAWLESS SUPREME CC CREAM - NOURISHING FOUNDATION! The cream works as Serum + Moisturizer + Natural Sun Protection + Primer + Concealer + Foundation, nourishing your skin with supreme organic ingredients and leaving you looking flawless. 
The cream is made from an extremely clean formula using nearly 100% Natural & Organic Ingredients. Free of harsh chemicals and pore-clogging ingredients! Our 6 IN 1 FLAWLESS SUPREME CC CREAM is featured by Organic Rice Powder and Organic Chamomile Hydrosol which help tone and brighten your skin, Organic Herbal complex of Oregano, Rosemary & Lady's Mantle which brings you anti-acne and anti-inflammatory benefits, as well as special Herbal Extracts of Ginkgo Biloba, Milk Thistle and Horsetail which bring amazing anti-aging & lifting benefits. This will perfect your complexion with a finish that is polished, lightweight, oil-free, and breathable. Enjoy the unique after-feel this cream-to-powder foundation will bring to you!
There're 5 color options for your choice: 
★FLAT WHITE: for bright skin tone (Cool Fair) 
★TEA LATTE: for bright skin tone (Cool Fair/Light) 
★CHAI: for bright ~ medium skin tone (Cool Light/Medium) 
★MOCHA: for natural skin tone (Neutral Medium)
★HAZELNUT: for bright skin tone (Warm Dark) 

Want to try all of them? View the Combo of mini size here. 
HAPPY POINTS:
POINT 1: 6 functions in 1 bottle! This is a perfect choice for all of us to take care of our skin every busy day. 
POINT 2:  High coverage! Leaving you a natural flawless skin.
POINT 3:  Long-lasting! Its water and sweat resistant properties will keep your skin beautiful all day long. 
POINT 4: 

 

This not only works as just a foundation, but also provides you with skin brightening, anti-acne & anti-aging benefits as a skincare product. It's so easy to get a healthy flawless skin!
POINT 5: Free from harsh chemicals. Nearly 100% natural & organic ingredients. This super formula is a good choice even for pregnancy and breast-feeding.
POINT 6: 100% natural mineral color! Enrich your skin with healthy minerals.
POINT 7:

 

This product is Vegan
POINT 8: 

 

Gluten-free formula! 
* The color images and swatches are for reference only. Real colors may be different from photos due to effects of light where we took photos or where you took photos, your skin tone, camera conditions, computer screen and so on.
FOR WHOM
FOR WHOM?
All skin types (oily, dry, normal, combination)
Also perfect for super-oily skin
Sensitive skin
Skin with breakouts and problems
FOR WHAT?
Makeup benefits
High coverage

Matte finish

Natural sun protection

Water-resistant

Long-lasting

Light weight 

Non-greasy

Non-comedogenic
Skincare benefits
Skin brightening

Anti-acne

Anti inflammatory

Anti-aging & Lifting effects

Oil balancing

Hydrating & Moisturizing
INGREDIENTS
★ORGANIC RICE & CHAMOMILE HYDROSOL: Rice contains sun-protecting agents like ferulic acid and allantoin, which convert it into a good natural sunscreen. It soothes sunburns and prevents the skin from sun tan. Like chamomile extract, it also helps toning and brightening your skin. 
★ANTI-ACNE & ANTI-INFLAMMATORY ORGANIC HERBAL COMPLEX:  This special herbal complex including Oregano, Lady's Mantle and Rosemary has antifungal and anti inflammatory properties. They help to improve skin conditions such as acne, eczema, rosacea, and fungal infections. They also help cleanse your skin and lessen redness and irritation.  
★ANTI-AGING & SKIN LIFTING HERBAL EXTRACTS: Ginkgo Biloba extract improves cell energy. Horsetail extract is rich in minerals and helps rebuild collagen fibers. Milk Thistle extract helps maintain elastic fibers. They are excellent natural anti-oxidant agents that moisturize and lift-up skin, increase skin elasticity, as well as smoothen and soften skin .
HOW TO USE
HOW TO USE:  Shake well before use. After washing, toning, and moisturizing (as needed), place a pea-sized dollop on your hand, then work the cream across you face, blending each area while it is still wet using fingertips or our NATURAL WOOD BRUSH (which is specially designed for cream and powder foundation). Follow with our finishing powder to fulfill your base makeup.
WHEN TO USE:  For day use. The product can be used everyday.
ORDER TO USE: Cleanser → Toner → Serum & Moisturizer (if necessary) → FLAWLESS SUPREME CC CREAM → Finishing Powder
TIPS: If your skin is oily, you can stabilize your foundation with our powders here. If your skin is dry, after cleansing and toning, applying some moisturizer before using FLAWLESS SUPREME CC will bring you the best results.
HOW TO STORE
Good to store at room temperature
K

eep the product out of direct sunlight

Avoid conditions of high humidity
*Product images are for reference only. Packaging may vary.
What is the SPF of this product? And is it broad spectrum?

Hi Minh,
It's broad spectrum with est. SPF 50
THIS 3 TRUE + 3 FREE FORMULA WAS DEVELOPED WITH EVERY CUSTOMER IN MIND!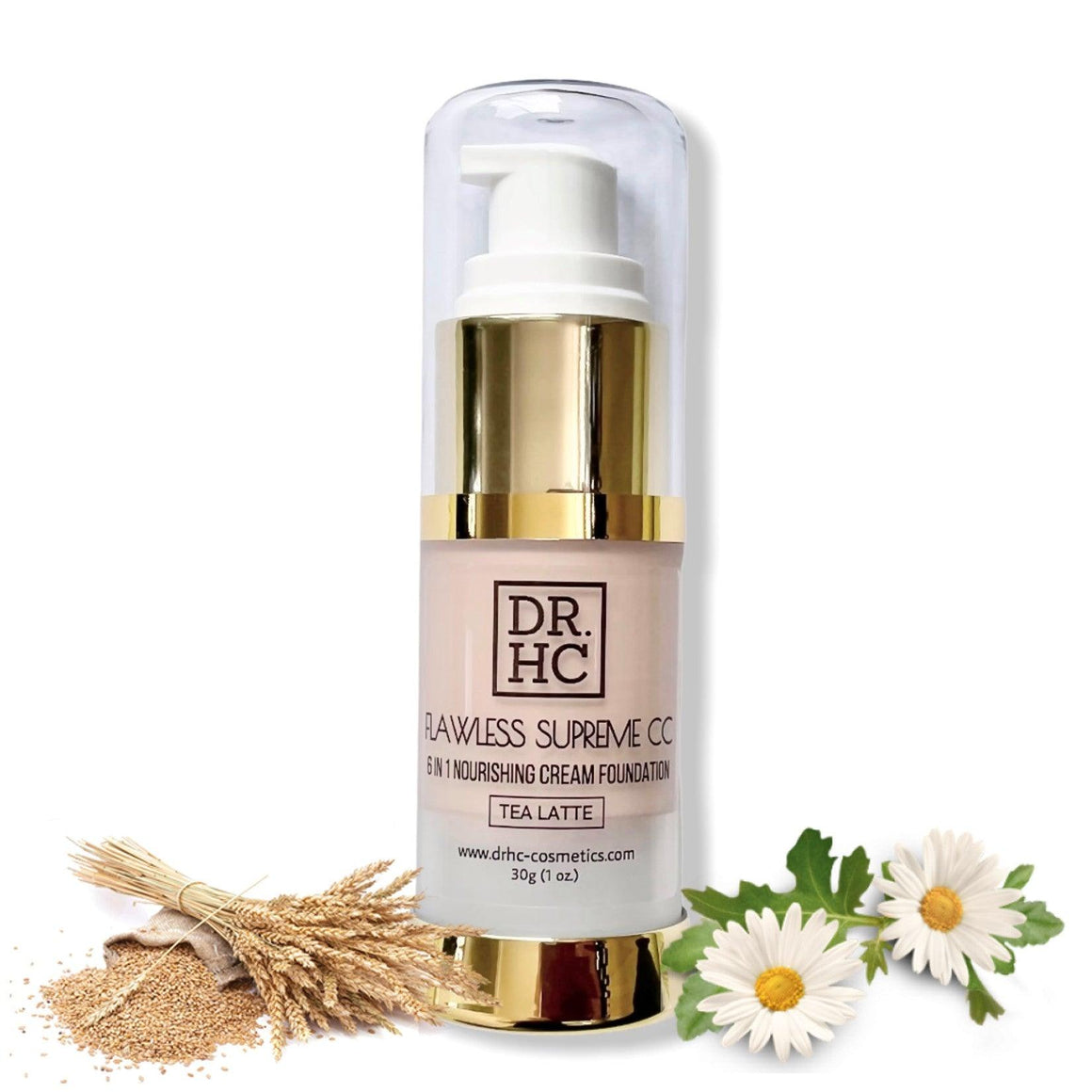 This product is TRUE
✓ Certified Organic Ingredients
✓ Fresh Natural
✓ Vegan (if the product has Vegan tag)
✓ Cruelty-Free
✓ GMO-Free
✓ Eco-friendly
✓ Made in USA
✓ Made by Science
✓ Made with Love ♡
How are these values important to you?
This product is FREE
✖ Parabens
✖ BHA/BHT (preservatives)
✖ Silicones, Siloxanes
✖ SLS/SLES
✖ Synthetic Colorants
✖ Synthetic Fragrances
✖ Phthalates
✖ MEA/ DEA/ TEA
✖ Mineral Oil
✖ Petroleum Jelly
✖ Triclosan
✖ Talc
✖ Microbeads
✖ Lead
✖ Chemical Sunscreens
✖ And other toxics...
How do these ingredients affect your health?
REAL RESULTS FROM REAL CUSTOMERS ACROSS THE WORLD
VIEW MORE REVIEWS HERE
WE DO THINGS DIFFERENTLY !
Click on image to shop product(s) in the photo