DR.HC
DR.HC Instant Repairing Serum (15g, 0.5oz.) (with Zinc, Calamine & Minerals) (Anti-acne, Oil balancing, Skin recovery, Pore shrinking...)
PLEASE CHOOSE "SHIP TO" YOUR COUNTRY, or you will be charged international shipping fee. Learn more about our Shipping Policy...

If you live in other countries (not USA, Japan, or Vietnam), please choose "ship to USA" (international shipping fee will be added at checkout)
NATURE + SCIENCE + PASSION!
Our Instant Repairing Serum (Other name: Oil-Free Recovery Serum) was developed to bring you Anti-acne, Oil balancing, Skin revitalizing, Pore minimizing, and Anti-inflammatory benefits. It also helps calm down rash, itchy and irritated skin caused by breakouts or UV irritation. Formulated with the featured ingredients such as Calamine, plus extra Zinc oxide, Bentonite magma, and super-hydrating Hyaluronic acid, this serum will help to keep a good oil-water balance in order to provide healthy, smooth, and glowing skin. This serum can be used as a spot treatment or for the entire face. It's a must for those who are in trouble with breakouts, oily skin, or damaged or irritated skin. 
*This product may come with the old name or the new name.
FOR WHOM
All skin types
Especially good for oily/super-oily skin
Skin with breakouts
Sensitive skin
RESULTS
Anti-acne
Oil removing
Damaged skin recovery
Pore shrinking
Anti-inflammatory

Anti-itchy

Anti-irritation  
Others: Skin Toning, Anti-scar, Hydrating, Non-comedogenic, Oil-free
WHY WE LOVE :
POINT 1: High content of the active ingredient Calamine (8%) providing ultimate results.
POINT 2:  Formulated with extra Zinc oxide which brings healthy supple skin.
POINT 3:  "Dry out" pimples but don't dry out your skin. Since c

alamine has drying properties, it can help dry out pimples caused by excess oil faster. That's why we formulated the serum with extra Hyaluronic acid and Glycerin which will help balance the moisture of your skin. Our serum makes it dry and smooth on the surface but hydrated deep inside.

POINT 4:  Clean formula with Organic, Natural & Non-toxic ingredients only. 
POINT 5:  Multi-purpose. 

The serum can be used as both a spot treatment (only on the pimples) or entire face skincare.

POINT 6:  This product is Vegan, Gluten-free and Cruelty-free 
INGREDIENTS 
★CALAMINE: Calamine is a perfect remedy for your acne-prone, sensitive skin as it is effective for improving your breakouts and soothing your skin. It also has the bactericidal capability which helps induce high toxicity and kills bacteria. Since calamine has drying properties, it can help dry out pimples caused by excess oil faster as well as remove sebum on the skin's surface (which is the cause of acne). Calamine also has a cooling effect which makes it perfect when you are trying to ease your sunburnt, irritated, and damaged skin. It is also a potent anti-inflammatory agent that manages itching, dryness, and irritation caused by these many skin conditions. With astringent properties, calamine helps tighten your pores as well. 
★ZINC OXIDE:  Topical zinc could reduce the growth of p.acnes due to its sebum-reducing and anti-inflammatory effects.  It controls the production of histamines, compounds that flare inflammation. It also helps kill effect on bacteria. In addition, Zinc oxide is also good to relieve skin itch, rash, and irritation, caused by sunburns, rosacea, eczema, etc. The mineral zinc is also vital for healing since it is critical for skin regeneration. This property makes it good for anti-scar benefits
. 
★BENTONITE MAGMA: Bentonite magma is volcanic ash. It also has trace minerals like calcium, iron, copper, and zinc. Bentonite magma can absorb up to 12 times its original volume. It is helpful in removing impurities, oils, or sebum from the skin's surface, cleaning and protecting the skin as well as healing skin infections or acne. It may also have a calming effect on inflamed breakouts due to its anti-inflammatory properties. The clay also helps reduce the look of blemishes and dark spots, toning and revealing new healthy skin.
In addition, Hyaluronic Acid, Organic Aloe Leaf Extract, and Organic Chamomile Extract used in the system help clarify, soothe, hydrate, and moisturize your skin.
HOW TO USE
HOW TO USE:
Shake the bottle before use.

When used as a spot treatment:

Apply the serum to your pimples using clean fingers, or a cotton ball.
When used for the entire face

: Gently dab or spread it on the affected skin areas, using your clean fingers, or a cotton pad. Don't use too much as it may leave a pale white-pink color on your face. When using the appropriate amount, it penetrates and becomes clear on your skin.
Let the serum dry naturally.
WHEN TO USE:  Can be used daily, day & night. 
ORDER TO APPLY:   
Use as a spot treatment

: apply directly on clean skin.

Use as skincare for entire face

: Cleanser 

→

Toner → Moisturizer → CALAMINE + ZINC OIL-FREE RECOVERY SERUM

(→ Makeup, if needed)
HOW TO STORE: Good to keep at room temperature. Avoid direct sunlight.


*Product images are for reference only. Packaging may vary.
Does it make my skin whiter when makeup? Thanks

Hi Nancy. Yes, it may make your skin brighter (still naturally though) if you apply just an appropriate amount spreading a thin layer on the entire face. However, applying too much may result in unnatural white and dry skin.
THIS 3 TRUE + 3 FREE FORMULA WAS DEVELOPED WITH EVERY CUSTOMER IN MIND!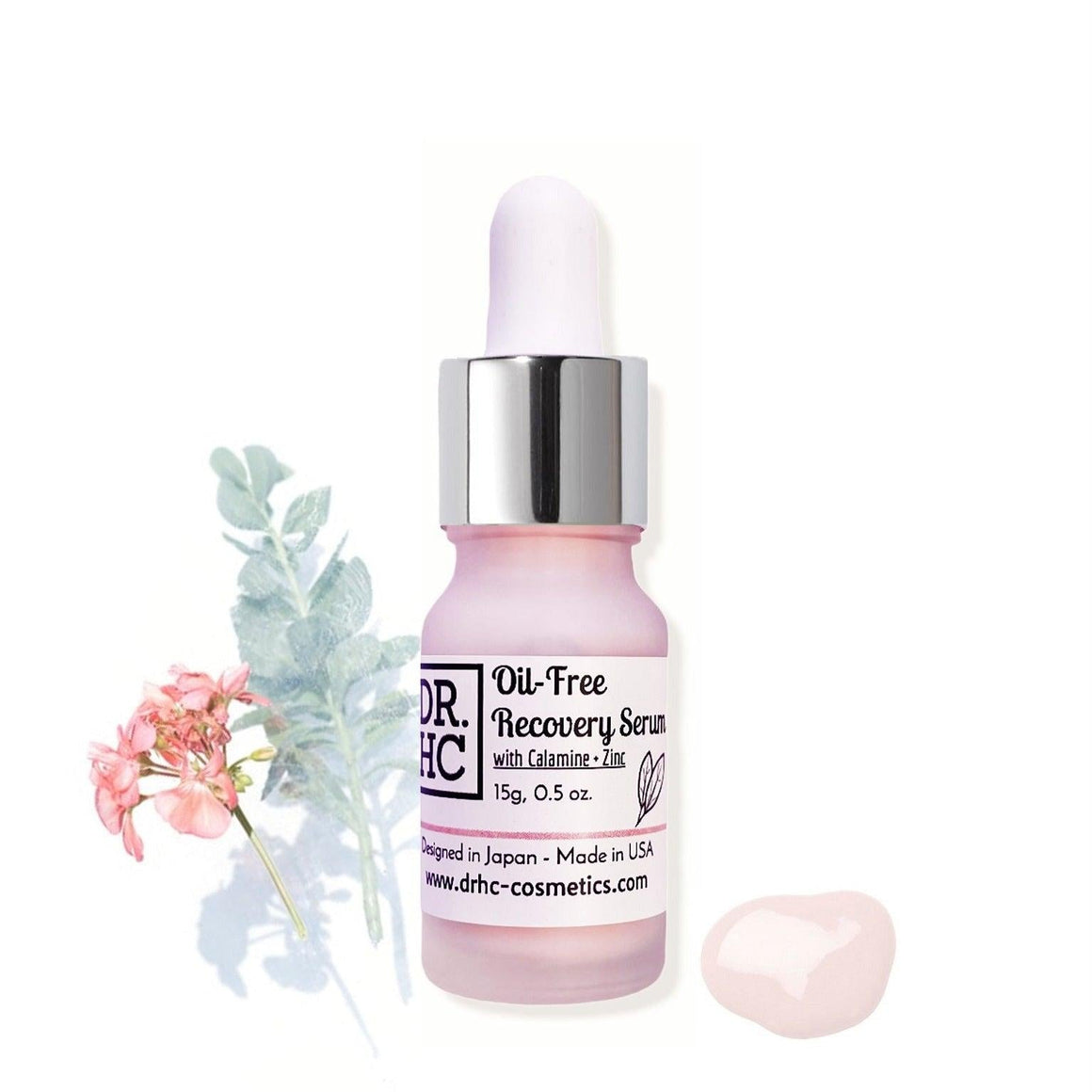 This product is TRUE
✓ Certified Organic Ingredients
✓ Fresh Natural
✓ Vegan (if the product has Vegan tag)
✓ Cruelty-Free
✓ GMO-Free
✓ Eco-friendly
✓ Made in USA
✓ Made by Science
✓ Made with Love ♡
How are these values important to you?
This product is FREE
✖ Parabens
✖ BHA/BHT (preservatives)
✖ Silicones, Siloxanes
✖ SLS/SLES
✖ Synthetic Colorants
✖ Synthetic Fragrances
✖ Phthalates
✖ MEA/ DEA/ TEA
✖ Mineral Oil
✖ Petroleum Jelly
✖ Triclosan
✖ Talc
✖ Microbeads
✖ Lead
✖ Chemical Sunscreens
✖ And other toxics...
How do these ingredients affect your health?
REAL RESULTS FROM REAL CUSTOMERS ACROSS THE WORLD
VIEW MORE REVIEWS HERE
WE DO THINGS DIFFERENTLY !
Click on image to shop product(s) in the photo