DR.HC
DR.HC Healthy Aqua CC - 4 in 1 Tinted Foundation (25g, 0.9oz)
PLEASE CHOOSE "SHIP TO" YOUR COUNTRY, or you will be charged international shipping fee. Learn more about our Shipping Policy...

If you live in other countries (not USA, Japan, or Vietnam), please choose "ship to USA" (international shipping fee will be added at checkout)
NATURE + SCIENCE + PASSION!

A lightweight, non-greasy, super-clean formula lotion (over 80% organic content) Tinted Aqua Foundation that works with all skin types and tones. The product is multi-purpose which includes Serum + Moisturizer + Primer + Tinted Foundation in one bottle. MSM, Organic Rosemary, Vitamin E, and more than 10 powerful botanical extracts and antioxidants, this HEALTHY AQUA CC TINT will be the finest and the most luxury nutritious makeup which helps to tone your skin, to reduce excessive oil and the appearance of pores, to protect your skin from breakouts, to create the perfect canvas for your foundation as well as to bring you a lightweight and natural makeup .
---
★MSM: helps diminish hyper-pigmentation and tone your skin. This ingredient is necessary for collagen production, which helps to prevent sagging skin and wrinkles, as well as dry, cracked skin. It can normalize collagen formation and radically improve skin conditions. MSM is also a powerful anti-inflammatory which helps to relieve your breakouts. In addition, MSM may even reduce symptoms of problematic skin conditions such as rosacea, which can cause redness, irritation and inflammation of the skin.
★ORGANIC ROSEMARY:  Helps reduce excess oil production. Rosemary Oil is also an anti-bacterial that is particularly effective against acne, which is one of the primary acne-causing bacteria. This ingredient also gives anti-aging properties that help prevent damage to your skin from environmental agents.
★VITAMIN E:  Helps prevent sings of aging. Aside from scavenging free radicals, vitamin E also absorbs UVB light - the nasty spectrum of sunlight that's responsible for burning and aging skin. It also protects cell membranes, which form a barrier around cells to keep them healthy and hydrated, this indirectly helps skin stay moisturized and supple. 
---

FOR WHOM?
✓All skin types
✓Also good for super-oily skin
✓Sensitive skin
✓Skin with breakouts
FOR WHAT?
As a serum + day moisturizer, this product contributes to
✓Skin toning

✓

Sebum control

✓Pore minimizing

✓Anti-acne 

✓

Anti inflammatory

✓Anti-aging
As a primer, this product helps to
✓Hydrate, smooth and prepare your skin for perfect makeup application.
As a tinted foundation, this product helps to
✓Bring you a super-lightweight, non-greasy and natural makeup
---

✓ POINT 1: This is a perfect choice for natural makeup lovers! HEALTHY AQUA CC TINT penetrates into the skin right away and and give you a naturally glowing looking and super lightweight finish.
✓ POINT 2: HEALTHY AQUA CC TINT is also a good choice for skin with breakouts in comparison with other types of foundation. It's non-comedogenic and has oil-control properties which may help to improve your breakouts.
✓ POINT 3: The product is unscented but has a light natural scent from herbs and botanical ingredients.
---

HOW TO USE:  After cleansing and toning, place a pea-sized dollop of HEALTHY AQUA CC TINT on your finger. Work the CC tint across you face, blending each area while it is still wet. You can also use a brush or latex sponge wedge to blend around your hairline and jawline.
WHEN TO USE:  For day use. The product can be used everyday.
HOW TO STORE
✓ Good to store at room temperature
✓ K

eep the product out of direct sunlight

✓ Avoid conditions of high humidity
MULTIPLE WAYS TO USE:
✓ As a day serum + moisturizer:  Cleanser → Toner → Moisturizer (if necessary) → HEALTHY AQUA CC TINT 
✓ As a primer: Cleanser → Toner → Moisturizer (if necessary) → HEALTHY AQUA CC TINT → Foundation (cream, powder foundation...) → Finishing Powder
✓As a tinted foundation: Cleanser → Toner → Moisturizer (if necessary) → HEALTHY AQUA CC TINT → Finishing Powder
TIPS: If your skin is oily, you can stabilize CC tint with our powders here. If your skin is dry, after cleansing and toning, applying some moisturizer before using HEALTHY AQUA CC TINT will bring you the best results.
*Product images are for reference only. Packaging may vary.
QUESTIONS & ANSWERS
Have a Question?
Be the first to ask a question about this.
Ask a Question
THIS 3 TRUE + 3 FREE FORMULA WAS DEVELOPED WITH EVERY CUSTOMER IN MIND!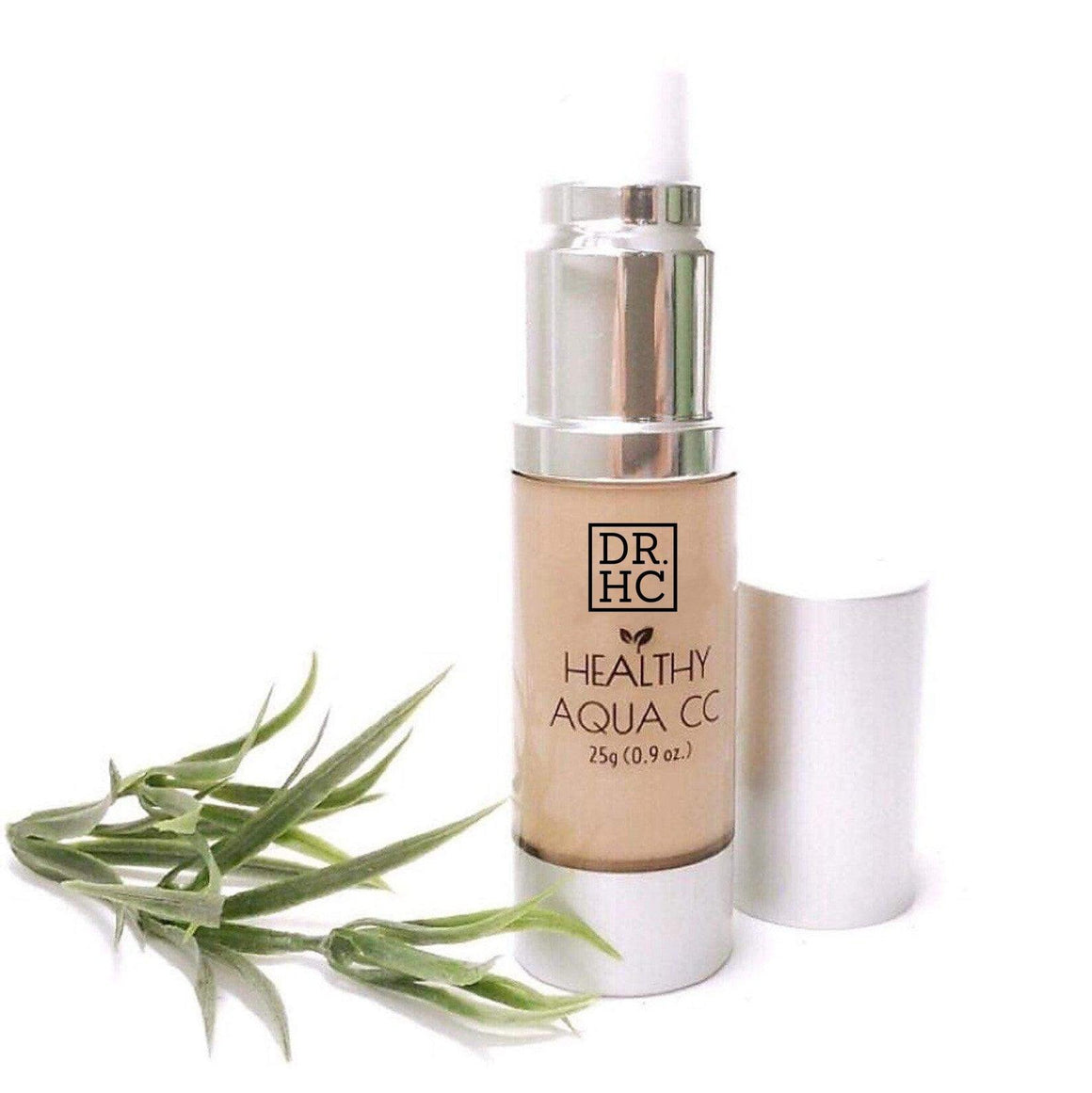 This product is TRUE
✓ Certified Organic Ingredients
✓ Fresh Natural
✓ Vegan (if the product has Vegan tag)
✓ Cruelty-Free
✓ GMO-Free
✓ Eco-friendly
✓ Made in USA
✓ Made by Science
✓ Made with Love ♡
How are these values important to you?
This product is FREE
✖ Parabens
✖ BHA/BHT (preservatives)
✖ Silicones, Siloxanes
✖ SLS/SLES
✖ Synthetic Colorants
✖ Synthetic Fragrances
✖ Phthalates
✖ MEA/ DEA/ TEA
✖ Mineral Oil
✖ Petroleum Jelly
✖ Triclosan
✖ Talc
✖ Microbeads
✖ Lead
✖ Chemical Sunscreens
✖ And other toxics...
How do these ingredients affect your health?
REAL RESULTS FROM REAL CUSTOMERS ACROSS THE WORLD
VIEW MORE REVIEWS HERE
WE DO THINGS DIFFERENTLY !
Click on image to shop product(s) in the photo