DR.HC
DR.HC Skin Detox (25~40g, 0.9~1.4oz) (Detoxifying, Anti-pollution, Anti-black head, Oil balancing, Pore Shrinking...)
PLEASE CHOOSE "SHIP TO" YOUR COUNTRY, or you will be charged international shipping fee. Learn more about our Shipping Policy...

If you live in other countries (not USA, Japan, or Vietnam), please choose "ship to USA" (international shipping fee will be added at checkout)
NATURE + SCIENCE + PASSION!
Pollution is threatening the planet, and threatening our skin, too. Do you know that nitrogen dioxide gas from car exhausts and toxic oily molecules measure 2.5 micrometres, that's 20 times smaller than the diameter of a skin pore? That's why it's so easy for pollution to get deeply into your skin and cause thousands of skin problems. Pollution is really a scary aggressor, since it doesn't just sit on the surface of your skin, but it can silently seep deep down into our skin and damage the skin cells. That is why we really need to use anti-pollution products and regularly detoxify our skin. Are you ready for that?
Our SKIN DETOX is a day and night moisturizer which was developed to bring you detoxification and anti-pollution benefits. As a result, the skin will be prevented from breakouts, blackheads, dead skin cells, excess sebum, dryness, premature aging, and other skin damages caused by pollution. SKIN DETOX is a super-clean formula which has high content of certified organic ingredients, natural preservatives, and non-toxic ingredients. The cream is safe to use for pregnancy, and can be use for both men and women.
HAPPY POINTS
✓POINTS 1: Super-hydrating (thanks to hyaluronic acid). SKIN DETOX was developed with special formula that provides rich texture, but extremely light sensory. When applied, the cream penetrates into your skin right away, giving a  smooth and moisturized skin. 
✓POINT 2: This product has a unique grey color coming from natural ingredients. The products is unscented but still has and a light scent coming from botanical extracts. No synthetic pigments or dyes, no synthetic fragrance, no synthetic preservatives. Just beautifully clean formula.
✓POINT 3: This product is Vegan
FOR WHOM
FOR WHOM?
✓All skin types 

✓Especially good for excessively oily skin

✓Sensitive skin

✓Skin with breakouts
FOR WHAT?
✓Skin detoxification
✓Anti-pollution.
✓Anti-blackheads
✓Control excessive sebum
✓Pore minimizing

✓Anti-acne

✓Anti inflammatory
IT ALSO HELPS
✓Anti-aging 
✓Hydrating
✓Softening
INGREDIENTS
★WHITE CLAY: Helps gently removing impurities, dead and dry skin cells. It is  also reducing the size of your pores and reducing excess sebum to leave you with clarified, glowing skin.
★COCONUT ACTIVATED CHARCOAL: Draws bacteria, poisons, chemicals, dirt and other micro-particles to the surface of skin, helping you to achieve a flawless complexion and fight acne. Activated charcoal powder is proven to adsorb thousands of times its own mass in harmful substances.
★ GREEN TEA: Enriched with goodness of antioxidants, vitamin C, vitamin E and B2, green tea is a powerful ingredient which can effectively delay the signs of ageing and make your skin more youthful as well supple. It is also a great antibacterial agent, which can be used to treat acne and uncloging pores. Green tea also reduces the inflammation and redness of skin, and it is a perfect hydrating agent.
HOW TO USE
HOW TO USE:
Moisturize your face with the cream every morning and night after you cleanse and tone. Always use circular, upward motions with a gentle touch on your face. 
WHEN TO USE:  Everyday. Day and/or Night.
ORDER TO APPLY:  Cleanser → Toner → Serum/Emulsion → SKIN DETOX
HOW TO STORE:
✓ Good to store at room temperature
✓ K

eep the product out of direct sunlight

✓ Avoid conditions of high humidity
*Product images are for reference only. Packaging may vary.
QUESTIONS & ANSWERS
Have a Question?
Be the first to ask a question about this.
Ask a Question
THIS 3 TRUE + 3 FREE FORMULA WAS DEVELOPED WITH EVERY CUSTOMER IN MIND!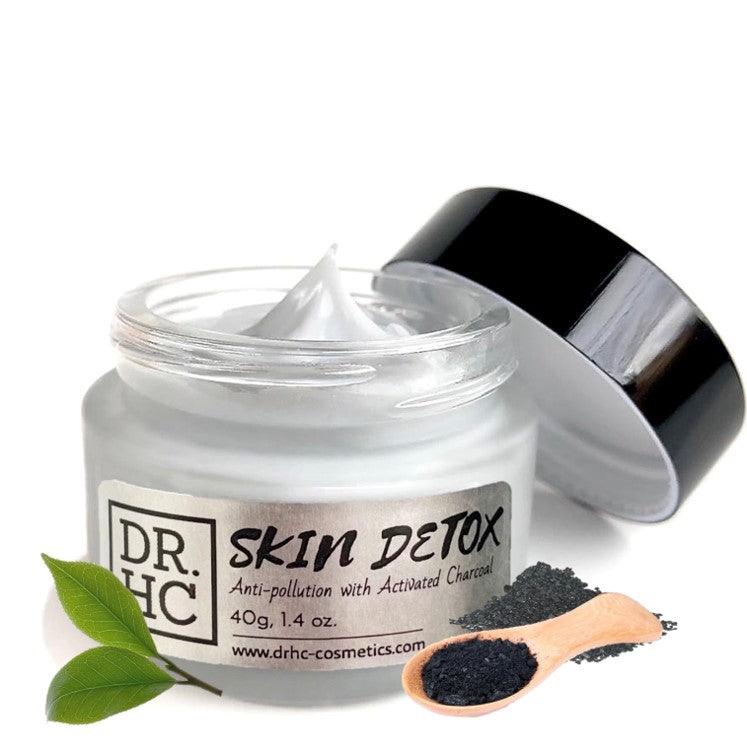 This product is TRUE
✓ Certified Organic Ingredients
✓ Fresh Natural
✓ Vegan (if the product has Vegan tag)
✓ Cruelty-Free
✓ GMO-Free
✓ Eco-friendly
✓ Made in USA
✓ Made by Science
✓ Made with Love ♡
How are these values important to you?
This product is FREE
✖ Parabens
✖ BHA/BHT (preservatives)
✖ Silicones, Siloxanes
✖ SLS/SLES
✖ Synthetic Colorants
✖ Synthetic Fragrances
✖ Phthalates
✖ MEA/ DEA/ TEA
✖ Mineral Oil
✖ Petroleum Jelly
✖ Triclosan
✖ Talc
✖ Microbeads
✖ Lead
✖ Chemical Sunscreens
✖ And other toxics...
How do these ingredients affect your health?
REAL RESULTS FROM REAL CUSTOMERS ACROSS THE WORLD
VIEW MORE REVIEWS HERE
WE DO THINGS DIFFERENTLY !
Click on image to shop product(s) in the photo