Rebranding
Silky Body All-Natural Coffee Body Scrub (260g, 9oz.)
PLEASE CHOOSE "SHIP TO" YOUR COUNTRY, or you will be charged international shipping fee. Learn more about our Shipping Policy...

If you live in other countries (not USA, Japan, or Vietnam), please choose "ship to USA" (international shipping fee will be added at checkout)
NATURE + SCIENCE + PASSION!
This is your exfoliating body treatment, recommended for all skin types. Formulated with 100% Organic, Natural & Vegan ingredients, our body polishing scrub is designed to leave skin smooth, soft, toned, energized and healthy. Featured with 8 natural sources to smoothen, soften and rejuvenate skin texture including Organic Lemon Peel Oil, Carrot Seed Oil, Coffee, this revitalizing body scrub will not only gently remove dead skin cells, but also provide skin toning, anti-aging, detoxifying, anti-acne and moisturizing benefits to your body.
WHY YOU SHOULD BUY THIS?
POINT 1: 100% Organic, Natural & Vegan. 

100% non-GMO and cruelty free. 

POINT 2: Non-toxic. The body scrub is also Paraben-free, Phthalate-free, Dye-free, Fragrance-free, Mineral Oil-free, Petroleum-free, and Preservative-free, etc. (see more below). Made from the purest Organic & Natural ingredients only. 
POINT 3: Rich in nutrients. Featured with 8 organic & natural sources to smoothen, soften and rejuvenate skin texture 
POINT 4: Multi-functional. 1/ exfoliating, 2/ skin toning, 3/ anti-aging, 4/ anti-pimple, 5/ detoxifying, 6/ moisturizing & softening
POINT 4: Naturally scented with a refreshing and comforting coffee scent with a hint of citrus 
POINT 5:  Good for all skin types.
RESULTS
RESULTS
Exfoliating
Skin toning
Anti-aging
Anti-acne, Anti-inflammatory (for body)
Detoxifying
Moisturizing
Skin Softening   
INGREDIENTS
★COFFEE: Coffee contains Caffeine which helps toning, brightening the skin, detoxifying, tightening pores and reducing wrinkles. Caffeic acid in coffee is an antioxidant which helps boost collagen levels and reduce the premature aging of cells. Caffeic acid also has antimicrobial properties which is helpful to prevent pimples/ acne for your body.
★ ORGANIC LEMON PEEL OIL: is effective to brightening skin as well as fighting free radicals (the cause of aging), repairing and rejuvenating the skin, boosting collagen production and maintaining skin's elasticity, providing antibacterial, anti-acne and antioxidant supports. It also gently remove dead skin cells to rejuvenate a new youthful skin looking.
★ CARROT SEED OIL:  Carrot seed oil has shown antibacterial, antifungal, anti-inflammatory properties which help with skin infections. The Beta Carotene and Vitamin A found in carrot seed oil are rich in antioxidants, thus, it helps eliminating toxic build-up, boosting your skin elasticity and improving skin complexion. 
ALL INGREDIENTS
:
*Organic Fair Trade Sugar, Coffee Grounds, Cocos Nucifera (Coconut) Oil, Vitis Vinifera (Grapeseed) Oil, Prunus Amygdalus Dulcis (Sweet Almond) Oil, Crambe Abyssinica (Abyssinian) Oil,
*Organic Citrus Limon (Lemon) Peel Oil,
Daucus Carota Sativa (Carrot) Seed Oil,
Natural Fragrance, Rosemary Leaf Extract
.
*Certified Organic
HOW TO USE
HOW TO USE:  Use after your body wash. Massage on skin over the entire body. Rinse well with water. Use as often as desired.
HOW TO STORE: Good to keep at room temperature in your bathroom.
*Product images are for reference only. Packaging may vary.
QUESTIONS & ANSWERS
Have a Question?
Be the first to ask a question about this.
Ask a Question
THIS 3 TRUE + 3 FREE FORMULA WAS DEVELOPED WITH EVERY CUSTOMER IN MIND!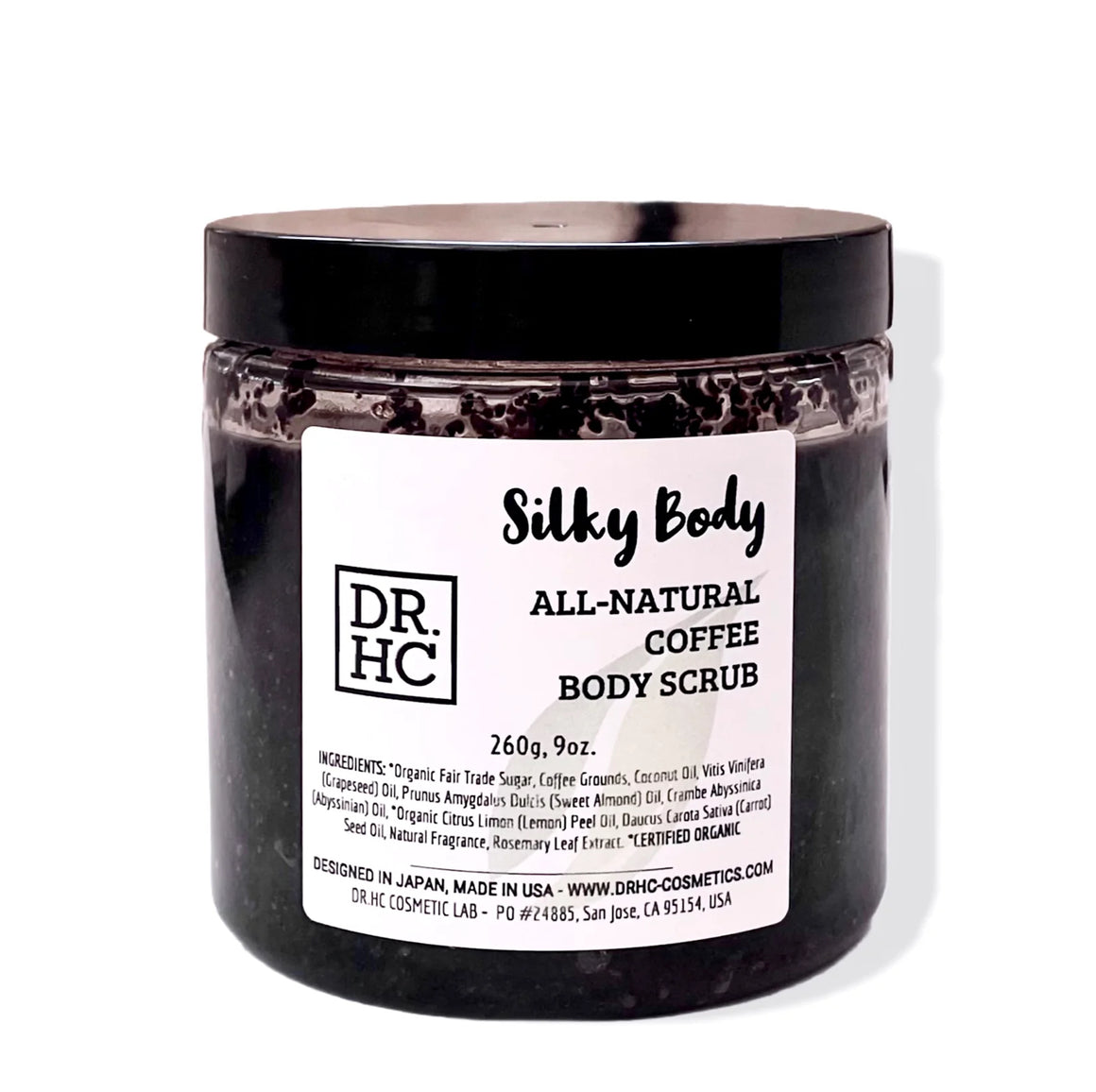 This product is TRUE
✓ Certified Organic Ingredients
✓ Fresh Natural
✓ Vegan (if the product has Vegan tag)
✓ Cruelty-Free
✓ GMO-Free
✓ Eco-friendly
✓ Made in USA
✓ Made by Science
✓ Made with Love ♡
How are these values important to you?
This product is FREE
✖ Parabens
✖ BHA/BHT (preservatives)
✖ Silicones, Siloxanes
✖ SLS/SLES
✖ Synthetic Colorants
✖ Synthetic Fragrances
✖ Phthalates
✖ MEA/ DEA/ TEA
✖ Mineral Oil
✖ Petroleum Jelly
✖ Triclosan
✖ Talc
✖ Microbeads
✖ Lead
✖ Chemical Sunscreens
✖ And other toxics...
How do these ingredients affect your health?
REAL RESULTS FROM REAL CUSTOMERS ACROSS THE WORLD
VIEW MORE REVIEWS HERE
WE DO THINGS DIFFERENTLY !
Click on image to shop product(s) in the photo