Rebranding
Vitamins Stem Cell Serum (15g, 0.5oz.)
PLEASE CHOOSE "SHIP TO" YOUR COUNTRY, or you will be charged international shipping fee. Learn more about our Shipping Policy...

If you live in other countries (not USA, Japan, or Vietnam), please choose "ship to USA" (international shipping fee will be added at checkout)
NATURE + SCIENCE + PASSION!
 VITAMINS STEM CELLS SERUM is a surprisingly age-defying and toning formula, made from powerful Plant Stem Cells, Multi-Vitamins such as Carotenoids (Provitamin A), Vitamin A (Retinol), Vitamin C (Ascorbic Acid), Vitamin B3 (Niacinamide), Pro-Vitamin B5 (DL-Panthenol), Vitamin E (Tocopherol), and Coenzyme Q10 for ultimate nourishment. All work in harmony to create a super effective serum that provides your skin with everything it needs to fight back against the effects of time, and revitalize a plumped, supple, bright and youthful looking.
Our Plant Stem Cells is a unique active ingredient derived from cultured wakame (seaweed) cells which are remarkably similar to skin cells; they nourish and revitalize skin from the cellular levels. This serum is also the most luxurious combination of Vitamins, CoQ10, and more than twelves different botanical active ingredients that will surprise you with their amazing works!
HAPPY POINTS:
POINT 1: The most luxurious serum ever! with powerful Plant Stem Cells, CoQ10, 6 types of Vitamins, and more than 12 different types of active botanical ingredients. The effectiveness can't be beat!
POINT 2:  Nearly All-Natural, clean formula & non-toxic. Free from Parabens, Phthalate, Synthetic Dyes & Fragrances, Mineral oils, Petroleum jelly, etc. 
POINT 3: We adopted the most effective moisturization system which helps all the active ingredients to be effieciently delivered deep down while protecting them from evaporating from the skin.
POINT 4: Super silky and soft texture and finish. Light and easily absorbed, leaving you a supple skin without greasy after-feel
POINT 5: Naturally and beautifully colored and scented. The serum has a very subtle rose citrus scent that helps relax and balance your mood. 
POINT 6: Suitable for all skin types. Especially targeted for mature skin
POINT 7: We chose to make the product as a serum, not a moisturizer. Serums can be used as supplements for skin. The product gives you a flexibility to combine with any items of your basic skincare routine in order to revitalize your skin from the deep down cellular levels. 
FOR WHOM
FOR WHOM
All skin types (oily, dry, normal, combination)

Targeted for mature skin

Sensitive skin

Skin with breakouts
FOR WHAT
Damaged skin recovery
Skin plumping
Skin firming

Anti-aging  
Skin brightening

Toning
Hydrating

Moisturizing
This product also helps
Anti-acne

Anti-inflammatory

Softening 


Non-comedogenic
INGREDIENTS
★PLANT STEM CELLS (WAKAME BIOFERMENT): Wakame Bioferment is a a unique active derived from cultured wakame (seaweed) cells which is known to increase cell metabolism (turn over), encourage collagen production, provide dermal hydration by trapping moisture in the skin, as well as deliver anti-aging effects to minimize damages at the cellular level. Because wakame cells are surprisingly similar to skin cells, they nourish skin cells, protect and maintain your skin's natural balance, defend against aging and irritation. These results in a firmer, plumper, younger skin and a radiant complexion! 
★MULTI-VITAMINS:  This serum has the most luxurious combination of vitamins ever! Carotenoids (Provitamin A) stimulates and repairs collagen and elastin in the skin to increase its elasticity and firmness. Vitamin A (Retinol) protects skin against UV damage, slows signs of aging, and encourages healthy skin cell production. Vitamin C (Ascorbic Acid) is effective to brighten skin, even complexion and reduce signs of aging. Vitamin B3 (Niacinamide) retains skin's moisture and, helping smooth out skin's texture, improve skin complexion and reduce the look of wrinkles. Pro-Vitamin B5 (DL-Panthenol) helps keep skin soft, smooth and healthy while providing anti-inflammatory and healing effects. Vitamin E (Tocopherol) prevents signs of aging and sun damages, etc. Everything your skin expects from the vitamins is in this bottle!

★COENZYM Q10 : Helps stimulate collagen and elastin production, which can effectively plump your skin reduce the appearance of fine lines. CoQ10 aids in cell activity so that your cells are more efficient in flushing out toxins like free radicals and healing the damage they cause. It also helps even out skin tone and benefit skin with antioxidant effects.
HOW TO USE
HOW TO USE: Apply an appropriate amount to entire face and allow to dry. Follow with any of our moisturizers.
WHEN TO USE:  Can be used daily. Can be used under make up.
ORDER TO APPLY:   Cleanser →Toner →  VITAMINS STEM CELL SERUM → Moisturizer 

HOW TO STORE: Good to keep at room temperature. Avoid direct sun light.
*Product images are for reference only. Packaging may vary.
QUESTIONS & ANSWERS
Have a Question?
Be the first to ask a question about this.
Ask a Question
THIS 3 TRUE + 3 FREE FORMULA WAS DEVELOPED WITH EVERY CUSTOMER IN MIND!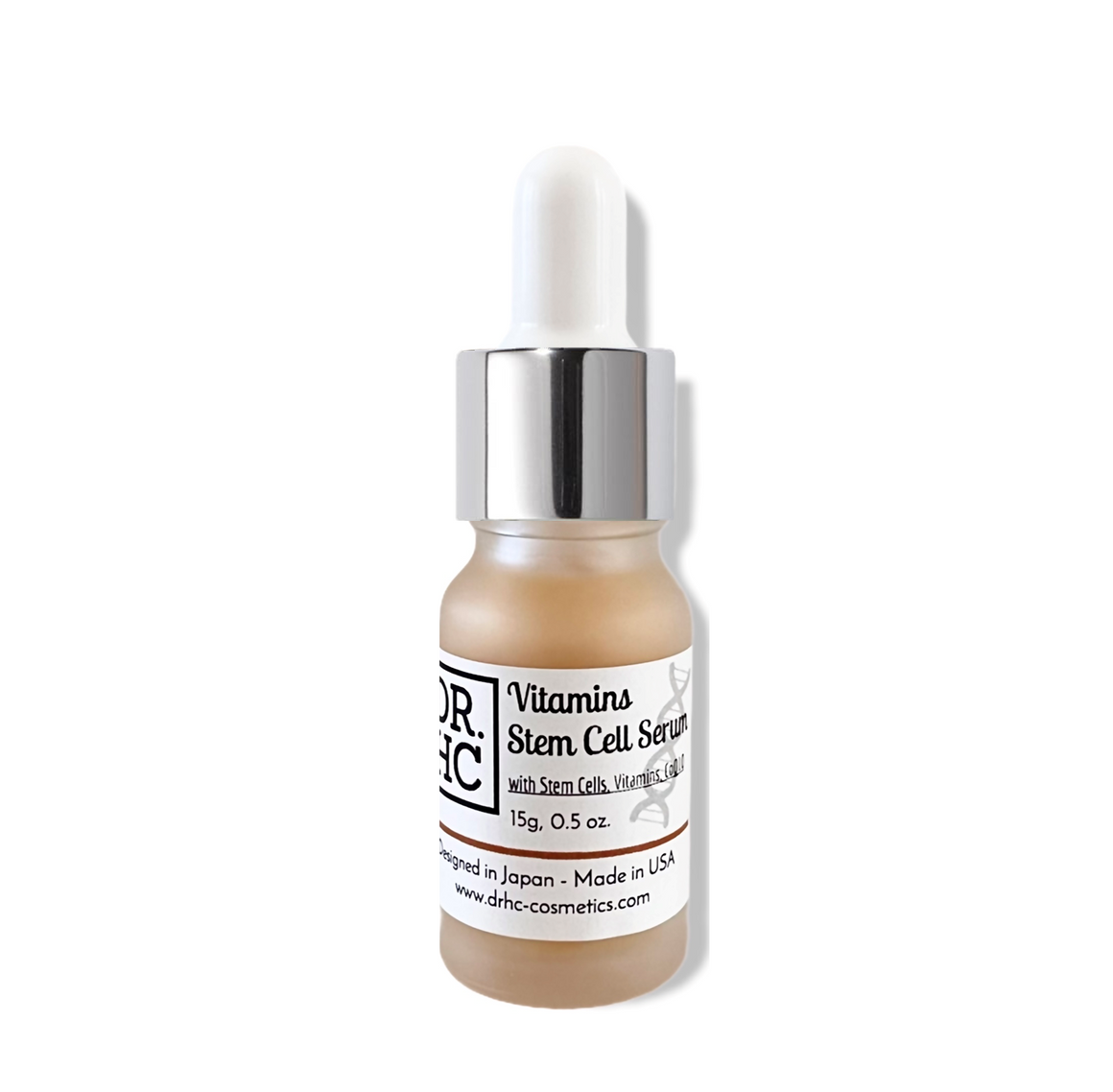 This product is TRUE
✓ Certified Organic Ingredients
✓ Fresh Natural
✓ Vegan (if the product has Vegan tag)
✓ Cruelty-Free
✓ GMO-Free
✓ Eco-friendly
✓ Made in USA
✓ Made by Science
✓ Made with Love ♡
How are these values important to you?
This product is FREE
✖ Parabens
✖ BHA/BHT (preservatives)
✖ Silicones, Siloxanes
✖ SLS/SLES
✖ Synthetic Colorants
✖ Synthetic Fragrances
✖ Phthalates
✖ MEA/ DEA/ TEA
✖ Mineral Oil
✖ Petroleum Jelly
✖ Triclosan
✖ Talc
✖ Microbeads
✖ Lead
✖ Chemical Sunscreens
✖ And other toxics...
How do these ingredients affect your health?
REAL RESULTS FROM REAL CUSTOMERS ACROSS THE WORLD
VIEW MORE REVIEWS HERE
WE DO THINGS DIFFERENTLY !
Click on image to shop product(s) in the photo