Rebranding
Vitamin C CoQ10 Makeup Removing & Cleansing Serum (70ml, 2.4 fl.oz.)
PLEASE CHOOSE "SHIP TO" YOUR COUNTRY, or you will be charged international shipping fee. Learn more about our Shipping Policy...

If you live in other countries (not USA, Japan, or Vietnam), please choose "ship to USA" (international shipping fee will be added at checkout)
NATURE + SCIENCE + PASSION!
VITAMIN C COQ10 - MAKEUP REMOVING & CLEANSING SERUM is a 2-in-1 cleanser that works as both a makeup remover and face wash. Featured with Coenzyme Q10, Vitamin C, Organic Argan oil, Organic Camellia oil, and other nutritious Organic & Natural ingredients, the cleanser helps effectively remove all kinds of makeup, gently remove dead skin cells as well as dirt, oil, and chemicals without damaging your skin. Get a flawless complexion, firming, skin brightening, and anti-aging benefits with this 2-in-1 magic cleansing serum! 
FOR WHOM
All skin types

Sensitive skin

Skin with breakouts
RESULTS
Removing makeup 

Cleanse dirt, sebum, chemicals and other pollutants
Skin firming

Skin Brightening
Anti-aging
Gently exfoliating
Anti-inflammatory
Antibacterial
Others: Skin Softening, Moisturizing
WHY WE LOVE :
POINT 1: Effective for all kinds of makeup even the toughest ones including foundation, mascara, matte lipstick, waterproof makeup, etc.
POINT 2:  2-IN-1 convenient formula. You don't need the extra step of washing your face after using this makeup remover. Save your time, save your money!
POINT 3: No worry about synthetic surfactants which will be "quietly" damaging your skin! Since we say NO to those

synthetic surfactants, you don't need to worry about skin drying or flakiness caused by harsh chemicals

.
POINT 4:  CoQ10 + 100% Organic/Natural formula! Plus, the product is slightly scented with 100% citrus essential oils.
POINT 5:  Non-alcohol.
POINT 6: Non-comedogenic. Don't like the sticky feel when using natural makeup removing / cleansing oil? So, yes, this product is for you! Good to use for all skin types, even for oily skin and skin with breakouts.
POINT 7:  In addition to makeup removal and face cleansing functions, the product also helps gently remove dead skin cells. This will soften your skin and help prevent acne.
POINT 8: This product is  Vegan 
POINT 9:  No added gluten.
INGREDIENTS 
★COENZYM Q10: Helps stimulate collagen and elastin production, which can reduce the appearance of fine lines. CoQ10 aids in cell activity so that your cells are more efficient in flushing out toxins like free radicals and healing the damage they cause. It also helps even out skin tone and benefits skin with antioxidant effects.
★VITAMIN C:  has been praised for skin brightening and anti-blemish benefits. It helps reduce dark spots and blemishes as well.  Vitamin C defends against free radicals and shields the skin from the visible impacts of pollution. It is also an antioxidant, which helps boost collagen production.  
★ORGANIC ARGAN OIL & CAMELLIA OIL: Rich sources of antioxidants like polyphenols and vitamin E. The omega fatty acids in argan oil and camellia oil also help to strengthen tissues in the skin and therefore can aid in wrinkle prevention. Besides, with the support of grape seed oil, avocado oil, and sweet almond oil in the formula, powerful anti-aging benefits are what you can expect.
In addition, AHA fruity acids coming from orange peel oil help gently remove dead skin cells, and cleanse and soften your skin; ylang-ylang and rosemary extract help soothe, repair skin damage, moisturize skin and provide anti-inflammatory benefits. 
HOW TO USE
HOW TO USE:
-Wet your face with water. 
-Shake the product well before every use. Apply the serum on your entire face and gently massage until you see it dissolves all the makeup. The whole process usually takes about 1~2 minutes.
-Rinse well with water. Then follow with our toner, serum, and moisturizer.
WHEN TO USE:  Can be used every day.
IN WHAT ORDER:   VITAMIN C COQ10 - MAKEUP REMOVING & CLEANSING SERUM → (rinse well) → Toner → Serum/Emulsion  → Moisturizer
HOW TO STORE: Good to keep at room temperature. Avoid direct sunlight.
*Product images are for reference only. Packaging may vary.
QUESTIONS & ANSWERS
Have a Question?
Be the first to ask a question about this.
Ask a Question
THIS 3 TRUE + 3 FREE FORMULA WAS DEVELOPED WITH EVERY CUSTOMER IN MIND!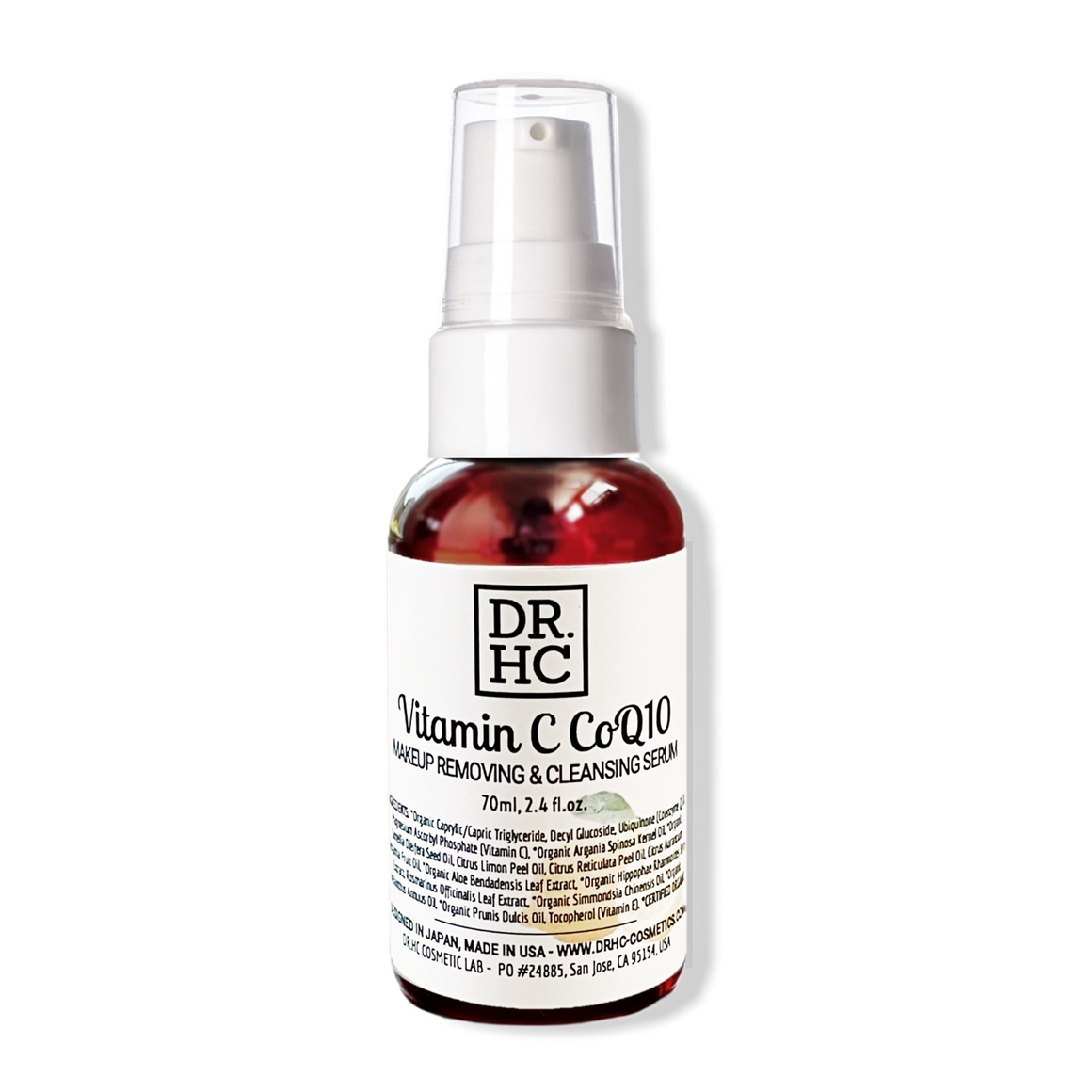 This product is TRUE
✓ Certified Organic Ingredients
✓ Fresh Natural
✓ Vegan (if the product has Vegan tag)
✓ Cruelty-Free
✓ GMO-Free
✓ Eco-friendly
✓ Made in USA
✓ Made by Science
✓ Made with Love ♡
How are these values important to you?
This product is FREE
✖ Parabens
✖ BHA/BHT (preservatives)
✖ Silicones, Siloxanes
✖ SLS/SLES
✖ Synthetic Colorants
✖ Synthetic Fragrances
✖ Phthalates
✖ MEA/ DEA/ TEA
✖ Mineral Oil
✖ Petroleum Jelly
✖ Triclosan
✖ Talc
✖ Microbeads
✖ Lead
✖ Chemical Sunscreens
✖ And other toxics...
How do these ingredients affect your health?
REAL RESULTS FROM REAL CUSTOMERS ACROSS THE WORLD
VIEW MORE REVIEWS HERE
WE DO THINGS DIFFERENTLY !
Click on image to shop product(s) in the photo