Rebranding
Charcoal VitC Mud Mask (50~60g, 1.8~2.1oz)
PLEASE CHOOSE "SHIP TO" YOUR COUNTRY, or you will be charged international shipping fee. Learn more about our Shipping Policy...

If you live in other countries (not USA, Japan, or Vietnam), please choose "ship to USA" (international shipping fee will be added at checkout)
NATURE + SCIENCE + PASSION!
Our Charcoal VitC Mud Mask (old name: Recovery CC Mud Masque) is made from Moroccan Rhassoul clay, Activated charcoal and is rich in Vitamin C and minerals. Vitamin C helps brightening your skin, reducing dark spots while the clay and activated charcoal will be gently exfoliating, absorbing and removing toxins from the skin, clearing blackheads and minimizing pores, leaving you a healthy glowing skin with anti pollution benefits. This RECOVERY CC MUD MASQUE is a wonderful choice for professional spas and for your luxurious at-home spa treatment as well ! 
HAPPY POINTS:
✓POINT 1:   A 2-in-1 black mask that works as an exfoliator and facial mask. It absorb and exfoliate dead skin cells and toxins, leaving you a whitened skin after washed off !
✓POINT 2:  You're able to enjoy a professional facial mask treatment with more reasonable price, and of course, it's AT-HOME! 
✓POINT 3: Water-based formula which is non-comedogenic. Good for all skin types. Perfect even for oily skin and sensitive skin. 
✓POINT 4: The mask will absorb all impurities and dead skin cells on the surface, leaving you a clarified skin and smooth after-feel. It's wonderful to use before makeup as it helps your makeup be smoother and stay longer on the skin. 
✓POINT 5: This product is Vegan
FOR WHOM
FOR WHOM ?
✓All skin types (oily, dry, normal, combination)

✓Sensitive skin 

✓Skin with breakouts
FOR WHAT ?
✓Skin Brightening


✓Anti Blemish

✓Skin Reccovery

✓Exfoliating

✓Detoxifying

✓Anti pollution

✓Pore minimizing

✓Blackheads clearing 

✓Anti-acne
✓Oil balancing  
This product also helps
✓Anti-aging

✓Softening 

✓Non-comedogenic
INGREDIENTS
★VITAMIN C has been praised for skin brightening and anti-blemish benefits. It helps reducing dark spots and blemish as well.  Vitamin C defends against free radicals and shields skin from the visible impacts of pollution. It is also an antioxidant, which help boosting collagen production. 
★ATIVATED CHARCOAL: Draws bacteria, poisons, chemicals, dirt and other micro-particles to the surface of skin, helps to recovery your skin from toxins, leaving you a flawless complexion and glowing skin. It also helps to clear blackheads and fight acne while minimizing skin pores and giving you anti pollution benefits.
★MOROCCAN RHASSOUL CLAY is a well-known ingredient used in luxurious spa lines. It enriches your skin with minerals. It also works as a very mild exfoliant, gently removing dead and dry skin cells to leave you with clarified skin, while minimizing your pores and reducing oily skin as well. 
HOW TO USE
HOW TO USE:  
-Cleanse your face, then apply the mask by hand or by our mask brush (hard type) specially designed for this type of masks. 
-Leave on 15~20 minutes. The mask will dry out and harden.
-Moisten, and gently scrub to remove. 
-Use our toner, serum and moisturizer.
WHEN TO USE:  Anytime in a day. Once ~ twice per week.
ORDER TO APPLY:  Face cleanser → CHARCOAL VITC MUD MASQUE → (rinse off) → Toner → Serum/Emulsion  → Moisturizer 

HOW TO STORE: Good to keep at room temperature. Avoid direct sun light.
ATTENTION!  The mask may dry out overtime. Keep it sealed tightly.
*Product images are for reference only. Packaging may vary.
QUESTIONS & ANSWERS
Have a Question?
Be the first to ask a question about this.
Ask a Question
THIS 3 TRUE + 3 FREE FORMULA WAS DEVELOPED WITH EVERY CUSTOMER IN MIND!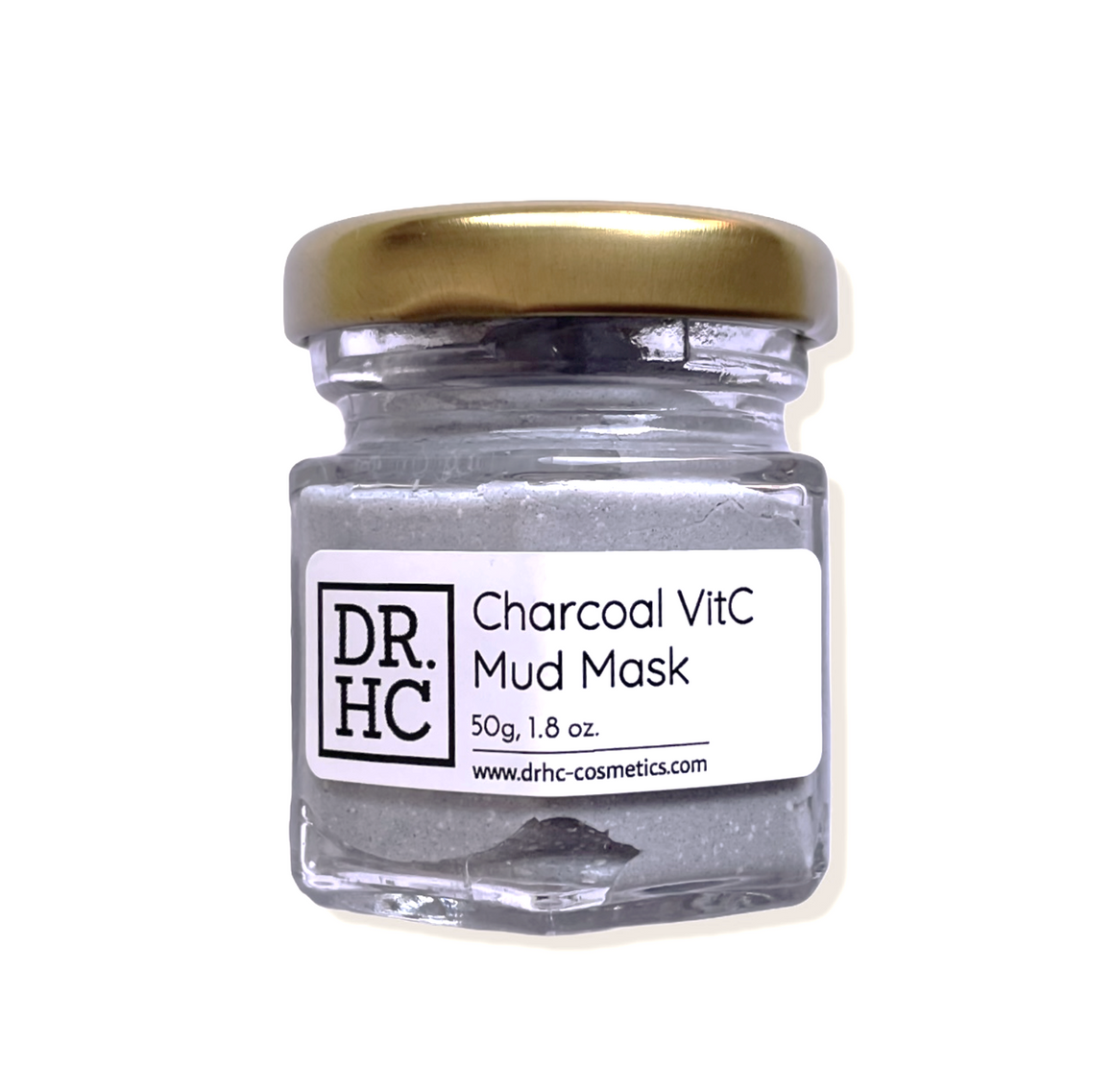 This product is TRUE
✓ Certified Organic Ingredients
✓ Fresh Natural
✓ Vegan (if the product has Vegan tag)
✓ Cruelty-Free
✓ GMO-Free
✓ Eco-friendly
✓ Made in USA
✓ Made by Science
✓ Made with Love ♡
How are these values important to you?
This product is FREE
✖ Parabens
✖ BHA/BHT (preservatives)
✖ Silicones, Siloxanes
✖ SLS/SLES
✖ Synthetic Colorants
✖ Synthetic Fragrances
✖ Phthalates
✖ MEA/ DEA/ TEA
✖ Mineral Oil
✖ Petroleum Jelly
✖ Triclosan
✖ Talc
✖ Microbeads
✖ Lead
✖ Chemical Sunscreens
✖ And other toxics...
How do these ingredients affect your health?
REAL RESULTS FROM REAL CUSTOMERS ACROSS THE WORLD
VIEW MORE REVIEWS HERE
WE DO THINGS DIFFERENTLY !
Click on image to shop product(s) in the photo