Rebranding
Saffron Premium Skin Revitalizer (25~40g, 0.9~1.4oz)
PLEASE CHOOSE "SHIP TO" YOUR COUNTRY, or you will be charged international shipping fee. Learn more about our Shipping Policy...

If you live in other countries (not USA, Japan, or Vietnam), please choose "ship to USA" (international shipping fee will be added at checkout)
NATURE + SCIENCE + PASSION!
You have heard of SAFFRON?, and are wondering if it's really benefit your skin? What we can tell you for sure is Saffron is one of the most luxurious, precious and expensive beauty ingredient all around the world. However, its values are worth its price. Saffron is a beauty aid used by queens and princesses. Cleopatra used saffron in her baths for its cosmetic properties. It's used to get beautiful skin that you'll feel proud to flaunt.
Saffron derives from the flower of Crocus sativus (which also is its scientific name). Cultivation and use of saffron spans more than 3,500 years. For a long time Persian saffron has been known as the most excellent and the best quality standing among world people. Saffron is precious because of its difficulty to grow and harvest. The plant is just so delicate that it only grows under very specific conditions, blooming for only one week of the year. And only a small part of the saffron flower - the stigmata - is actually used for the spice or beauty aid. The stigmata is delicate, too, so harvesting and drying them is a costly, manual job. It takes about 20000 saffron flowers to make just 100 gram of saffron that is usually used as spice or used for beauty and personal care products. Yes, 20000 flowers for only 100 gram saffron. However, it's worth to pay for saffron so much thanks to the reported beauty benefits.
Our super-premium day & night cream with Organic Saffron (Persia), a luxury and high-reputation ingredient used as a beauty aid. The cream provides our skin with superior benefits including skin revitalizing, anti inflammatory, anti-acne, skin toning, skin brightening, anti-aging, hydrating, etc. SAFFRON - PREMIUM SKIN REVITALIZER is a super-clean formula which has high content of certified organic ingredients, natural preservatives, and non-toxic ingredients. The cream is safe to use for pregnancy, and can be use for both men and women.
HAPPY POINTS
Our SAFFRON - PREMIUM SKIN REVITALIZER is created with unique formula that brings you a unique after-feel and effects.
✓ POINTS 1: The cream has rich texture that may make you think it's greasy, but it's extremely light sensory. The cream penetrates into your skin right away after applied, giving a  smooth and moisturized skin. It can be used for oily or even super oily skin. No matter what skin type you are, this saffron cream is for you!
✓ POINT 2: The products is unscented but still has and a natural scent coming from botanical extracts. It's very light, comfortable and relaxed.
✓ POINT 3: The beautiful yellow color is 100% natural, too. No synthetic pigments or dyes, no synthetic fragrance, no synthetic preservatives. Just a beautifully clean formula!
✓ POINT 4: This product is Vegan
By purchasing the "
REFILL BAG
" instead of the jar packaging, you can save your money and help contribute to our efforts to "SAVE THE EARTH"!
This product belongs to our
"SAVE-THE-EARTH"
collection since in one or some of its variants we are making special efforts to save the natural resources by reducing unnecessary packagings and bottles. We are offering customers the options to buy
Products without outer packaging (like paper box)
Products with refill size in case customers used to buy normal size and already have the containers. 
Learn more about this
...  
FOR WHOM
FOR WHOM?
✓All skin types
✓Sensitive skin
✓Skin with breakouts
FOR WHAT?
✓Skin Recovery 
✓Skin Revitalizing

✓Anti Scar

✓Anti Blemish

✓Skin Toning

✓Anti Inflammatory
✓Anti-acne.
✓Skin Brightening

✓Anti-aging
IT ALSO HELPS
✓Hydrating

✓Non-comedogenic

✓Vitamins supplying

 
INGREDIENTS
LEARN HOW SAFFRON BENEFITS YOUR SKIN
✓

Skin Recovery

. Saffron holds amazing healing properties that go a long way in healing wounds and removing scars and spots for a healthy and blemish-free skin tone.
✓

Anti Scar

. The potassium in Saffron helps with cell formation and repair. Formulated with Saffron and curcuma extract, the cream is a perfect natural choice for rescuing your skin from scars.
✓Anti Blemish & 

Skin Toning.

 Saffron helps to remove free radicals. Also, it 

will stimulate blood circulation by providing oxygen to your skin and  give you a glowing complexion. In this products, we use saffron together with organic licorice root extract to increase skin toning and brightening effects.

✓

Anti Inflammatory

. Saffron is anti-inflammatory and soothes skin, giving your skin a healthy looking.
✓

Anti-acne.

The anti-fungal content of saffron makes it effective for the treatment of acne, blemishes, and blackheads

. And it's good even for sensitive skin with breakouts.
✓

Anti-aging.

 Saffron benefits skin because it contains many vitamins and antioxidants that are beneficial to the skin. We also add extra Vitamin C in the formula to increase anti-aging effects.
✓Hydrating (non-comedogenic). 

 

If you have dull and dry skin, our saffron cream provides luminosity to it. The cream is non-comedogenic, hydrating your face with the super powerful HA. We also use Organic Aloe Vera Juice (instead of water) to optimize hydrating effects.
✓ Vitamins supplying. Saffron also provides Vitamins A, C, E, B-6, B-12, and minerals.
HOW TO USE
HOW TO USE:
Moisturize your face with the cream every morning and night after you cleanse and tone. Always use circular, upward motions with a gentle touch on your face. 
WHEN TO USE:  Everyday. Day and/or Night.
ORDER TO APPLY:  Cleanser → Toner → Serum/Emulsion → SAFFRON - PREMIUM SKIN REVITALIZER
HOW TO STORE:
✓ Good to store at room temperature
✓ K

eep the product out of direct sunlight

✓ Avoid conditions of high humidity
*Product images are for reference only. Packaging may vary.
QUESTIONS & ANSWERS
Have a Question?
Be the first to ask a question about this.
Ask a Question
THIS 3 TRUE + 3 FREE FORMULA WAS DEVELOPED WITH EVERY CUSTOMER IN MIND!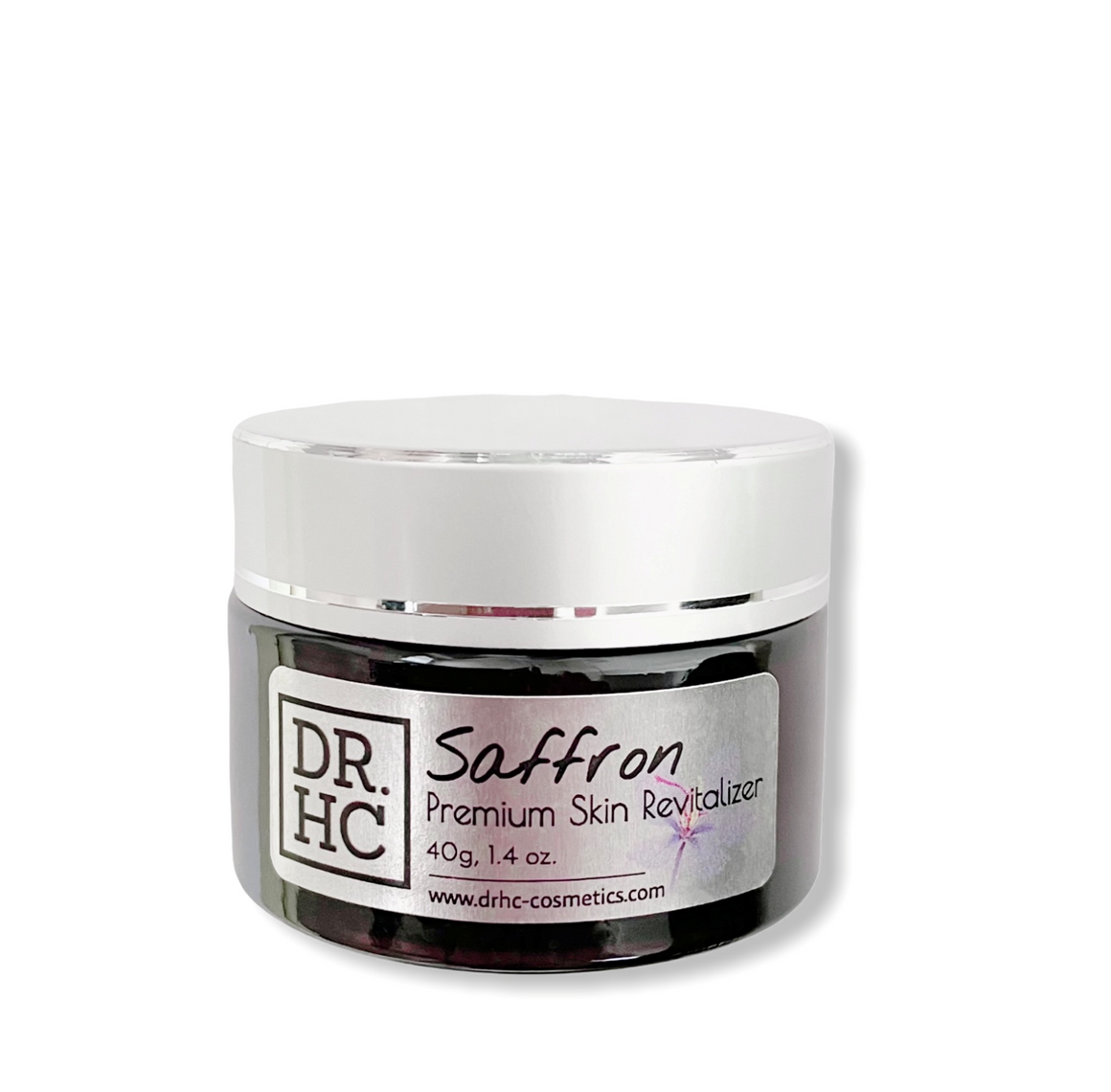 This product is TRUE
✓ Certified Organic Ingredients
✓ Fresh Natural
✓ Vegan (if the product has Vegan tag)
✓ Cruelty-Free
✓ GMO-Free
✓ Eco-friendly
✓ Made in USA
✓ Made by Science
✓ Made with Love ♡
How are these values important to you?
This product is FREE
✖ Parabens
✖ BHA/BHT (preservatives)
✖ Silicones, Siloxanes
✖ SLS/SLES
✖ Synthetic Colorants
✖ Synthetic Fragrances
✖ Phthalates
✖ MEA/ DEA/ TEA
✖ Mineral Oil
✖ Petroleum Jelly
✖ Triclosan
✖ Talc
✖ Microbeads
✖ Lead
✖ Chemical Sunscreens
✖ And other toxics...
How do these ingredients affect your health?
REAL RESULTS FROM REAL CUSTOMERS ACROSS THE WORLD
VIEW MORE REVIEWS HERE
WE DO THINGS DIFFERENTLY !
Click on image to shop product(s) in the photo