Rebranding
No-Sebum Mattifying Pearl Powder (11g, 0.4oz.)
PLEASE CHOOSE "SHIP TO" YOUR COUNTRY, or you will be charged international shipping fee. Learn more about our Shipping Policy...

If you live in other countries (not USA, Japan, or Vietnam), please choose "ship to USA" (international shipping fee will be added at checkout)
NATURE + SCIENCE + PASSION!
Our NO-SEBUM MATTIFYING PEARL POWDER is specially designed for both skincare and makeup purposes. It can be used as a day & night skincare powder, or as a setting/finishing powder after foundation in order to keep your makeup long-lasting. Formulated with Pearl extract, Hyaluronic Acid powder, Organic Tea Tree extract as well as pure mineral ingredients, this All-Natural powder helps providing your skin with Hyaluronic Acid (HA is vital to maintaining the skin's layers and structure), balancing sebum, minimizing pores, providing anti-inflammatory and anti-acne benefits, as well as brightening your skin and boosting its glow. 
HAPPY POINTS:
POINT 1:  All-Natural formula. Made from Organic, Natural & Mineral ingredients Only.  
POINT 2: Talc-free! Corn-free, Fragrance-free, etc. Completely non-toxic. 
POINT 3: Multi-purpose! Can be used either as a skincare powder (for sebum controlling, pore minimizing, acne preventing, skin brightening, Hyaluronic Acid supplying) or a makeup powder (setting powder).
POINT 4: It's Powder, but won't dry out your skin. Let's say Thanks to the Pearl extract and

Hyaluronic Acid powder which are the key ingredients for hydrating and moisturizing. Forget all the finishing powder/ setting powder that always make your skin dried, wrinkled and flaky.

POINT 5: Good for all skin types since the powder helps balancing oil while providing Hyaluronic Acid with hydrating effects. Perfect for oily skin and skin with breakouts.
POINT 6:

 

Good for all skin tones. The powder is translucent  and can be used for any skin colors. Can be used together with any shades of your foundation.
POINT 7: This product is Cruelty-Free & Gluten-free formula.
This product comes with a small linen bag.
Made with Love, Delivered with Gift!
FOR WHOM
FOR WHOM ?
All skin types (oily, dry, normal, combination)
All skin tones

Sensitive skin 

Skin with breakouts
FOR WHAT ?
Skincare benefits
Skin brightening
Providing your skin with Hyaluronic Acid (hydrating effects)
Sebum controlling
Pore Minimizing
Anti-acne
Anti Inflammatory   
Skin revitalizing
Improving skin texture
Makeup benefits
Natural coverage
Long-lasting

Matte finish with pearl effects

Non-comedogenic

Oil balancing

Skin toning

Keeping your makeup stable & long-lasting
INGREDIENTS 
★PEARL EXTRACT: When applied topically, pearl extract helps to even out and brighten skin tone, while it also improves the epidermal layer's ability to retain its natural oils and moisture. Research also shows that pearl extract can help shrink pores, decrease redness, and improve skin texture. The regeneration properties of pearl extract are also beneficial for slowing the aging process, making the skin smooth, fine, elastic and naturally beautiful. It also helps to prevent the skin from appearing to be aged, wrinkled and sagging.
★ HYALURONIC ACID (HA): is vital to maintaining the skin's layers and structure. It has a unique capacity in retaining water. Collagen works like a glue that keeps our skin's structure firm and youthful, while HA keeps the collagen itself nourished and hydrated. Because our natural supply decreases as we age, it's important to use skin care products containing HA in order to help retain the skin's elasticity. This ingredient used in our formula helps to hydrate and nourish your skin while keeping your makeup looking fresh all day without dryness. 
★ORGANIC TEA TREE: Tea Tree has been well-known for its anti-inflammatory and antimicrobial properties. It's thought to calm acne symptoms, redness, swelling, and inflammation. Tea Tree is also helpful in reducing sebum and minimizing skin pores. It may even help to prevent and reduce acne scars, leaving you with smooth, clear skin.
The product also helps to maintain your skin in a healthy condition with the purest organic and natural botanical extracts.  Organic Aloe Leaf extract helps soothing skin, Organic Grape Seed Oil and Pro Vitamin B5 help keep skin soft, smooth and maintain moisture, etc.
HOW TO USE
ATTENTION: This product can be used as both skincare and makeup powder. However, once you use it as setting powder (for makeup purpose), you will need to wash the puff and cleanse the tools if after that you would like to use it as skincare powder (because your makeup items may make the puff and powder get dirty). 
HOW TO USE:
Tap the product into the lid

Get the right amount on the puff (or you can use a brush)

Buff your face.
WHEN TO USE:  Can be used everyday. As skincare powder, can be used anytime, day & night. As finishing powder, can be used when you wear makeup. 
ORDER TO APPLY:   
As skincare powder:

 

Toner → Serum/Emulsion  → Moisturizer → 

NO-SEBUM MATTIFYING PEARL POWDER 

  




As finishing/setting powder

: 

Waiting for your 

foundation to dry before putting on powder.
HOW TO STORE: Good to keep at room temperature. Avoid direct sun light and high humidity.
*Product images are for reference only. Packaging may vary.
QUESTIONS & ANSWERS
Have a Question?
Be the first to ask a question about this.
Ask a Question
THIS 3 TRUE + 3 FREE FORMULA WAS DEVELOPED WITH EVERY CUSTOMER IN MIND!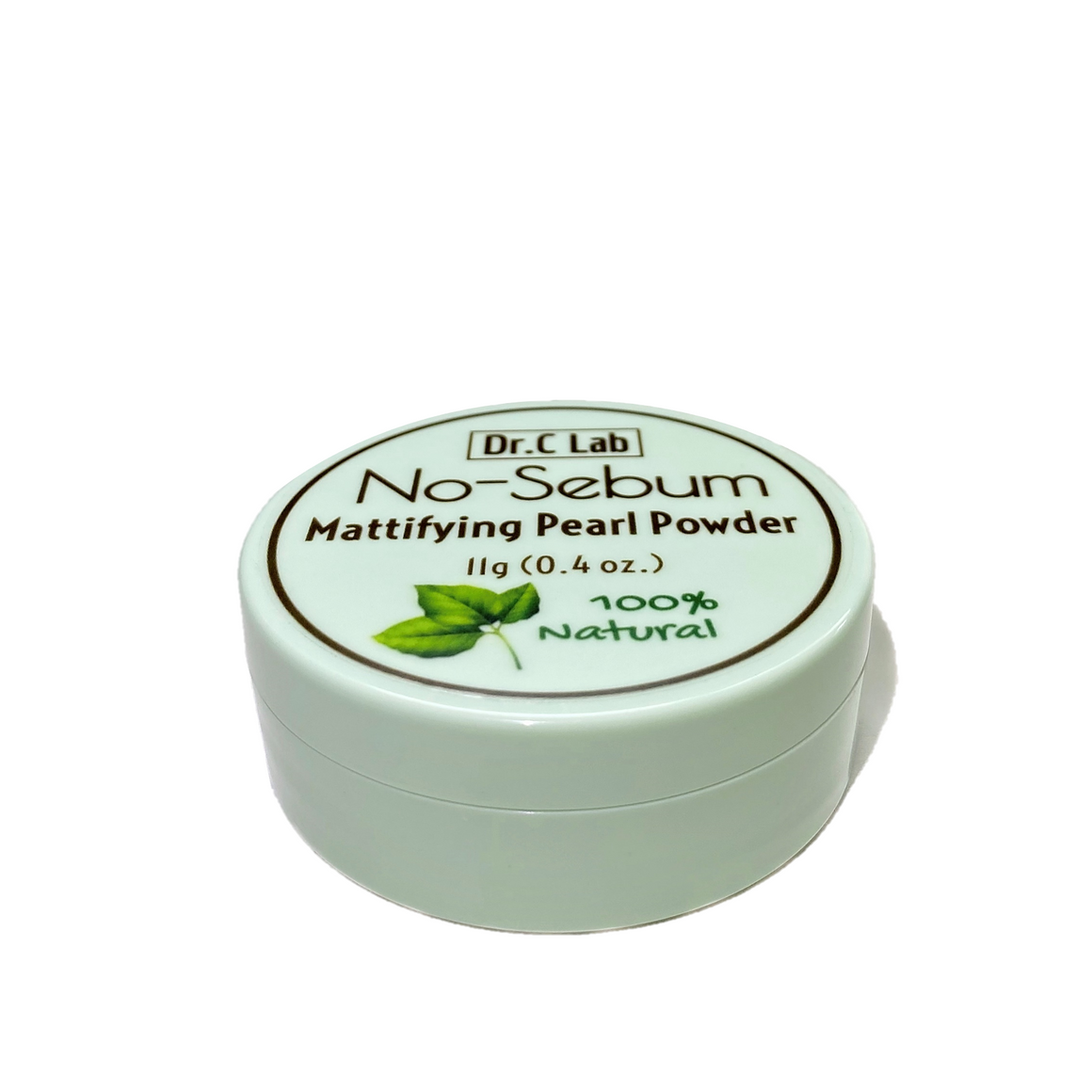 This product is TRUE
✓ Certified Organic Ingredients
✓ Fresh Natural
✓ Vegan (if the product has Vegan tag)
✓ Cruelty-Free
✓ GMO-Free
✓ Eco-friendly
✓ Made in USA
✓ Made by Science
✓ Made with Love ♡
How are these values important to you?
This product is FREE
✖ Parabens
✖ BHA/BHT (preservatives)
✖ Silicones, Siloxanes
✖ SLS/SLES
✖ Synthetic Colorants
✖ Synthetic Fragrances
✖ Phthalates
✖ MEA/ DEA/ TEA
✖ Mineral Oil
✖ Petroleum Jelly
✖ Triclosan
✖ Talc
✖ Microbeads
✖ Lead
✖ Chemical Sunscreens
✖ And other toxics...
How do these ingredients affect your health?
REAL RESULTS FROM REAL CUSTOMERS ACROSS THE WORLD
VIEW MORE REVIEWS HERE
WE DO THINGS DIFFERENTLY !
Click on image to shop product(s) in the photo