Rebranding
Natural BHA + AHA Super Hydrating Jelly (25~40g, 0.9~1.4oz)
PLEASE CHOOSE "SHIP TO" YOUR COUNTRY, or you will be charged international shipping fee. Learn more about our Shipping Policy...

If you live in other countries (not USA, Japan, or Vietnam), please choose "ship to USA" (international shipping fee will be added at checkout)
NATURE + SCIENCE + PASSION!
This SUPER HYDRATING JELLY is featured by Natural BHA and AHA. It's a good choice for skin with breakouts and those who would like to get anti-blemish, skin toning and brightening benefits. The jelly is formulated with the purest organic and natural ingredients. This super clean all-natural formula is also our recommendation for pregnancy and breastfeeding. Use this jelly together with our NATURAL BHA + AHA - 2 IN 1 SKIN CONDITIONER to maximize their benefits.
HAPPY POINTS
 POINTS 1: All-natural formula. Featured by Natural BHA, AHA, Vitamin C, and more than 10 different kinds of nutritious botanical extracts.
POINT 2:  Amazing jelly texture which brings you a supple healthy hydrated skin. 
POINT 3: Scented with slight natural citrus, the jelly will relax your skin and your mood. It penetrates quickly and never leave sticky after feel.
POINT 4: The combination of this jelly cream and

 

NATURAL BHA + AHA - 2 IN 1 SKIN CONDITIONER is a convenient and perfect solution for moms who would like to save time on skincare during pregnancy and breastfeeding.
FOR WHOM
FOR WHOM?
✓All skin types
✓Good for super oily skin
✓Sensitive skin
✓Skin with breakouts
FOR WHAT?
✓Skin brightening

✓Anti-blemish

✓Anti-acne with Natural BHA and AHA

✓Oil balancing
✓Anti inflammatory
✓Antiaging
✓Hydrating

✓Moisturizing
THIS ALSO HELPS
✓Gently exfoliating
✓Pore shrinking

✓Non-comedogenic

 
INGREDIENTS
View All Ingredients
★NATURAL BHA: Our BHA is a natural ingredient coming from willow bark. It's mild and gently works on your skin to give wonderful results. BHA is especially perfect for oily acne-prone skin since it helps improving acne conditions, blackheads, whiteheads... It can get through the oil that clogs pores and helps to normalize the lining of the pore that contributes to acne. BHA also has anti-inflammatory, antibacterial properties, and helps toning your skin.
★AHA: The best exfoliators for all skin types. It removes dead skin cells to let your skin be "breathable". As the results, it helps relieve acne conditions and improve the efficacy of other skincare products you use. AHA is also good at brightening skin, reducing hyperpigmentation and minimizing sun damages. In addition, AHAs boost collagen expression and help reduce wrinkles and fine lines...
★ VITAMIN C: helps toning, brightening the skin, and improving anti-aging effects.
HOW TO USE
HOW TO USE: Apply the product on your face every morning and night after cleansing, toning and then a serum. Always use circular, upward motions with a gentle touch on your face.
WHEN TO USE:  Everyday. Day and Night.
IN WHAT ORDER: 
Cleanser → Toner → Serum →  NATURAL BHA + AHA - SUPER HYDRATING JELLY 
HOW TO STORE: Room temperature. Avoid direct sunlight.
Sunburn Alert: This product contains an alpha hydroxy acid (AHA) that may increase your skin's sensitivity to the sun and particularly the possibility of sunburn. Use a sunscreen, wear protective clothing, and limit sun exposure while using this product and for a week afterwards.
*Product images are for reference only. Packaging may vary.
QUESTIONS & ANSWERS
Have a Question?
Be the first to ask a question about this.
Ask a Question
THIS 3 TRUE + 3 FREE FORMULA WAS DEVELOPED WITH EVERY CUSTOMER IN MIND!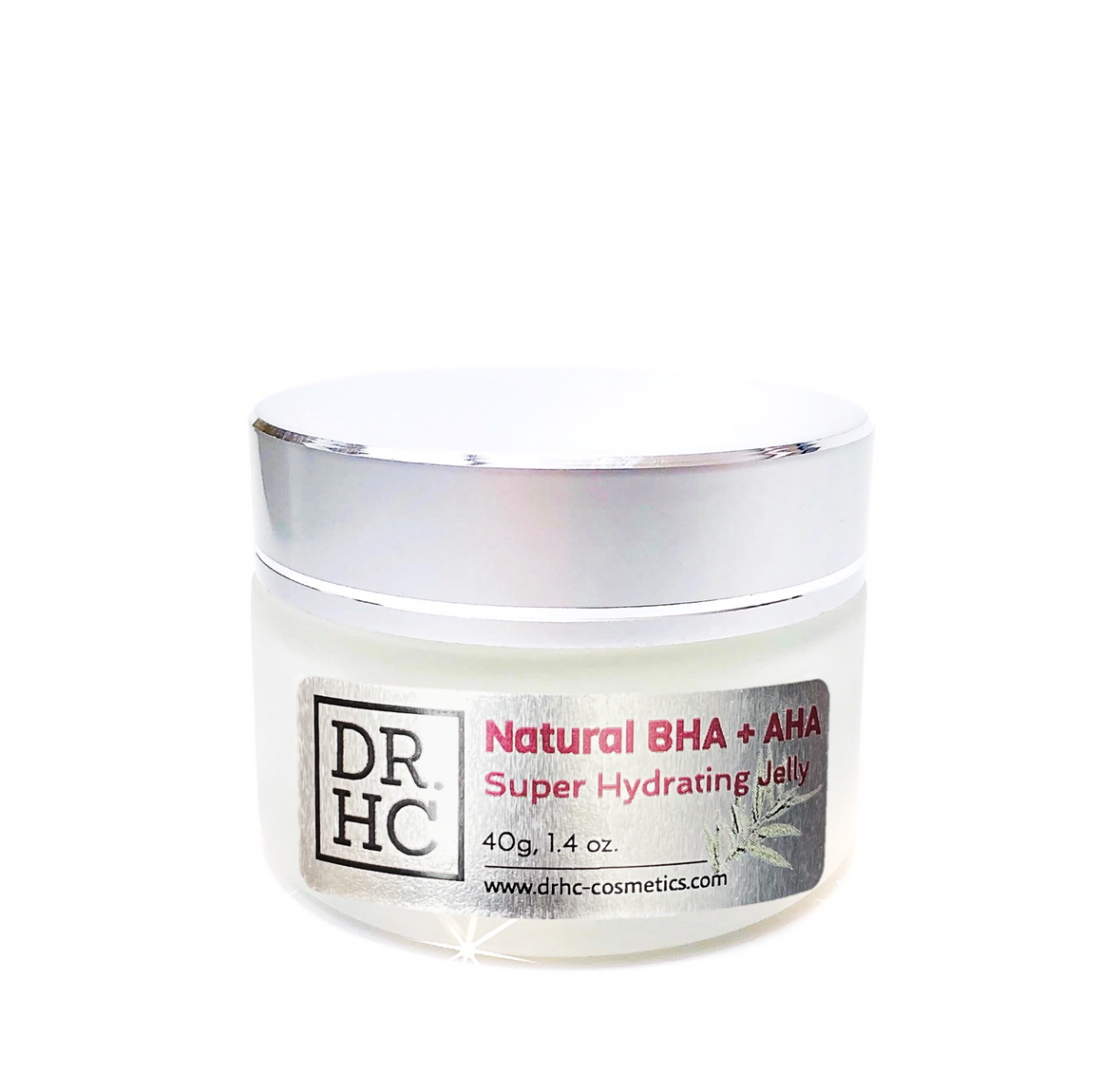 This product is TRUE
✓ Certified Organic Ingredients
✓ Fresh Natural
✓ Vegan (if the product has Vegan tag)
✓ Cruelty-Free
✓ GMO-Free
✓ Eco-friendly
✓ Made in USA
✓ Made by Science
✓ Made with Love ♡
How are these values important to you?
This product is FREE
✖ Parabens
✖ BHA/BHT (preservatives)
✖ Silicones, Siloxanes
✖ SLS/SLES
✖ Synthetic Colorants
✖ Synthetic Fragrances
✖ Phthalates
✖ MEA/ DEA/ TEA
✖ Mineral Oil
✖ Petroleum Jelly
✖ Triclosan
✖ Talc
✖ Microbeads
✖ Lead
✖ Chemical Sunscreens
✖ And other toxics...
How do these ingredients affect your health?
REAL RESULTS FROM REAL CUSTOMERS ACROSS THE WORLD
VIEW MORE REVIEWS HERE
WE DO THINGS DIFFERENTLY !
Click on image to shop product(s) in the photo