Rebranding
Matcha Avocado Antioxidant Cell Power Cream (25~40g, 0.9~1.4oz)
PLEASE CHOOSE "SHIP TO" YOUR COUNTRY, or you will be charged international shipping fee. Learn more about our Shipping Policy...

If you live in other countries (not USA, Japan, or Vietnam), please choose "ship to USA" (international shipping fee will be added at checkout)
NATURE + SCIENCE + PASSION!
A 100% organic & natural day & night moisturizer made from Avocado, Matcha (green tea leaf extract), Jojoba, and selected powerful anti-aging ingredients. This powerful cream will help your skin fight fine lines, dullness, wrinkles, dryness, and other aging symptoms by attacking the free radicals on a cellular level, resulting in youthful, firm, and healthy skin with elasticity. The cream also helps to boost skin cell renewals and heal skin damage caused by sunburns, pollutants, and environmental toxins. In addition, it helps even skin tone, balancing excessive oil, as well as providing anti-inflammatory, anti-bacterial, pore shrinking, and deep moisturizing benefits.
HAPPY POINTS
POINT 1: Powerful anti-aging, anti-wrinkle, anti-dullness agents, and effective collagen-boosting ingredients are in one bottle! If you are looking for anti-aging solutions, this moisturizer is a perfect choice that 

helps your skin to combat aging from the cellular level.

POINT 2: Super-clean formula with 100% Organic/Natural ingredients & Non-toxic. Free from parabens, synthetic dyes and fragrances, and thousands of harmful chemicals. Active ingredients and nutrients only!
POINT 3: Good to use even for pregnancy/ breastfeeding.
POINT 4: Deeply moisturize your skin without leaving an uncomfortable sticky after-feel. 
POINT 5: Slightly scented with natural avocado yummy flavor.
POINT 6: This moisturizer is Vegan & Cruelty-free.
FOR WHOM
FOR WHOM?
All skin types (oily, dry, normal, combination). 
Perfect for dry/ super dry skin

Sensitive skin

Skin with breakouts
FOR WHAT?
Anti-aging, Anti-dullness, Anti-wrinkle
Skin firming
Skin recovery
Skin cell renewals boosting, damage healing
Skin toning
Anti-pollution
Anti-inflammatory
Oil Balancing
IT ALSO HELPS
Super moisturizing
Skin softening
Pore shrinking
Anti-bacterial
INGREDIENTS
★AVOCADO FRUIT OIL: Avocados are extremely rich in fatty acids and vitamin E, which makes them become powerful antioxidants.  Avocado oil also contains a high percentage of nutrients such as Vitamin A, C, D, potassium, lecithin, and many other compounds which nourish, soften and moisturize your skin. It also contains various fatty acids like palmitic acid, linoleic, oleic acid and linolenic acid. The oleic acid promotes collagen synthesis and thus helps in skin conditions like skin redness, wrinkles, dullness, dryness, and supports combat aging from the cellular level. Avocado oil also helps grow new skin and accelerates the healing process, helping with issues like sunburn, chapped skin, or scars. It also provides wonderful antimicrobial, anti-pollution, and anti-inflammatory benefits, shielding skin from ultraviolet radiation and protecting against skin damage. 
★ORGANIC MATCHA: Japanese people have treasured Matcha (Green Tea leaf extract) for its wonderful multi-benefits in skincare. The amazing antioxidants found in matcha target all kinds of free radicals in our skin by attacking them on a cellular level, resulting in youthful skin with elasticity. Matcha is antibacterial and contains incredibly high levels of epigallocatechin gallate (EGCG), which is helpful in reducing skin inflammation. It also has the power to even skin tone and reduces dark under-eye circles because of its high content of vitamin K. Tannins are another powerful compounds found in Matcha that help shrink skin pores and reduce the production of excessive sebum (which is the cause of pimples and acne).
★ORGANIC JOJOBA OIL: Jojoba oil contains natural forms of Vitamin E and B, powerful antioxidants. It helps to fight free radicals and thus can help prevent the breakdown of collagen and slow down the appearance of aging, fine lines, and wrinkles. Jojoba oil also has soothing anti-inflammatory and natural antimicrobial properties. It helps your skin fight oxidative stress caused by everyday exposure to pollutants and other toxins and promotes healing to soothe the symptoms of sunburns. Jojoba oil is unique among plant-based oils since it's quite similar to the composition of human sebum so it can regulate sebum production and prevent acne.
In addition, this moisturizer is also formulated with organic herbal infusion, safflower seed oil, sunflower seed oil, evening primrose oil and turmeric extract, which help soothe, calming, moisturize, and effectively protect your skin from aging.   

HOW TO USE
HOW TO USE: Moisturize your face with the cream every morning and night after using a cleanser, a toner, and then a serum. Always use circular, upward motions with a gentle touch on your face. 
WHEN TO USE:  Everyday. Day and/or Night.
ORDER TO APPLY:  Cleanser → Toner → Serum/Emulsion → MATCHA AVOCADO ANTIOXIDANT CELL POWER CREAM
HOW TO STORE: Good to store at room temperature. Keep the product out of direct sunlight. Avoid conditions of high humidity. The color of the cream may vary from green to yellowish green or yellow due to the colors of the natural ingredients.
*Product images are for reference only. Packaging may vary.
QUESTIONS & ANSWERS
Have a Question?
Be the first to ask a question about this.
Ask a Question
THIS 3 TRUE + 3 FREE FORMULA WAS DEVELOPED WITH EVERY CUSTOMER IN MIND!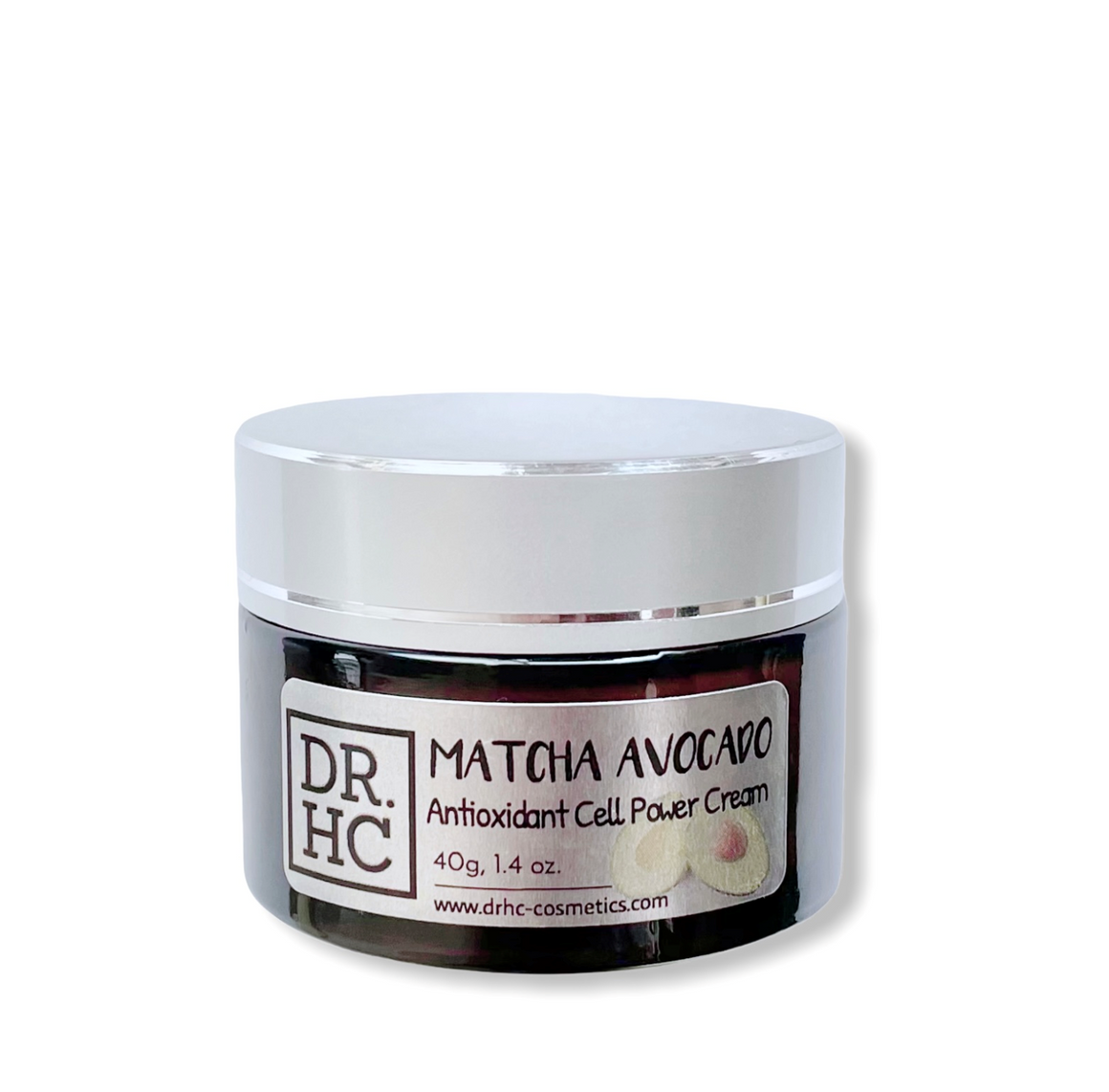 This product is TRUE
✓ Certified Organic Ingredients
✓ Fresh Natural
✓ Vegan (if the product has Vegan tag)
✓ Cruelty-Free
✓ GMO-Free
✓ Eco-friendly
✓ Made in USA
✓ Made by Science
✓ Made with Love ♡
How are these values important to you?
This product is FREE
✖ Parabens
✖ BHA/BHT (preservatives)
✖ Silicones, Siloxanes
✖ SLS/SLES
✖ Synthetic Colorants
✖ Synthetic Fragrances
✖ Phthalates
✖ MEA/ DEA/ TEA
✖ Mineral Oil
✖ Petroleum Jelly
✖ Triclosan
✖ Talc
✖ Microbeads
✖ Lead
✖ Chemical Sunscreens
✖ And other toxics...
How do these ingredients affect your health?
REAL RESULTS FROM REAL CUSTOMERS ACROSS THE WORLD
VIEW MORE REVIEWS HERE
WE DO THINGS DIFFERENTLY !
Click on image to shop product(s) in the photo