Rebranding
Glycolic 30% Deep Peel Serum (15g, 0.5oz.)
PLEASE CHOOSE "SHIP TO" YOUR COUNTRY, or you will be charged international shipping fee. Learn more about our Shipping Policy...

If you live in other countries (not USA, Japan, or Vietnam), please choose "ship to USA" (international shipping fee will be added at checkout)
NATURE + SCIENCE + PASSION!
Enjoy your at-home spa with this professional-grade chemical face peel serum which is formulated with high content of Glycolic Acid (30%). The serum also contains super hydrating Hyaluronic Acid, soothing Aloe & Cucumber Juice, and sun protection enhancing Artichoke extract, which help enhance the exfoliating process and calm down your skin. 

Based on our studies, 30% is just a perfect conncentration of Glycolic Acid that works well on various skin problems. This professional peel serum will help to effectively reduce various signs of aging such as wrinkles, fine lines, scars, dark spots, hypigmentation... It removes the dead skin cells and reveals a brighter and smoother skin surface, as well as even your skin tone and texture. It helps boosting collagen production in order to revitalize a firm and supple skin. The serum also penetrates deep into the skin to minimize skin pores. It helps unclog pores and control sebum on the skin surface, thus will provide anti-acne & anti-blackhead benefits and promote a clear, healthy skin. 
You can use the serum as-is or even dilute it with a toner before use, depending on how strong you would like it to be or how sensitive your skin is (see details in "How To Use". 
This Glycolic 30% Deep Peel Serum is 100% Vegan and Cruelty-Free. It is non-toxic, and of course, it's paraben-free, dye-free, fragrance-free, glycol-free etc., and free from tons of harsh and harmful chemicals which may cause irritation to your skin. Let's enjoy 30% Glycolic Acid peel in the safest way! 
HAPPY POINTS:
POINT 1: Enjoy the amazing power of a professional chemical peel with maximum-strength of Glycolic Acid (30%), right at your home!
POINT 2:  Synergistic effects from other mindful Organic/ Natural ingredients! Hyaluronic Acid provides deep hydration, Organic Aloe juice and Cucumber water soothes and relieves skin, Organic Artichoke enhances UV sun protection and strengthen skin barrier to natually protect your skin after peeling. 
POINT 3: Convenient to use! 

You can use the serum as-is or dilute it depending on how strong you would like it to be, making it match your skin situation.

POINT 4: Super-clean formula and Non-toxic! This serum is Paraben-free, Dye-free, Fragrance-free, Glycol-free, Alcohol-free, etc. Helps you avoid irritations from harsh and harmful chemicals.  
POINT 5:  100% Vegan & Cruelty-free. 
FOR WHOM
FOR WHOM
All skin types (oily, dry, normal, combination) 
Skin with breakouts
FOR WHAT
Professional chemical exfoliating
Anti-aging (reverse signs of aging such as fine line, wrinkles, dark spots, hypigmentation, scars...)
Collagen boosting, Skin firming
Skin brightening & toning
Pore shrinking

Anti-acne, Anti-blackhead

Oil balancing  

This product also helps
Hydrating
Soothing and calming
Anti-inflammatory
UV protection enhancing
Skin softening 

Non-comedogenic
INGREDIENTS
★GLYCOLIC ACID: is an excellent natural exfoliator and gentle enough for sensitive skin. It helps shed dead skin cells and reveal the newer, brighter layers underneath by acting on the outermost layer of skin. This peeling effect helps minimizing fine lines and wrinkles, stimulating collagen production, fading darks spots and hyperpigmentation, brightening and evening your complexion, minimizing pores, as well as making your skin firmer and smoother. 
★HYALURONIC ACID (HA): Hyaluronic Acid (HA) is well-known for its unique capacity in retaining water and hydrating, leaving you a supple and healthy skin with firmness and elasticity. It is specially used in this formula in order to calm down your skin and reduce irritation when peeling with high concentration of Glycolic acid. You will be surprised how gentle our Glycolic 30% Deep Peel Serum is. 
★ORGANIC ALOE & CUCUMBER: Refreshing Organic Aloe Vera juice and Cucumber distillate provide soothing, calming and anti-inflammatory benefits to the skin. These help smoothen the exfoliating process with glycolic acid and calm down your skin.

★ORGANIC ARTICHOKE EXTRACT: Organic Artichoke extract provides enhanced UV sun protection and stregthens skin barrier which are helpful to skin after peeling. The extract also help minimizing skin pores, resulting in a clear, smooth, glowing skin.
HOW TO USE
HOW TO USE: 
Cleanse the skin throughly.
Drop 3~5 drops of the serum on your skin and gently massage to spread it evenly entirely across your face (avoiding skin around eyes). Leave it for 1~2 minutes depending on skin sensitivity.
Rinse generously with cool water.
Follow with any of our toners, serums, and then moisturizers
HOW TO DILUTE:
When you determine that you should use it at a lower concentration of Glycolic Acid, use any of our toners to dilute it. If you would like to have a 15% Glycolic Acid serum, use 3 drops of the original serum and 3 drops of the toner. If you would like to have a 10% Glycolic Acid serum, use 2 drops of the original serum and 4 drops of the toner. Mix well before applying to your face.
ORDER TO APPLY:   Cleanser → GLYCOLIC 30% DEEP PEEL SERUM ( → rinse well with cool water) → Toner → Serum → Moisturizer 
WHEN TO USE:  Once a week or every 2 weeks if you use as-is (without diluting), in the absence of skin irritation. If your skin feels uncomfortable, dilute before use and/or use once a month then gradually increase the concentration and the frequency. 
HOW TO STORE: Good to keep at room temperature. Avoid direct sun light and high humidity.
PATCH TEST RECOMMENDATION: This is a concentrated and powerful peel serum with extremely high content of Glycolic Acid (a type of alpha hydroxy acid - AHA). Even though we are trying to minimize all irritation risks for you, it is important that you perform a patch test of the product at least 24-48 hours before regular application to ensure the product is a good fit for your skin.
SUNBURN ALERT: This product contains high content of alpha hydroxy acid (AHA) that may increase your skin's sensitivity to the sun and may cause sunburn if exposed. Always use a sunscreen/sunblock, wear protective clothing and limit sun exposure as much as possible while using this product for a week after use.
*Product images are for reference only. Packaging may vary.
QUESTIONS & ANSWERS
Have a Question?
Be the first to ask a question about this.
Ask a Question
THIS 3 TRUE + 3 FREE FORMULA WAS DEVELOPED WITH EVERY CUSTOMER IN MIND!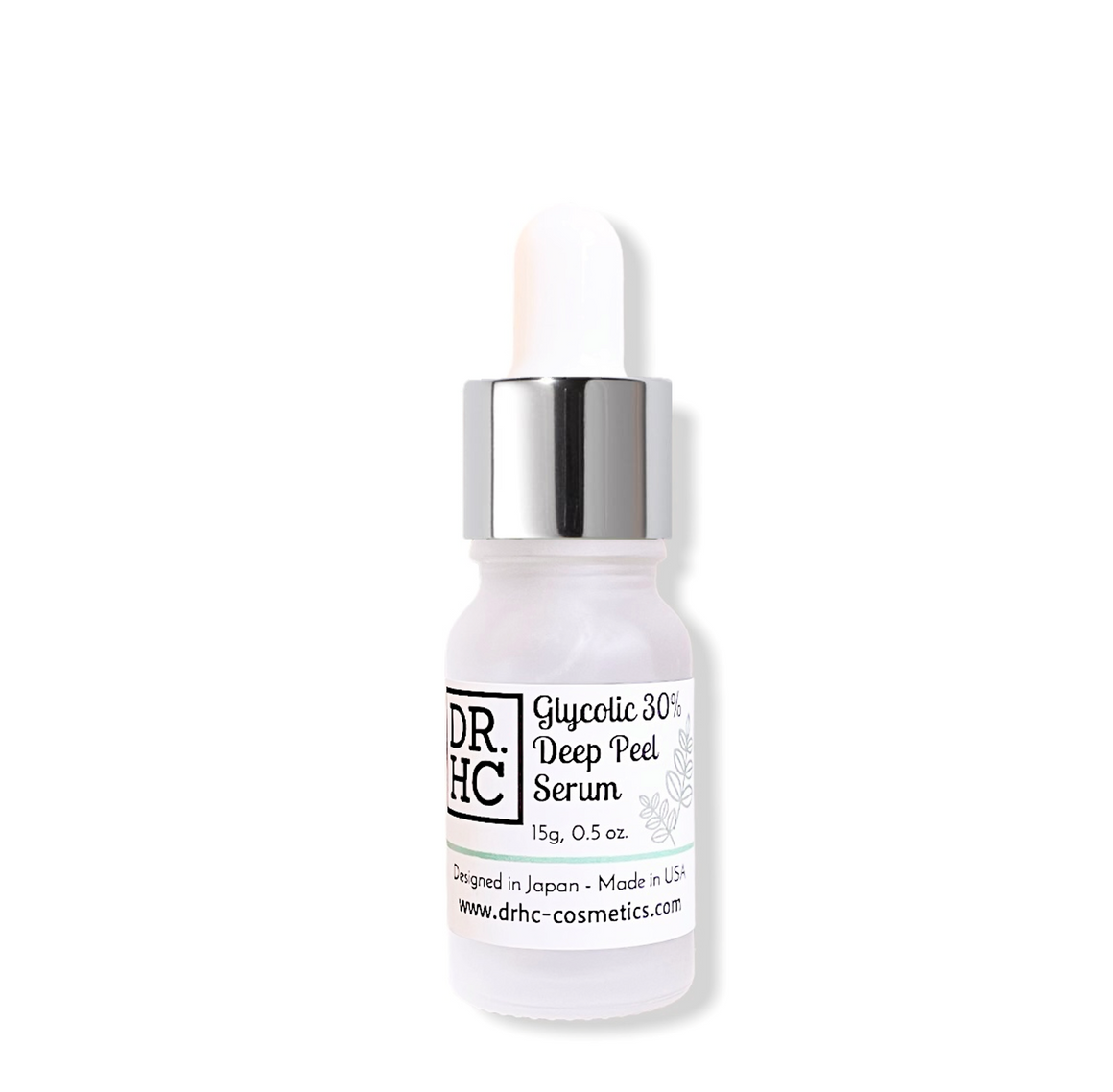 This product is TRUE
✓ Certified Organic Ingredients
✓ Fresh Natural
✓ Vegan (if the product has Vegan tag)
✓ Cruelty-Free
✓ GMO-Free
✓ Eco-friendly
✓ Made in USA
✓ Made by Science
✓ Made with Love ♡
How are these values important to you?
This product is FREE
✖ Parabens
✖ BHA/BHT (preservatives)
✖ Silicones, Siloxanes
✖ SLS/SLES
✖ Synthetic Colorants
✖ Synthetic Fragrances
✖ Phthalates
✖ MEA/ DEA/ TEA
✖ Mineral Oil
✖ Petroleum Jelly
✖ Triclosan
✖ Talc
✖ Microbeads
✖ Lead
✖ Chemical Sunscreens
✖ And other toxics...
How do these ingredients affect your health?
REAL RESULTS FROM REAL CUSTOMERS ACROSS THE WORLD
VIEW MORE REVIEWS HERE
WE DO THINGS DIFFERENTLY !
Click on image to shop product(s) in the photo