Rebranding
Colloidal Silver Concentrated Cool Sleeping Mask (25~40g, 0.9~1.4oz)
PLEASE CHOOSE "SHIP TO" YOUR COUNTRY, or you will be charged international shipping fee. Learn more about our Shipping Policy...

If you live in other countries (not USA, Japan, or Vietnam), please choose "ship to USA" (international shipping fee will be added at checkout)
NATURE + SCIENCE + PASSION!
Have you heard of Colloidal Silver? Yes, the high-end ingredient that works like magic for skin with breakouts, blemish and scar. Our COLLOIDAL SILVER - CONCENTRATED COOL SLEEPING MASK is specially formulated to bring you the whole benefits of Colloidal Silver thanks to its super hydrating gel texture that deeply penetrates into your skin. Together with Natural Salicylic Acid and Witch Hazel, this multi-use cool sleeping mask helps to revitalize and protect your skin from breakouts, inflammation, scars, blemish, as well as tone your skin by reducing excessive sebum and tightening pores.
✓POINT 1: When you use colloidal silver to take care of acne, scar, blemish, or inflammation, it's important to avoid cosmetics which are potentially pore-clogging. And one of the best ways you can support colloidal silver's ability to heal and clear your skin is to stay well hydrated. Our COLLOIDAL SILVER - CONCENTRATED COOL SLEEPING MASK is developed with a mindful gel formula which brings you both of the benefits: noncomedogenic + hydrating. This gives colloidal silver its best chance to work.
✓POINT 2: The product is unscented but a super-natural and light scent coming from botanical extracts will refresh your mind and your stressed-out skin ♥
✓POINT 3: The product is multi-use. It can be used everyday as a gel-type facial moisturizer (gel type), once or twice per week as a sleeping mask for entire face, or partially used for areas that you would like to take care.
✓POINT 4: This product is Vegan
FOR WHOM
FOR WHOM?
✓All skin types (oily, dry, normal, combination)
✓Especially good for super oily skin

✓Sensitive skin

✓Skin with breakouts
FOR WHAT?
✓Anti-acne

✓Anti inflammatory

✓Anti scar

✓Anti blemish 

✓Skin brightening

✓Skin recovery

✓Pore Minimizing

✓Oil Balancing
IT ALSO HELPS
✓Oil-free Hydrating 

without clogging pores

✓Gently exfoliating

✓Blackheads preventing

✓Noncomedogenic
INGREDIENTS
Colloidal Silver is the Queen ingredient of this luxurious mask. It is a solution of tiny silver particles suspended in a liquid base. Colloidal silver itself is a naturally-occurring mineral. It has a high reputation as a premium natural anti-microbial, anti-biotic, anti-fungal and anti-septic agent. Colloidal Silver benefits many skin conditions such as acne and eczema as well.
★COLLOIDAL SILVER: Works directly to counteract the bacteria and/or fungal matter that is causing your skin to become irritated and produce acne. Colloidal Silver is also a natural anti-inflammatory agent that can work actively against existing skin inflammation and infection. Additionally, it can stimulate healing in the skin and other soft tissues. This is the reason for its anti-scar, anti-blemish and skin recovery properties. It also keeps troubled skin clean and clear so it can heal faster.
★WITCH HAZEL : Has astringent properties as it contains tannins. It acts as an natural astringent to help reduce inflammation and redness, and soothe your skin. It also helps reducing blemish and toning your skin. Additionally, Witch Hazel is well-known for its ability to reduce excess oil production, so oily skins or combination ones usually love it. It prevents dirt, dead skin cells and acne-causing bacteria, shrinks and tightens your pores.
★ NATURAL SALICYLIC ACID: Our Salicylic Acid comes from willow bark extract which helps to fight acne. It is also an all natural, gentle exfoliant with the ability to help skin shed dead cells and clear pores, leaving you a brightened glowing skin. In addition, it can also stimulate new cell formation that helps to improve the appearance of scars and blemish. 
HOW TO USE
HOW TO USE:
Good to use the product at room temperature. However, if the product is stored in refrigerator about 15 minutes before use, it will increase the benefits of anti inflammatory, skin soothing and pore minimizing.
✓ Use as

 

Facial

 

Moisturizer

: Apply a thin layer over entire face

 every morning and/or night after you cleanse and tone. Always use circular, upward motions with a gentle touch on your face. Allow to dry before applying other products.
✓ 

Use as Sleeping Mask

:  Use a mask brush (soft type) to apply a rich layer over entire face. If use in day, leave on about 20 minutes, allow to dry, then wash off with warm water and apply one of our face creams. If use at night, leave it overnight. Also, you can use the mask as partial treatment by applying it only to the infected areas.
WHEN TO USE:  
✓ Use as

 

Facial

 

Moisturizer

: Everyday. Day and/or Night.

✓ Use as

 Sleeping Mask

:  Once or twice per week. Day or Night

.
ORDER TO APPLY: 
✓ Use as Facial

 

Moisturizer

: Cleanser → Toner → Serum/Emulsion → COLLOIDAL SILVER - CONCENTRATED COOL SLEEPING MASK
✓ 

Use as Sleeping Mask (Day use)

:  COLLOIDAL SILVER - CONCENTRATED COOL SLEEPING MASK → Rinse with water

→ 

Toner → Serum/Emulsion 

→ Facial Moisturizer → Makeup (if applicable)

✓ 

Use as Sleeping Mask (Night use)

: Cleanser → Toner → Serum/Emulsion →

 

COLLOIDAL SILVER - CONCENTRATED COOL SLEEPING MASK
HOW TO STORE:
✓ Good to store at room temperature. 
✓ K

eep the product out of direct sunlight

✓ Avoid conditions of high humidity

 
*Product images are for reference only. Packaging may vary.
QUESTIONS & ANSWERS
Have a Question?
Be the first to ask a question about this.
Ask a Question
THIS 3 TRUE + 3 FREE FORMULA WAS DEVELOPED WITH EVERY CUSTOMER IN MIND!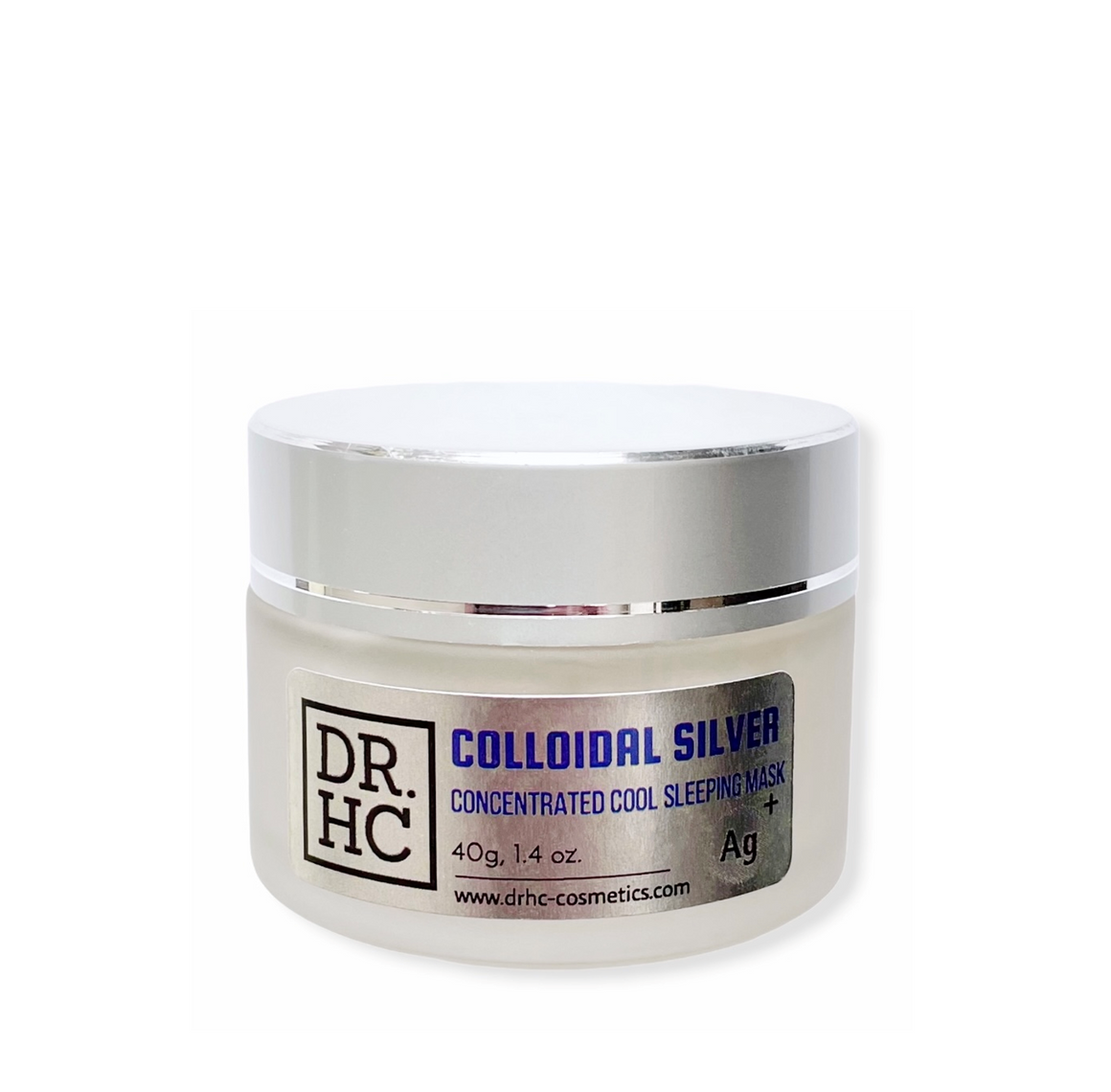 This product is TRUE
✓ Certified Organic Ingredients
✓ Fresh Natural
✓ Vegan (if the product has Vegan tag)
✓ Cruelty-Free
✓ GMO-Free
✓ Eco-friendly
✓ Made in USA
✓ Made by Science
✓ Made with Love ♡
How are these values important to you?
This product is FREE
✖ Parabens
✖ BHA/BHT (preservatives)
✖ Silicones, Siloxanes
✖ SLS/SLES
✖ Synthetic Colorants
✖ Synthetic Fragrances
✖ Phthalates
✖ MEA/ DEA/ TEA
✖ Mineral Oil
✖ Petroleum Jelly
✖ Triclosan
✖ Talc
✖ Microbeads
✖ Lead
✖ Chemical Sunscreens
✖ And other toxics...
How do these ingredients affect your health?
REAL RESULTS FROM REAL CUSTOMERS ACROSS THE WORLD
VIEW MORE REVIEWS HERE
WE DO THINGS DIFFERENTLY !
Click on image to shop product(s) in the photo