Rebranding
Coffee Collagen Face Cleansing Serum (62g, 2.2oz.)
PLEASE CHOOSE "SHIP TO" YOUR COUNTRY, or you will be charged international shipping fee. Learn more about our Shipping Policy...

If you live in other countries (not USA, Japan, or Vietnam), please choose "ship to USA" (international shipping fee will be added at checkout)
NATURE + SCIENCE + PASSION!
 COFFEE COLLAGEN FACE CLEANSING SERUM will wake you up every morning and after a long tiring day! Infused with real 100% Arabica bean coffee (seriously), this serum-based facial cleanser brings a delicious aroma of coffee that helps to stir your brain into action. Coffee provides a lot of benefits to the skin including skin toning and brightening,  detoxifying, anti-aging, anti-inflammatory, and anti-acne properties. In addition, Collagen helps boost skin firmness and elasticity, while Organic Rooibos helps protect the skin against UV rays and has anti-inflammatory/ anti-acne properties. The cleanser is formulated with organic/natural ingredients and without harmful surfactants such as SLS/ SLES. It will deeply and gently remove all dirt, oil, and pollutants while nourishing the skin, leaving you fresh, young, and healthy looking. 
FOR WHOM
All skin types (oily, dry, normal, combination)
Perfect even for super oily skin

Sensitive skin 

Skin with breakouts
RESULTS
Skin toning & brightening

Skin firming and lifting
Anti-aging
Anti-wrinkle
Anti-inflammatory
Anti-acne
Detoxifying
Others: Pore minimizing, Hydrating, Softening, Non-comedogenic
WHY WE LOVE :
POINT 1: A plant-based cleanser with clean formula. The purest organic/natural ingredients will nourish your skin while gently removing dirt, oil, and pollutants.
POINT 2:  No SLS/ SLES and synthetic surfactants. No worry of skin dryness, flakiness, or any damage caused by harmful surfactants.
POINT 3: 

 Free from

 toxic and harmful chemicals. 

No parabens, no artificial fragrances and dyes/ pigments. The excellent coffee scent and color are coming from 100% natural coffee.

POINT 4:  Alcohol-free.

 

Gentle even for the sensitives. 
POINT 5: Water-based formula and non-comedogenic. Good for all skin types. Perfect even for skin with breakouts.
POINT 6: Two-way application. Can be used directly on wet skin, or can be applied to the skin after foaming. Enjoy whatever way you want!
POINT 7: Vegan & Gluten-free formula. 
INGREDIENTS 
★ COFFEE: Coffee contains Caffeine which helps to tone, brighten the skin, tighten pores, and reduce wrinkles. Caffeic acid in coffee is an antioxidant that helps boost collagen levels and reduce the premature aging of cells. Caffeic acid also has antimicrobial properties which are helpful to prevent breakouts.
★COLLAGEN: Palmitoyl Tripeptide-5 is a peptide that will help stimulate the skin's natural production of Collagen - a powerful ingredient for anti-wrinkle and anti-aging. Collagen helps slow down the aging of the skin by reducing the appearance of fine lines, wrinkles, and dryness, as well as improving the skin's firmness and moisture retention, bringing you youthful and healthy skin. The collagen used in our products is plant derived. It's a good choice even for the Vegans. 
★ ORGANIC ROOIBOS is rich in alpha hydroxy and zinc – both important nutrients for healthy skin. They protect the skin against UV rays and have anti-inflammatory properties, which could help to prevent and relieve acne and sunburn. It also helps calm down reactive skin and soothe redness, itching, and rashes...
Besides the above-featured ingredients, the cleanser also contains hydrating Provitamin B5, soothing and anti-inflammatory Organic Aloe Leaf Extract, anti-aging Organic Jojoba oil and Meadowfoam seed oil, which will contribute to nourished, healthy and glowing skin. 
HOW TO USE
HOW TO USE:
Way #1:
Wet your face with water.
Apply the cleanser directly to your face and gently massage for about 30s ~1 minute, then rinse with water.
Follow with our toner, serum, and then moisturizer.
Way #2: If you use a foaming net
Wet your face with water.
Put an appropriate amount of the cleanser onto the foaming net and create foam, then apply the foam to the skin and gently massage. Rinse off with water.
Follow with our toner, serum, and then moisturizer.
Way #3: If you use a cleansing brush
Wet your face with water.
Apply the cleanser directly to your face or put the cleanser on the brush, and use the brush to gently massage the entire face, then rinse with water.
Follow with our toner, serum, and then moisturizer.
Way #4: If you use a face cleansing machine 
Our cleansing serum can be used with a 

face cleansing machine.

 Follow the instruction of the machine to wash your face. 
Follow with our toner, serum, and then moisturizer.
WHEN TO USE:  Every day, day & night.
ORDER TO APPLY:    COFFEE COLLAGEN FACE CLEANSING SERUM → Toner → Serum/Emulsion  → Moisturizer 

HOW TO STORE: Good to keep at room temperature. Avoid direct sunlight.
*Product images are for reference only. Packaging may vary.
QUESTIONS & ANSWERS
Have a Question?
Be the first to ask a question about this.
Ask a Question
THIS 3 TRUE + 3 FREE FORMULA WAS DEVELOPED WITH EVERY CUSTOMER IN MIND!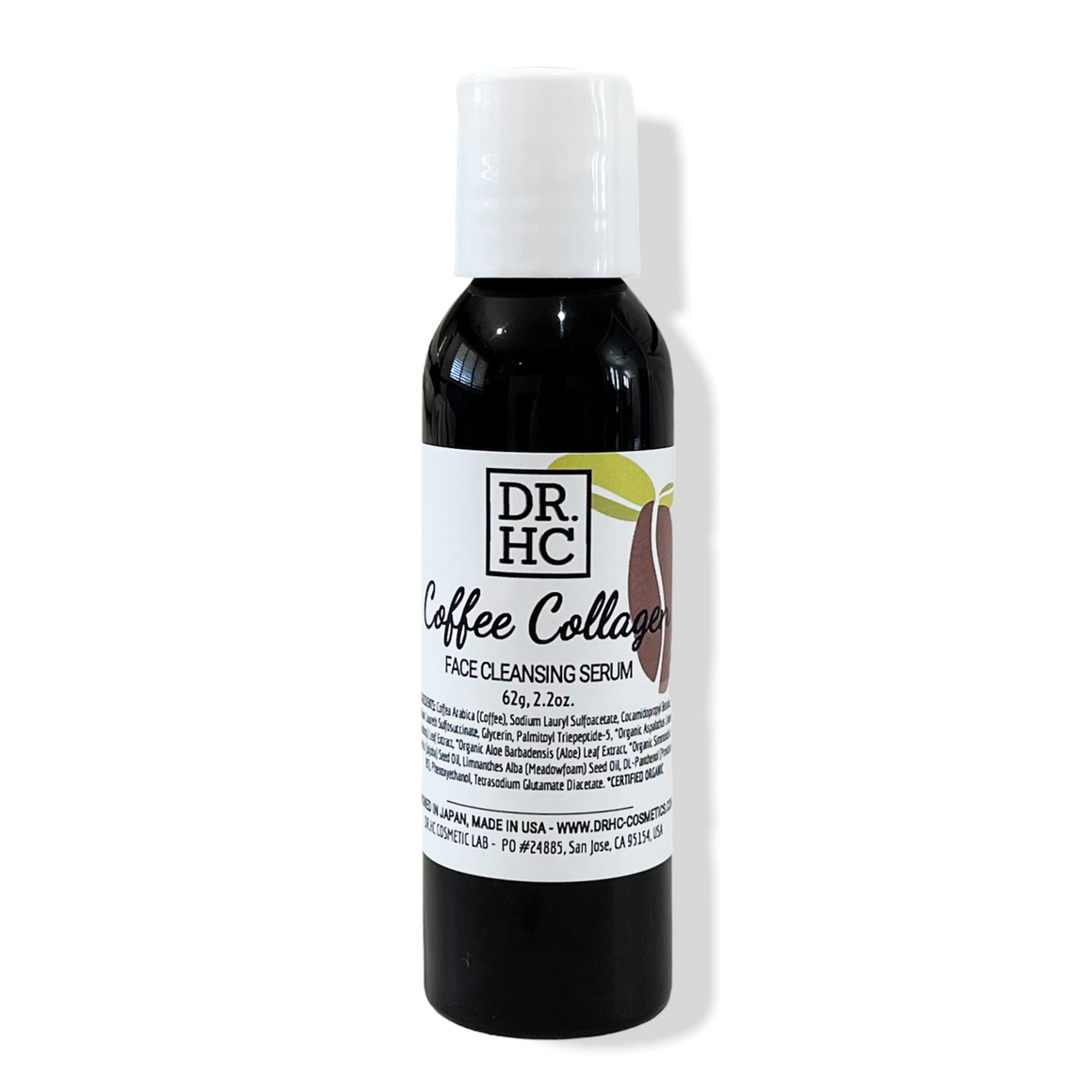 This product is TRUE
✓ Certified Organic Ingredients
✓ Fresh Natural
✓ Vegan (if the product has Vegan tag)
✓ Cruelty-Free
✓ GMO-Free
✓ Eco-friendly
✓ Made in USA
✓ Made by Science
✓ Made with Love ♡
How are these values important to you?
This product is FREE
✖ Parabens
✖ BHA/BHT (preservatives)
✖ Silicones, Siloxanes
✖ SLS/SLES
✖ Synthetic Colorants
✖ Synthetic Fragrances
✖ Phthalates
✖ MEA/ DEA/ TEA
✖ Mineral Oil
✖ Petroleum Jelly
✖ Triclosan
✖ Talc
✖ Microbeads
✖ Lead
✖ Chemical Sunscreens
✖ And other toxics...
How do these ingredients affect your health?
REAL RESULTS FROM REAL CUSTOMERS ACROSS THE WORLD
VIEW MORE REVIEWS HERE
WE DO THINGS DIFFERENTLY !
Click on image to shop product(s) in the photo