Rebranding
Calendula Artichoke Toner (70ml, 2.4 fl.oz.)
PLEASE CHOOSE "SHIP TO" YOUR COUNTRY, or you will be charged international shipping fee. Learn more about our Shipping Policy...

If you live in other countries (not USA, Japan, or Vietnam), please choose "ship to USA" (international shipping fee will be added at checkout)
NATURE + SCIENCE + PASSION!
Our CALENDULA ARTICHOKE TONER is formulated with All-Natural ingredients , featured with Organic Calendula extract, Artichoke extract and Allantoin. The toner is a good choice for balancing your pH after face washing, revitalizing your skin for a youthful appearance, as well as providing your skin with anti inflammatory, anti-acne, anti scar and pore minimizing benefits. 
HAPPY POINTS:
✓POINT 1: An All-Natural nutritious toner for your skin formulated with multifunctional organic ingredients. Perfect for those who are looking for a really clean and effective toner for everyday use.
✓POINT 2:  Natural botanical preservatives. No synthetic dyes or fragrance. None of any toxics. Perfect even for pregnancy/ breastfeeding moms, or sensitive skin. 
✓POINT 3: Non-comedogenic. Perfect for all skin types. Good for unisex. Good for all seasons. 
✓POINT 4: Always feel like your skin is drying out in the middle of day? Our CALENDULA ARTICHOKE TONER can be used even on makeup. Let's get skin hydrated anytime.
✓POINT 5: Convinient spray style. Easy to use anytime or anywhere. 
✓POINT 6: This product is Vegan
✓POINT 7:  Gluten-free formula.
FOR WHOM
FOR WHOM ?
✓All skin types 

✓Good even for super-oily skin

✓Sensitive skin

✓Skin with breakouts
FOR WHAT ?
pH Balancing
Anti inflammatory 
Anti-acne
Antibacterial
Anti scar
Skin recovery

Pore minimizing

 
Hydrating
This product also helps
Antiaging
Skin detoxifying
Skin softening
Non-comedogenic
INGREDIENTS
★ ORGANIC CALENDULA FLOWER EXTRACT: has been known for its anti-inflammatory, antibacterial, antiseptic and antifungal properties. Calendula extract is useful in preventing breakouts, soothing skin and healing skin damages to generate a new youthful look. It's also used to relieve many types of skin conditions that may cause dry, itchy, or irritated areas. In addition, by promoting the production of collagen (an essential protein for glowing skin), Calendula aids in sustaining soothed, hydrated skin.  
★ORGANIC ARTICHOKE LEAF EXTRACT: Artichokes are super rich in antioxidants, which improve skin health, slow down skin aging, and prevent oxidative stress. They are also rich in vitamin C which helps to build collagen. Artichokes minimize enlarged pores from sagging skin while detoxifying and activating moisture retention. And according to a recent scientific study, its leaf extract also contains another important chemical called cynaropicrin, which reduces the damage caused by UV rays and protects the skin.
★ALLANTOIN: is extracted from the root of the comfrey plant. It brings anti scar benefits and helps heal the skin by stimulating the growth of new tissue.  Allantoin is a non-irritating ingredient that soothes and protects the skin.
HOW TO USE
HOW TO USE:
-After cleansing face, apply a moderate amount of toner to a cotton ball and gently apply all over the face in upward motions. You can also apply the toner directly to face by spraying.
-Allow to dry, and follow with our serums and moisturizers.
WHEN TO USE:  Everyday, day & night.
ORDER TO APPLY:  Cleanser →  CALENDULA ARTICHOKE TONER → Serum/Emulsion  → Moisturizer 

HOW TO STORE: Good to keep at room temperature. Avoid direct sun light.
*Product images are for reference only. Packaging may vary.
QUESTIONS & ANSWERS
Have a Question?
Be the first to ask a question about this.
Ask a Question
THIS 3 TRUE + 3 FREE FORMULA WAS DEVELOPED WITH EVERY CUSTOMER IN MIND!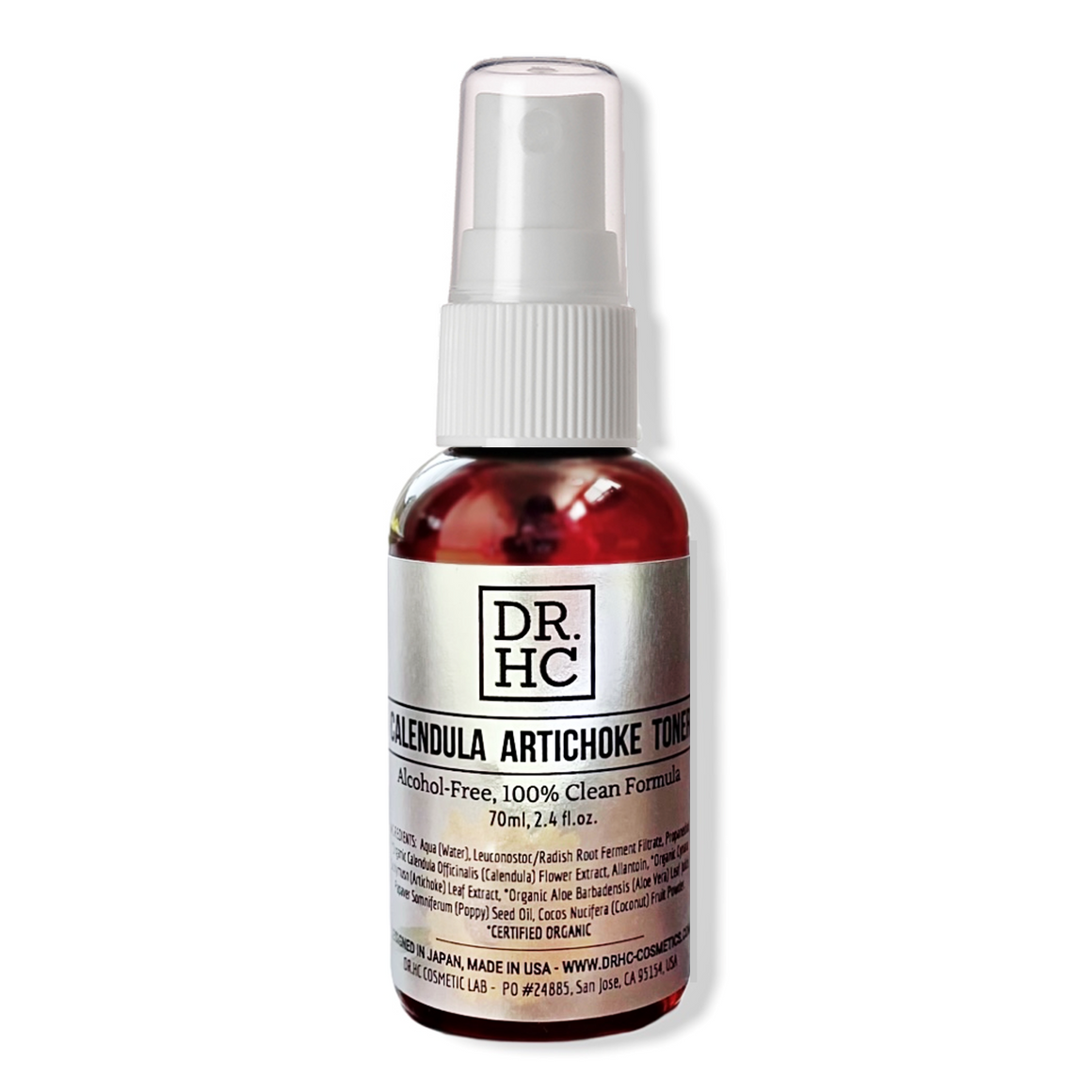 This product is TRUE
✓ Certified Organic Ingredients
✓ Fresh Natural
✓ Vegan (if the product has Vegan tag)
✓ Cruelty-Free
✓ GMO-Free
✓ Eco-friendly
✓ Made in USA
✓ Made by Science
✓ Made with Love ♡
How are these values important to you?
This product is FREE
✖ Parabens
✖ BHA/BHT (preservatives)
✖ Silicones, Siloxanes
✖ SLS/SLES
✖ Synthetic Colorants
✖ Synthetic Fragrances
✖ Phthalates
✖ MEA/ DEA/ TEA
✖ Mineral Oil
✖ Petroleum Jelly
✖ Triclosan
✖ Talc
✖ Microbeads
✖ Lead
✖ Chemical Sunscreens
✖ And other toxics...
How do these ingredients affect your health?
REAL RESULTS FROM REAL CUSTOMERS ACROSS THE WORLD
VIEW MORE REVIEWS HERE
WE DO THINGS DIFFERENTLY !
Click on image to shop product(s) in the photo