Rebranding
Bye-Bye Stretch Mark Mama Belly Serum (70ml, 2.4 fl.oz.)
PLEASE CHOOSE "SHIP TO" YOUR COUNTRY, or you will be charged international shipping fee. Learn more about our Shipping Policy...

If you live in other countries (not USA, Japan, or Vietnam), please choose "ship to USA" (international shipping fee will be added at checkout)
NATURE + SCIENCE + PASSION!
Stretch marks are extremely common in pregnancy. They occur when the middle layer or dermis of the skin becomes overstretched to the point of tearing. These tears cause scars that appear as stretch marks on the skin's surface. They may develop on the stomach, breasts, thighs, hips or upper arms. Our BYE-BYE STRETCH MARK MAMA BELLY SERUM was developed to provide pregnant women with a completely natural way to prevent and/or treat stretch marks.
This serum is made from 100% Organic, Natural & Vegan ingredients. It is featured with Organic Argan Oil, Patchouli Oil, Lavender Oil, and Frankincense Oil, which have been scientifically proven to be the most powerful natural ingredients in preventing/ healing stretch marks. In addition, thanks to the essential oils, the serum also provides aromatherapy effects that promote calm, relaxation, and a good night's sleep as well as uplift your mood.
The serum can be used as
A Stretch Mark Preventing/ Removing serum that helps prevent/ heal 

stretch marks for mamas

or: A Baby Massage Oil, which helps protect babies from 

dry, rough, scaly, itchy skin

. 
FOR WHOM
Mama during pregnancy and postpartum
Babies of all ages
All skin types 

Sensitive skin
RESULTS
Preventing and Healing stretch marks for mama

Massage oil to 

protect babies from 

dry, rough, scaly, itchy skin

.

Aromatherapy effects (

calming, relaxing,

good sleep-promoting, mood 

u

plifting)
WHY WE LOVE :
POINT 1: 100% Organic, Natural & Vegan formula. Safely enhances that beautiful mama glow in any stage of motherhood.
POINT 2: Super-star ingredients. Made from Organic Argan Oil, Patchouli Oil, Lavender Oil, and Frankincense Oil, which have been scientifically proven to be the most powerful natural ingredients in preventing/ healing stretch marks. 
POINT 3:  Multi-purpose. Can be used as a stretch mark removing serum for mamas or as a baby massage oil for babies. Can be applied to any area that feels undernourished.
POINT 4:  Aromatherapy effects. Promotes calm, relaxation, good sleep and uplifts your mood.
POINT 5: 100% Vegan
POINT 6: 100% Cruelty-free (Not tested in animals), certified by Leaping Bunny and PETA. 
INGREDIENTS
★ORGANIC ARGAN OIL: Based on research, Argan oil can improve the elasticity of the skin, which would prevent and/or reduce stretch marks. Argan oil is also rich in antioxidants. It deeply hydrates, moisturizes, and nourishes the skin to protect against dry, rough, and itchy skin.
★PATCHOULI OIL:  Patchouli essential oil is best known for healing wounds and fading scars. It has antioxidant properties and can promote the synthesis of collagen, resulting in reduced stretch marks. In addition, patchouli essential oil helps boost your mood, which is extremely helpful to pregnant women. 
★FRANKINCENSE OIL:  Frankincense oil has been used for centuries for its healing properties. The ferulic acids and vitamins in the oil also bring antioxidant benefits to the skin, keeping it soft and healthy.
★LAVENDER OIL:  Lavender essential oil has the ability to heal wounds and marks. Research also showed that lavender essential oil increases the production of collagen and forms new connective tissue that encourages wound healing. The oil is also well known for its calming and good sleep-promoting properties.
Besides, Organic Sweet Almond Oil, Organic Jojoba Oil, Organic Grapeseed Oil, Organic Coconut Oil, Organic Sunflower Oil, and Vitamin E provides the skin with anti-aging and moisturizing benefits.
ALL INGREDIENTS
:
*Organic Argania Spinosa (Argan) Kernel Oil, *Organic Prunis Dulcis (Sweet Almond) Oil, *Organic Simmondsia Chinensis (Jojoba) Oil, *Organic Vitis Vinifera Seed (Grapeseed) Oil, *Organic Caprylic/Capric Triglyceride (Fractionated Coconut Oil), *Organic Helianthus Annuus (Sunflower) Oil, Pogostemon Cablin (Patchouli) Oil, Lavandula Angustifolia (Lavender) Oil, Boswellia Carterii (Frankincense) Oil, Citrus Sinensis (Sweet Orange) Peel Oil, Tocopherol (Vitamin E).
*CERTIFIED ORGANIC
HOW TO USE
HOW TO USE: Apply liberally to the belly, boobs, butts, and whenever the skin feels dry, tight, or has stretch marks. Gently massage into the skin for instant relief, moisture-boosting, and reducing the appearance of stretch marks. Don't forget to enjoy the aromatherapeutic effects Moms!
WHEN TO USE:  Anytime, as often as needed. Recommend to use after a bath when skin is still hydrated. 
HOW TO STORE: Good to keep at room temperature. Avoid direct sunlight.
*Packaging may vary.
*Product images are for reference only. Packaging may vary.
QUESTIONS & ANSWERS
Have a Question?
Be the first to ask a question about this.
Ask a Question
THIS 3 TRUE + 3 FREE FORMULA WAS DEVELOPED WITH EVERY CUSTOMER IN MIND!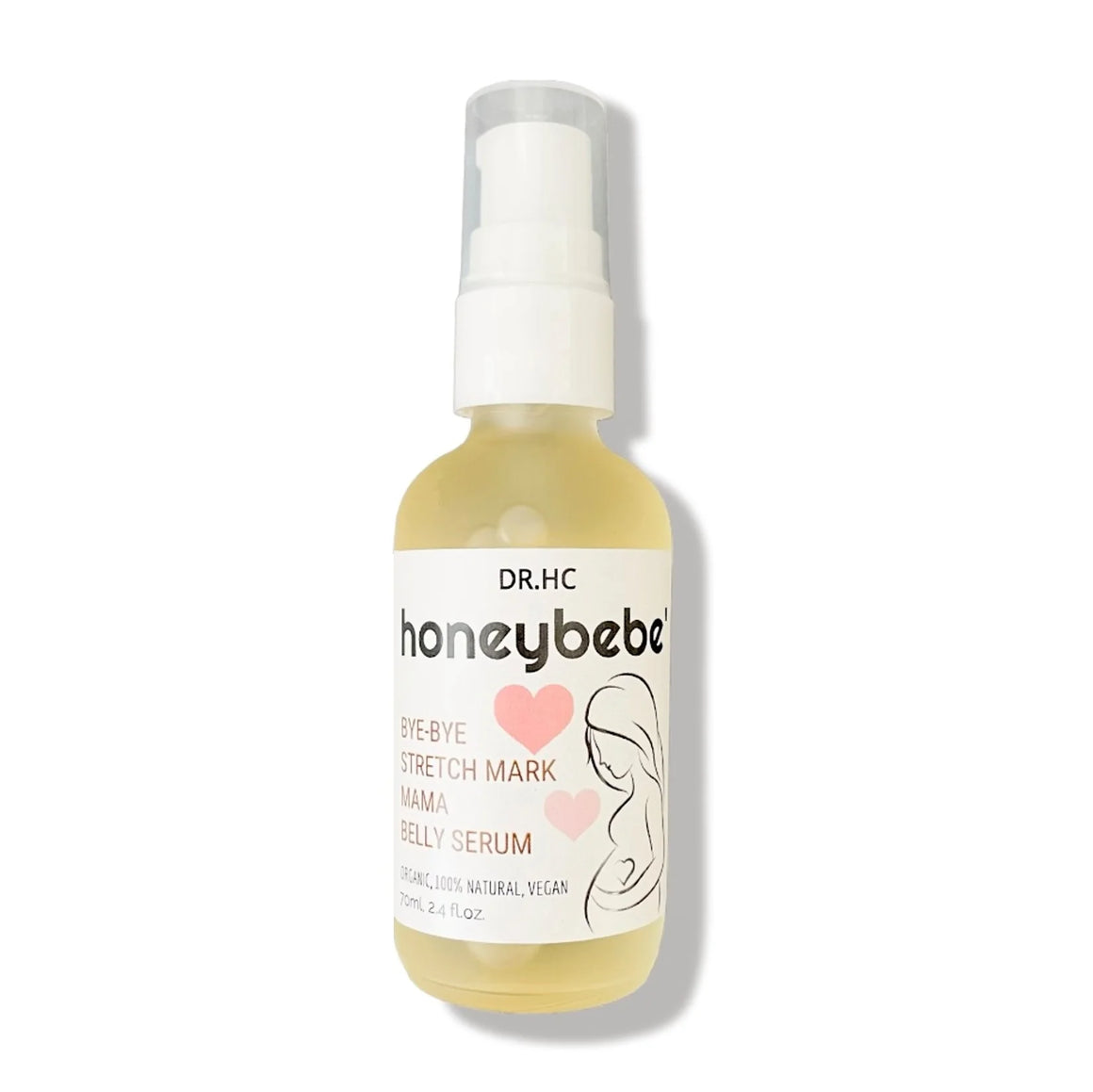 This product is TRUE
✓ Certified Organic Ingredients
✓ Fresh Natural
✓ Vegan (if the product has Vegan tag)
✓ Cruelty-Free
✓ GMO-Free
✓ Eco-friendly
✓ Made in USA
✓ Made by Science
✓ Made with Love ♡
How are these values important to you?
This product is FREE
✖ Parabens
✖ BHA/BHT (preservatives)
✖ Silicones, Siloxanes
✖ SLS/SLES
✖ Synthetic Colorants
✖ Synthetic Fragrances
✖ Phthalates
✖ MEA/ DEA/ TEA
✖ Mineral Oil
✖ Petroleum Jelly
✖ Triclosan
✖ Talc
✖ Microbeads
✖ Lead
✖ Chemical Sunscreens
✖ And other toxics...
How do these ingredients affect your health?
REAL RESULTS FROM REAL CUSTOMERS ACROSS THE WORLD
VIEW MORE REVIEWS HERE
WE DO THINGS DIFFERENTLY !
Click on image to shop product(s) in the photo