Rebranding
Bye Bye Acne Refining Toner (70 ml, 2.4 fl.oz.)
PLEASE CHOOSE "SHIP TO" YOUR COUNTRY, or you will be charged international shipping fee. Learn more about our Shipping Policy...

If you live in other countries (not USA, Japan, or Vietnam), please choose "ship to USA" (international shipping fee will be added at checkout)
NATURE + SCIENCE + PASSION!
Our BYE BYE ACNE REFINING TONER is a special care for skin with breakouts, formulated with powerful anti-acne ingredients including organic/natural BHA and Tea Tree, as well as Vitamin B5, AHA and Vitamin C. The toner helps improving your acne conditions, reducing excessive oil, removing dead skin cells, balancing your pH after face washing, hydrating without clogging pores, and is also helpful to acne dark spots and acne scars. This helps bring you back a clear, supple and healthy looking.
HAPPY POINTS
POINT 1: Anti-acne ingredient enriched toner! Organic/Natural BHA, Tea Tree extract,  AHA, Vitamin B5 and Vitamin C, each of the ingredients contributes to improve your acne conditions. 
POINT 2:  BHA & Tea Tree attacks the bateria with anti-bacterial, anti-acne and anti-inflammatory properties.
POINT 3:  AHA coming from Organic/ Natural sugar cane, sugar maple, orange and lemon peels, etc. helps removing dead skin cells, generating a clearer and brighter looking.
POINT 4: Featured with Vitamin B5 which is helpful to acne skin by providing hydrating, moiturizing, anti-inflammatory, anti-scar and skin cell stimulating benefits.
POINT 5: Featured with Vitamin C

 which helps toning your complexion and fading acne dark spots 

POINT 6: Clean & non-toxic formula. Paraben-free, Dye-free, Fragrance-free, Mineral Oil - free, etc. 
POINT 7:  Good for all skin types even super-oily/ super-dry skin since it deeply hydrates but never clog pores or leave greasy after feel.
FOR WHOM
FOR WHOM
All skin types (oily, dry, normal, combination) 

Also perfect for super-oily and super-dry skin

Sensitive skin

Skin with breakouts
FOR WHAT
Anti-acne. 

Anti-inflammatory
Oil balancing
Gently exfoliating to remove dead skin cells and open clogged pores
Anti-dark spot
Anti-scar   
This product also helps
pH balancing
Hydrating

Softening 

Non-comedogenic
INGREDIENTS
★NATURAL BHA + TEA TREE: BHA is scientifically proved to be helpful in fighting acne and pimples, while Tea Tree essential oil is an effective natural acne treatment. This combination brings you ultimate results of improving acne conditions as well as provides oil balancing, anti-inflammatory and anti-bacterial benefits.
★VITAMIN B5:  is helpful to acne skin by providing hydrating and retaining moisture while never clogging your pores. It also improves the skin natural barrier function as well as providing anti-inflammatory properties which is extremely benificial to skin with breakouts. In addition, Vitamin B5 provides anti-scar benefits by stimulating skin cells, therefore resulting in a new revitalized skin which is clearer, smoother and healthier.
★AHA & VITAMIN C:  AHA gently eliminates dead cells, unclogs pores and generates a toned and clear looking, while Vitamin C tones your skin as well as promotes the regeneration of new skin and diminishes signs of aging.
HOW TO USE
HOW TO USE: 
-After cleansing face, apply a moderate amount of toner to a cotton ball and gently apply all over the face in upward motions. You can also apply the toner directly to face by spraying.
-Allow to dry, and follow with our serums and moisturizers.
WHEN TO USE:  Everyday, day & night.
ORDER TO APPLY:  Cleanser →  BYE BYE ACNE REFINING TONER → Serum/Emulsion  → Moisturizer 

HOW TO STORE: Good to keep at room temperature. Avoid direct sun light.
*Product images are for reference only. Packaging may vary.
QUESTIONS & ANSWERS
Have a Question?
Be the first to ask a question about this.
Ask a Question
THIS 3 TRUE + 3 FREE FORMULA WAS DEVELOPED WITH EVERY CUSTOMER IN MIND!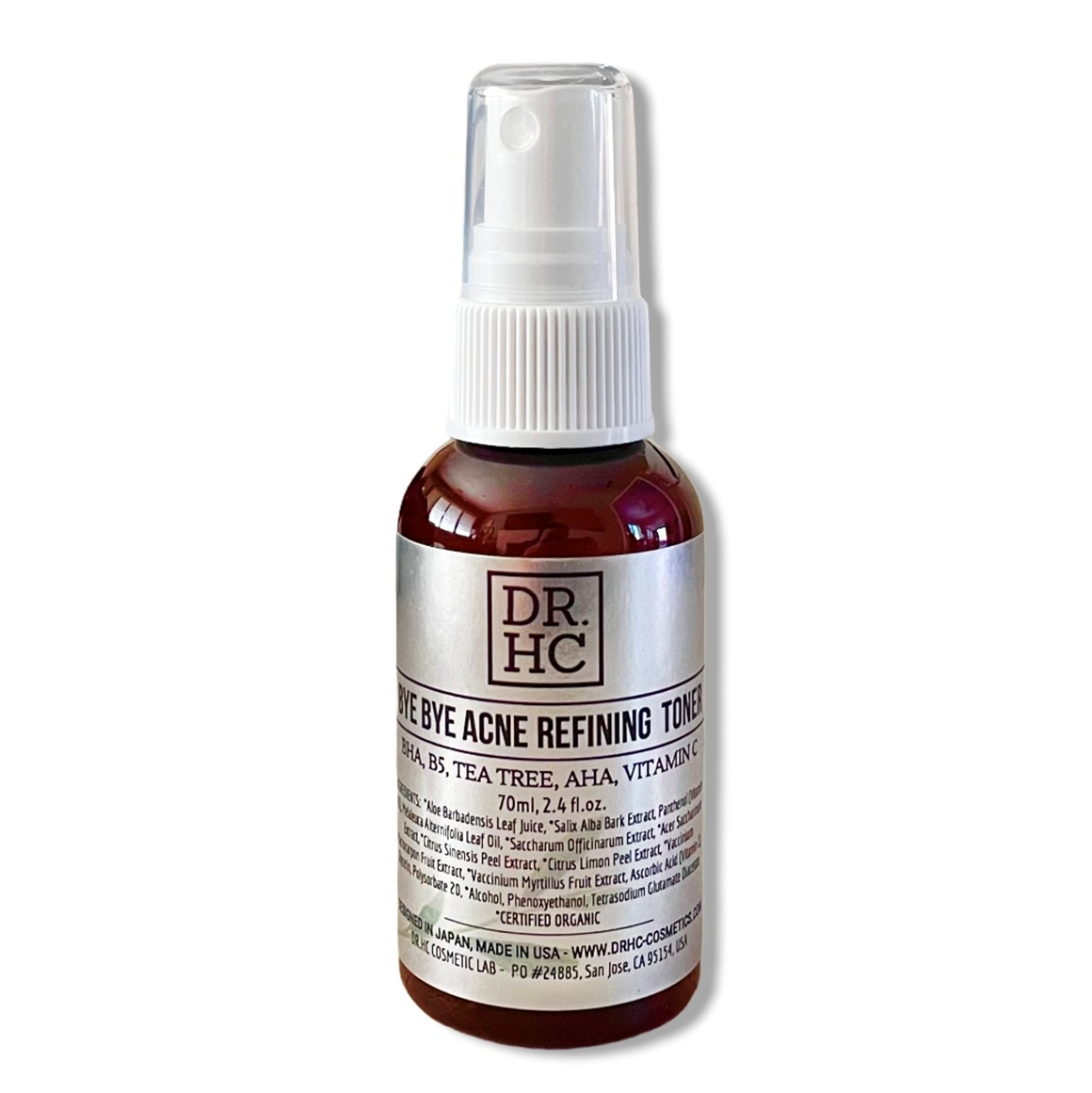 This product is TRUE
✓ Certified Organic Ingredients
✓ Fresh Natural
✓ Vegan (if the product has Vegan tag)
✓ Cruelty-Free
✓ GMO-Free
✓ Eco-friendly
✓ Made in USA
✓ Made by Science
✓ Made with Love ♡
How are these values important to you?
This product is FREE
✖ Parabens
✖ BHA/BHT (preservatives)
✖ Silicones, Siloxanes
✖ SLS/SLES
✖ Synthetic Colorants
✖ Synthetic Fragrances
✖ Phthalates
✖ MEA/ DEA/ TEA
✖ Mineral Oil
✖ Petroleum Jelly
✖ Triclosan
✖ Talc
✖ Microbeads
✖ Lead
✖ Chemical Sunscreens
✖ And other toxics...
How do these ingredients affect your health?
REAL RESULTS FROM REAL CUSTOMERS ACROSS THE WORLD
VIEW MORE REVIEWS HERE
WE DO THINGS DIFFERENTLY !
Click on image to shop product(s) in the photo