Rebranding
B5 & PHA Micellar Water (70ml, 2.4 fl.oz.)
PLEASE CHOOSE "SHIP TO" YOUR COUNTRY, or you will be charged international shipping fee. Learn more about our Shipping Policy...

If you live in other countries (not USA, Japan, or Vietnam), please choose "ship to USA" (international shipping fee will be added at checkout)
NATURE + SCIENCE + PASSION!
Micellar Water is a liquid of micelles that have both hydrophilic and hydrophobic properties. When pouring micellar water on a cotton pad and swiping the skin, the hydrophilic heads of micelles are attracted to the cotton, while the hydrophobic tails stick up to trap oil, dirt, makeup, and impurities on the skin surface and remove them. In other words, Micellar Water is a type of no-rinse cleanser/ makeup remover, which quickly and easily removes makeup, dirt, oil, and detritus with no need for soap or water. It is also used as a Pre-Toner which helps deeply cleanse the skin after face wash in order to remove any residue left. This results in better skincare effects for toners.
Our B5 & PHA Micellar Water is a clean formula made from Organic/Natural ingredients. It's free from parabens, phthalates, chemical surfactants, artificial fragrances and dyes, and other toxic chemicals. Featured with PHA (gluconolactone), Vitamin B5, and Natural BHA, the micellar water not only helps cleanse the skin and remove dirt/oil/impurities gently with micelles but also nourishes the skin and provides anti-inflammatory, anti-acne and anti-aging benefits, leaving you with a clean, fresh and healthy appearance. 
FOR WHOM
All skin types (oily, dry, normal, combination) 

Sensitive skin

Especially perfect for super-oily skin and skin with breakouts
RESULTS
Gently removing makeup

Gently cleansing
Gently exfoliating to remove dead skin cells, opening clogged pores
Hydrating
Anti-sebum. Removing excessive oil
Anti-inflammatory, Anti-acne & Anti-blackhead
Anti-aging
Anti-scar   
Others: Skin Softening, Non-comedogenic
WHY WE LOVE :
POINT 1: Featured with skin-nourishing ingredients including Vitamin B5, PHA (gluconolactone), Natural BHA, and other organic/natural extracts which contribute to healthy, youthful, and acne-free skin. 
POINT 2: Clean & non-toxic formula. Paraben-free, Phthalate-free, Dye-free, Fragrance-free. Natural preserved. 
POINT 3:  Can be used partially or for the entire face. Use it for touching up mascara misses, for cleaning your face after being out, for frequently cleaning oily skin during the day time in the hot summer, or even for those mornings when you need to rush out the door after a late night, etc.
POINT 4: No need to rinse after use. A convenient formula to cleanse your skin anywhere & anytime you want to get your face clean when there's no water around. 
POINT 5:  A convenient size to use anywhere & anytime. Great for travel, school, gyms, or outdoor activities.
POINT 6:  Good for all skin types. Especially perfect for super-oily skin and/or skin with breakouts, since it helps double-cleanse, unclog pores, and remove excessive sebum.  
INGREDIENTS 
★PHA (GLUCONOLACTONE): PHA has the ability to gently remove dead skin cells from the outermost layer of the skin and unclog pores, resulting in a smoother, brighter complexion and acne-free appearance. It also strengthens and protects the skin barrier, therefore helping to soothe dry skin and replenish lost moisture. In addition, PHA has antioxidant properties. It helps neutralize free radicals (the cause of the aging process) caused by UV and pollution.
★VITAMIN B5:  is helpful to acne skin by providing hydrating and retaining moisture while never clogging your pores. It also improves the skin's natural barrier function as well as provides anti-inflammatory properties which is extremely beneficial to skin with breakouts. In addition, Vitamin B5 provides anti-scar benefits by stimulating skin cells, therefore resulting in newly revitalized skin that is clearer, smoother, and healthier. 
★NATURAL BHA:  Our BHA is a natural ingredient coming from willow bark. It's mild and gentle and is especially perfect for oily acne-prone skin since it helps improve acne conditions, blackheads, and whiteheads... due to its anti-inflammatory, antibacterial, and pore-unclogging properties. Together with anti-inflammatory Organic Chamomile extract & Witch Hazel Water as well as soothing Organic Aloe extract, the product helps cleanse and provide a clear, healthy skin look.
HOW TO USE
HOW TO USE:  Shake well before use.
-Use as an eye makeup remover: Apply B5 & PHA Micellar Water to a cotton pad. Hold the pad over closed eyes for 3~5 seconds and wipe gently. Avoid harsh rubbing and repeat if necessary.
-Use as a makeup remover/ facial cleanser/ pre-toner: Apply B5 & PHA Micellar Water to a cotton pad. Wipe over the entire face to remove makeup and/or dirt & sebum. Avoid harsh rubbing. No need to rinse.
-Follow with our toners, serums, and moisturizers.
WHEN TO USE: Every day, day & night.
ORDER TO APPLY:   B5 & PHA MICELLAR WATER → Toner → Serum/Emulsion  → Moisturizer 

HOW TO STORE: Good to keep at room temperature. Avoid direct sunlight.
*Product images are for reference only. Packaging may vary.
QUESTIONS & ANSWERS
Have a Question?
Be the first to ask a question about this.
Ask a Question
THIS 3 TRUE + 3 FREE FORMULA WAS DEVELOPED WITH EVERY CUSTOMER IN MIND!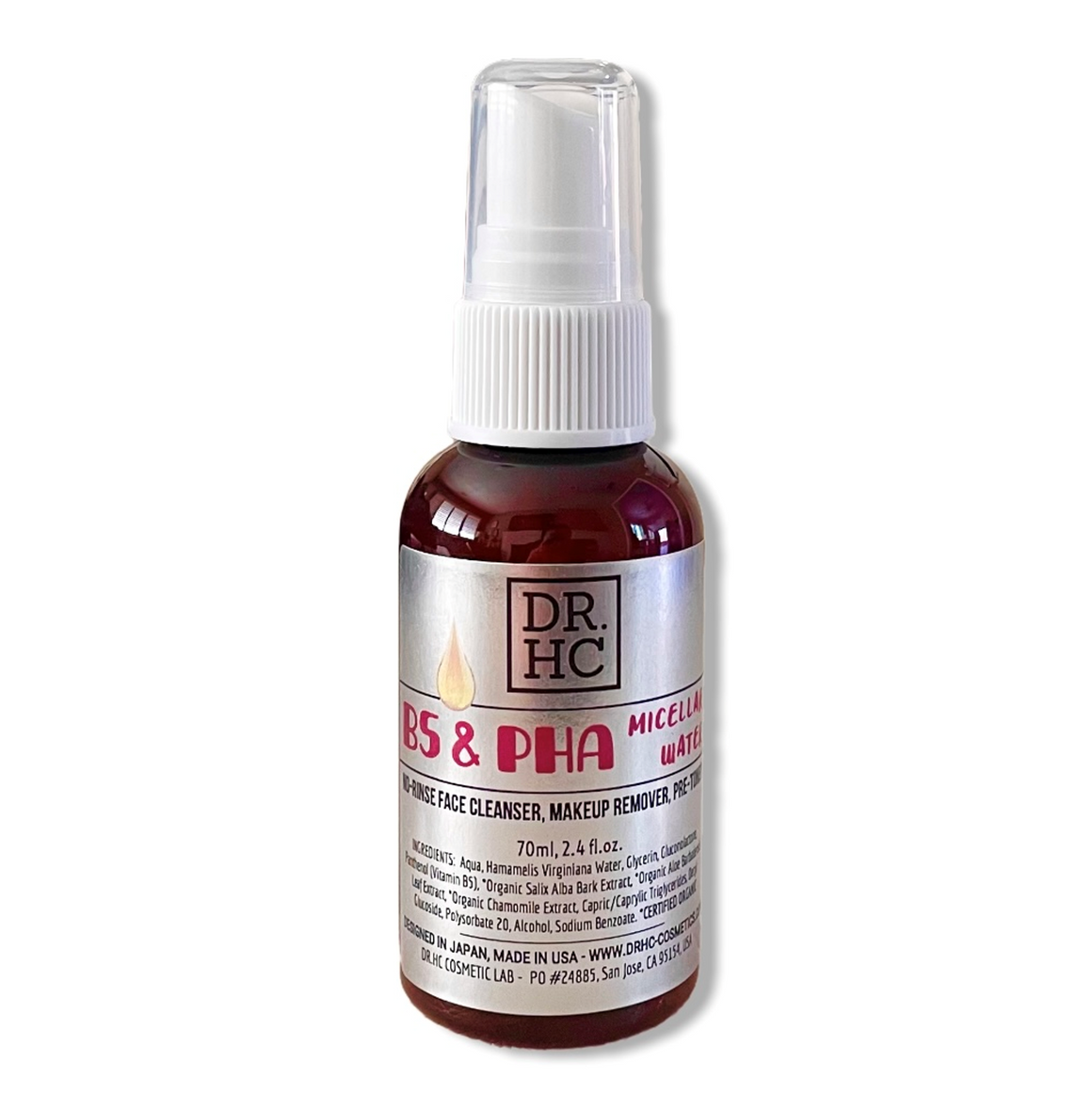 This product is TRUE
✓ Certified Organic Ingredients
✓ Fresh Natural
✓ Vegan (if the product has Vegan tag)
✓ Cruelty-Free
✓ GMO-Free
✓ Eco-friendly
✓ Made in USA
✓ Made by Science
✓ Made with Love ♡
How are these values important to you?
This product is FREE
✖ Parabens
✖ BHA/BHT (preservatives)
✖ Silicones, Siloxanes
✖ SLS/SLES
✖ Synthetic Colorants
✖ Synthetic Fragrances
✖ Phthalates
✖ MEA/ DEA/ TEA
✖ Mineral Oil
✖ Petroleum Jelly
✖ Triclosan
✖ Talc
✖ Microbeads
✖ Lead
✖ Chemical Sunscreens
✖ And other toxics...
How do these ingredients affect your health?
REAL RESULTS FROM REAL CUSTOMERS ACROSS THE WORLD
VIEW MORE REVIEWS HERE
WE DO THINGS DIFFERENTLY !
Click on image to shop product(s) in the photo