Rebranding
Advanced Retinol Serum (15g, 0.5oz.)
PLEASE CHOOSE "SHIP TO" YOUR COUNTRY, or you will be charged international shipping fee. Learn more about our Shipping Policy...

If you live in other countries (not USA, Japan, or Vietnam), please choose "ship to USA" (international shipping fee will be added at checkout)
NATURE + SCIENCE + PASSION!
Enjoy the benefits from Retinol (Vitamin A) with our advanced formula which is at 2.5% retinol moist. This elegant suspension of Retinol (Vitamin A) combined with Propolis Extract, Organic Green Tea Extract, and a synergistic blend of active ingredients, softens and heals the skin with the most efficient moisturization system. Vitamin A has a molecular structure that's tiny enough to get into the lower layers of skin where it finds collagen and elastin and activates them. Vitamin A is proven to improve fine lines, wrinkles, pigmentation, skin texture, skin tone, skin breakouts, as well as your skins hydration levels.

HAPPY POINTS:
✓POINT 1: High ratio of active ingredients including 2.5% pure retinol. 
✓POINT 2:  Formulated with a synergistic blend of organic & natural active ingredients to maximize the efficiency.
✓POINT 3: Formulated with the most effective moisturization system which helps to protect your skin from flakiness and dryness when using retinol.
✓POINT 4:  We chose to make the product as a serum, not a moisturizer. Serums are delivery systems for ingredients, and can be used as supplements for skin. By making this product as a serum, we'd like to give you flexibility to adjust your frequency when using retinol until you feel it works well. 
FOR WHOM
FOR WHOM
✓All skin types (oily, dry, normal, combination) 

✓Good even for super-oily and super-dry skin
FOR WHAT
✓Anti-aging

✓Anti-wrinkle

✓Anti Blemish

✓

Anti-acne
✓Skin Toning
✓Skin Recovery

✓Anti-inflammatory

✓Oil-Balancing 

✓Anti Scar
✓Hydrating  
This product also helps
✓Gently Exfoliating

✓Softening 

✓Increasing skin elasticity

✓Non-comedogenic
INGREDIENTS
★RETINOL (VITAMIN A): As a gold-standard skincare ingredient, retinol helps fight acne, reduce wrinkles,  reduce pigmentation, stimulate collagen, promote cellular turnover as well as increase your skin's hydration levels. It's also known for evening out skin tone, increasing blood flow to the skin and improving skin texture. Retinol also regulates skin oil production and has gentle exfoliating effect, that help unclog pores and benefit skin breakouts. 
★PROPOLIS EXTRACT:  A compound produced by bees, commonly used for its healing, antiseptic and restorative capabilities. Propolis protects against bacteria and functions as a great anti-inflammatory agent. It also accelerates the rate of cell growth and unclogs pores. Propolis is useful for balancing, healing and soothing problematic skin.
★ORGANIC GREEN TEA EXTRACT: Enriched with goodness of antioxidants, vitamin C, vitamin E and B2, green tea is a powerful ingredient which can effectively delay the signs of ageing and make your skin more youthful as well supple. It is also a great antibacterial agent, which can be used to treat acne and uncloging pores. Green tea also reduces the inflammation and redness of skin, and it is a perfect hydrating agent.
In addition, Organic Aloe Leaf Juice, Witch Hazel Water, Organic Jojoba Seed Oil, Wheat Germ Oil, Vitamin E used in the system help clarifying, soothing, hydrating and moisturizing your skin.
HOW TO USE
HOW TO USE:
-Apply a small amount to entire face and allow to dry. Follow with any of our moisturizers.
-For sensitive skin: we recommend that you start with 1 ~ 2 nights a week and build up slowly, tacking on an additional night each subsequent week. It's important to build up to whatever works best for your skin. Some are able to use it every single night. Others may only be able to use it every other night or even less.
WHEN TO USE:  Can be used daily. Can be used under make up.
ORDER TO APPLY:   Cleanser →Toner → ADVANCED RETINOL SERUM → Moisturizer 

HOW TO STORE: Good to keep at room temperature. Avoid direct sun light.
*Product images are for reference only. Packaging may vary.
QUESTIONS & ANSWERS
Have a Question?
Be the first to ask a question about this.
Ask a Question
THIS 3 TRUE + 3 FREE FORMULA WAS DEVELOPED WITH EVERY CUSTOMER IN MIND!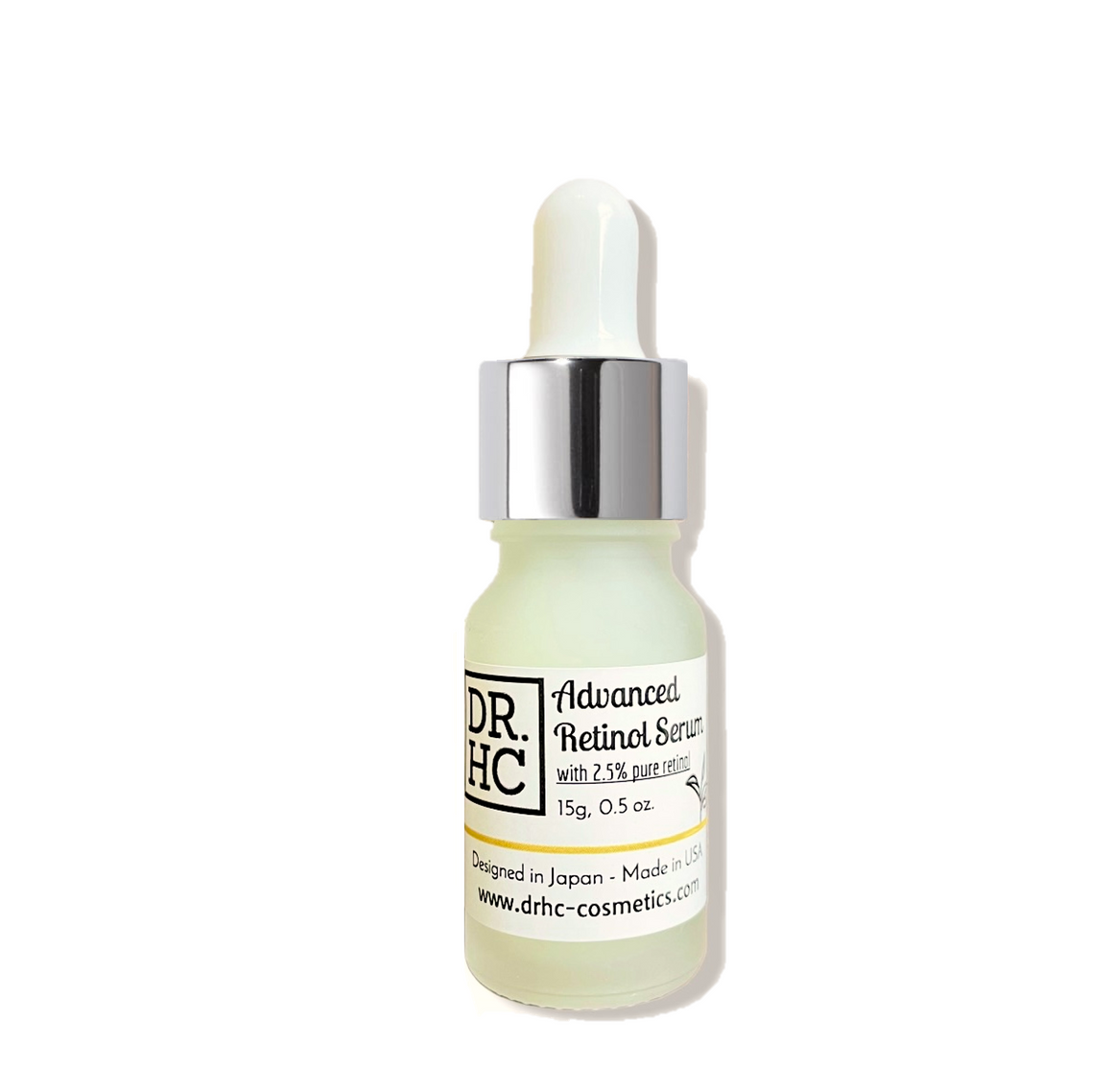 This product is TRUE
✓ Certified Organic Ingredients
✓ Fresh Natural
✓ Vegan (if the product has Vegan tag)
✓ Cruelty-Free
✓ GMO-Free
✓ Eco-friendly
✓ Made in USA
✓ Made by Science
✓ Made with Love ♡
How are these values important to you?
This product is FREE
✖ Parabens
✖ BHA/BHT (preservatives)
✖ Silicones, Siloxanes
✖ SLS/SLES
✖ Synthetic Colorants
✖ Synthetic Fragrances
✖ Phthalates
✖ MEA/ DEA/ TEA
✖ Mineral Oil
✖ Petroleum Jelly
✖ Triclosan
✖ Talc
✖ Microbeads
✖ Lead
✖ Chemical Sunscreens
✖ And other toxics...
How do these ingredients affect your health?
REAL RESULTS FROM REAL CUSTOMERS ACROSS THE WORLD
VIEW MORE REVIEWS HERE
WE DO THINGS DIFFERENTLY !
Click on image to shop product(s) in the photo